Green Bean Soup with Parmesan Dumplings
Green Bean Soup is being served! I've been looking forward to garden fresh green beans for months. Finally our garden is producing lots of green beans and I decided to make vegetable soup. This soup can be served warm or cool. It's refreshing and keeps you cool in the heat of the summer.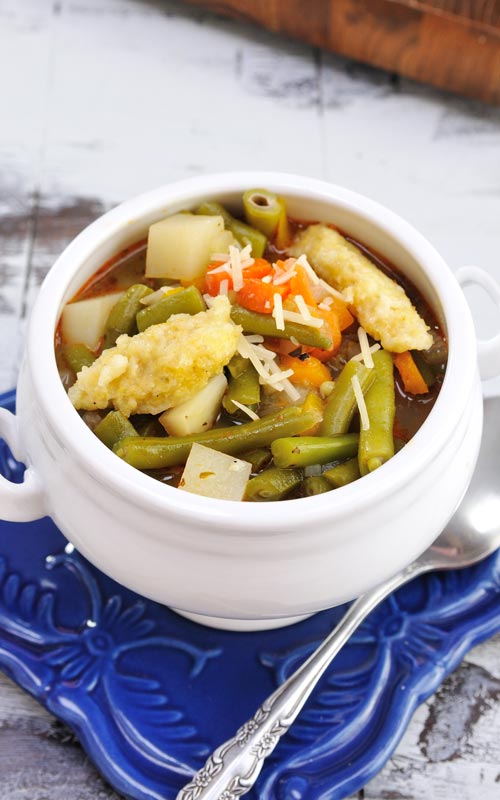 JUMP TO RECIPE |PIN IT for later
GREEN BEEN SOUP INGREDIENTS
Green Beans – washed, ends trimmed, cut into 1 inch pieces
Carrots – chopped
Onion – finely diced (I'm not a huge fan of large floating piece of onion)
Celery – finely diced
Olive Oil
Salt, Pepper, Marjoram
Tomato(optional)
WHAT KIND OF GREEN BEANS DO YOU USE?
My favorite green beans to grow, cook and eat are Tema Bush Green Beans. They produce lots of beans throughout the season. It is important to pick yellow leaves. Especially when it rains a lot. We grown them on netted trays so the plants are not sitting on the soil. We've had lot of successful years of growing beans this way.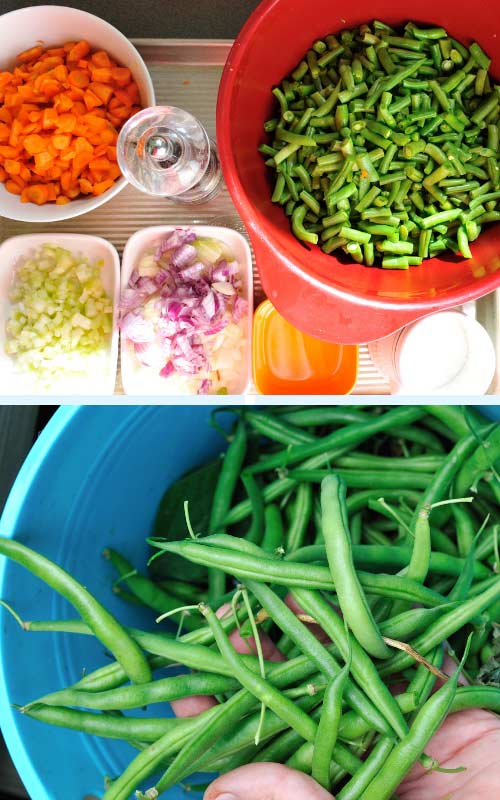 VEGETABLE SOUP BASE
Most of my vegetable soups start with the same Vegetable Soup Base : onion, carrots, celery. And I often use garlic and bay leaf, too.
Heat olive oil in large pot. On medium heat saute diced onions until translucent. Then stir in chopped carrots and celery. Cook for 5 minutes. Stirring frequently.
Then stir in green beans. Season with salt and pepper and continue cooking for 2-3 minutes. Pour in 2 cups of chicken stock. Bring to simmer and cook until until carrots and beans are almost tender, about 5-8 minutes.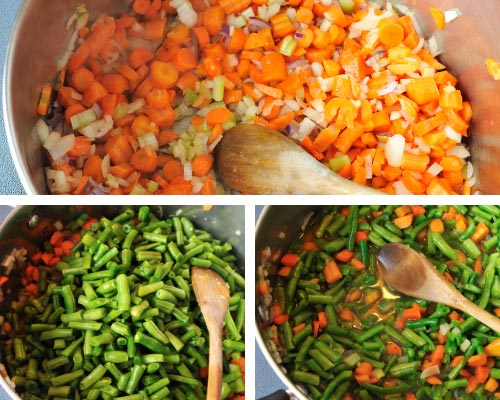 Pour in remaining 3 cups of chicken stock (or vegetable stock) and diced potatoes. Stir well, season with pepper and salt. I prefer thick soups, if you find that soup it too thick to your liking add more water/chicken stock /vegetable stock. While vegetables are cooking prepare soup roux.
SOUP ROUX
SOUP ROUX INGREDIENTS :
Olive Oil
Flour
Sweet Hungarian Paprika ( I'm fortunate to have homemade red paprika from my in-laws. It's amazing but don't despair if you don't have home made paprika. You can use Hungarian Paprika – link in the tools section below.
Water
Heat olive oil in a small pan. Whisk in flour and cook, stirring constantly for 2 minutes. It is important to cook flour so the soup roux doesn't have a flour taste. Remove pot from the heat. Dust the flour mixture with sweet paprika. Stir well. Gradually stir in water. Then return pot to stove and bring mixture to simmer. Then pour soup roux into the vegetable mix. If you spot any lumps in the soup roux, strain it through the mesh sieve. Stir soup well.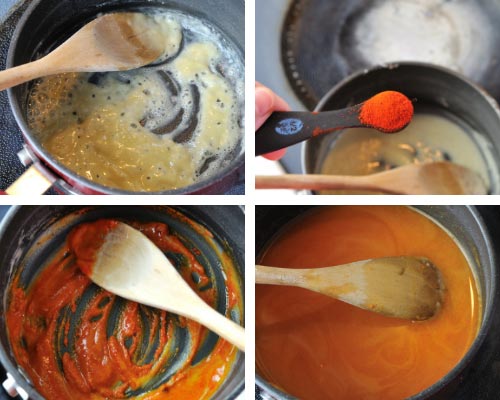 Simmer soup until potatoes, and all vegetables are tender. At this point you can also add some 1/2 cup of ripe chopped tomatoes (optional).
Remove soup from the heat. Add dry marjoram : over the pot of soup rub dry marjoram between the palms of your hands. Stir into the soup. Let soup cool before storing in the fridge for up to 3 days.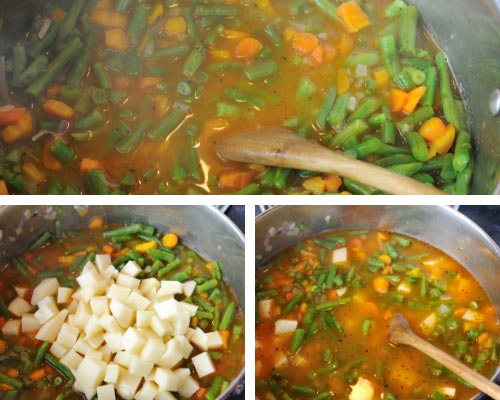 PARMESAN DUMPLINGS
I love dumplings and I often cook Basic Spaetzle. However in this soup I like Parmesan dumplings. Combine flour, cornmeal, salt, baking soda and parmesan cheese. Crack in 2 eggs and quickly from a dense batter. If batter is rock hard add a 1tsp of milk. Don't over work the dough. It takes 20-30 seconds to form the batter.
Bring water in a large pot to boil. Reduce to simmer. Spread dumpling batter onto a cutting board. Cut small sections with a knife and throw them into the simmering water. Cook till dumplings float on the top, about 2 minutes. Drain. Enjoy with the soup. Dumplings can be stored in the fridge for up to 2 days.
I DON'T LIKE DUMPLINGS CAN I USE SOMETHING ELSE INSTEAD?
You can use barley, rice, pasta. You don't have to make dumplings. It's Okay.
I love this Green Bean Soup. Especially in the summer, with soaring temperatures I enjoy it cool. It's so good!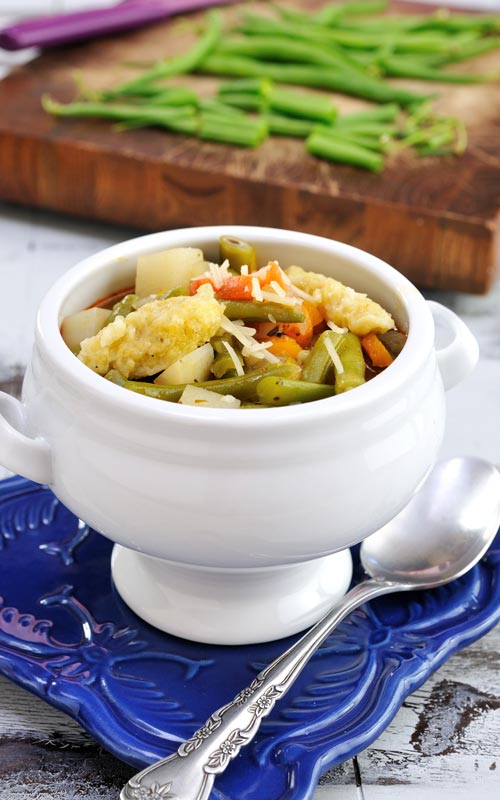 TO MAKE GREEN BEAN VEGETABLE SOUP YOU NEED
MORE VEGETABLE RECIPES :
Green Bean Soup
Delicious Vegetable Green Bean Soup
Cuisine:
American, German, Slovak
Keyword:
green bean soup, Vegatable soup
Ingredients
Soup
2

lbs

fresh green beans, washed, cut into 1 inch pieces

(800grams)

2

cups

finely diced carrots

(300grams)

1

large onion, diced

2

celery stalks, diced

2

tbsp

olive oil

5

cups

chicken stock

(or use vegetable stock )

2

large potatoes, diced

1

tsp

salt and to taste

1/4

tsp

black pepper and to taste

2

tsp

dry marjoram
Soup Roux
1

tbsp

olive oil

1

tbsp

heaping tablespoon flour

1/2

tsp

Hungarian Sweet Paprika

2

cups

water
Parmesan Cornmeal Dumplings
1

cup

all purpose flour

1/2

cup

corn meal

1/4

tsp

baking soda

1/2

cup

Parmesan cheese

2

eggs

(plus milk if needed)

dash

ground black pepper, salt

Parsley, finely chopped

(optional)
Instructions
Wash, peel, chop, slice – prepare all the vegetables.

In a large pot, heat oil (2tbsp), add onion( 1 large onion diced) and saute for several minutes until translucent. Add chopped carrots ( 2 cups chopped) and celery ( 2 celery stalks finely chopped). Cook for about 5 minutes. Stirring frequently.

Add all of the green beans (2lbs, washed, ends trimmed, cut into 1 inch pieces), stir, season with salt and pepper. Cook for 2 minutes.

Pour in 2 cups chicken stock. Bring the liquid to boil, and then reduce to simmer. Cook until beans and carrots are almost tender.

Add potatoes, and remaining 3 cups chicken stock. Stir well. Taste and season with salt and pepper if needed.
Soup Roux
Prepare soup roux: heat olive oil (1 tbsp) in small sauce pan, add flour (1 tbsp), stir, cook for about 2 minutes, stirring constantly. Remove from the heat, dust the paprika (1/2 tsp) on top and stir. Gradually add water (2 cups) and stir well until smooth. Heat the soup roux to boil.

Pour the soup roux into the soup, stir well. Use a fine mesh sieve if your soup roux has lumps. Bring soup to boil then reduce to simmer and cook until potatoes and rest of the vegetables are tender.

Stir in marjoram. Rub dry herb between palms of your hands over the pot with soup. Remove pot from the heat.

Cool before storing in the airtight container in the fridge. Store in the fridge for up to 3 days.
Dumplings
To make the dumplings: in a bowl combine all the ingredients, if the mixture is too dry add little bit of milk. Mixture should be thick. You're looking for dense but not rock hard consistency.

Bring water seasoned with salt to boil. Using a spoon or a knife throw spoonfuls of dumpling batter into the boiling water. Cook for 2 minutes, just until they start floating on the top. Drain the dumplings. Enjoy dumplings with the soup. Dumplings can be stored in the fridge for 2 days.
Recipe Notes
Can I eat this soup warm and cold?
I like it warm and cool, not really freezing cold but it's cool to the touch. 
How long does the soup last?
Up to 3 days in the fridge. Reheat on the stove or in the microwave.
Can I use something else in place of dumplings?
Use barley, pasta, rice or omit dumplings.
I don't have parmesan cheese?
Use other cheese instead.
Can I add tomatoes?
Yes, I often add chopped tomatoes to this soup. Add them about 2-3 minutes before you turn off the heat.
I don't have marjoram, can I use something else?
You can skip it or use little bit of parsley instead.
PIN IT for later
I update this post from 2013 with more step by step picture and written text.
This post contains Amazon affiliate links that earn me a small commission, at no cost to you. I only recommend products that I use and love. Learn more about my affiliate policy here.