April Fools Day Asparagus Cookies
Are you looking for a fun food prank for kids or Fools Day dinner prank ? These fancy April Fools Day Asparagus Cookies with White Chocolate Ganache sauce and sliced almonds will fool them all.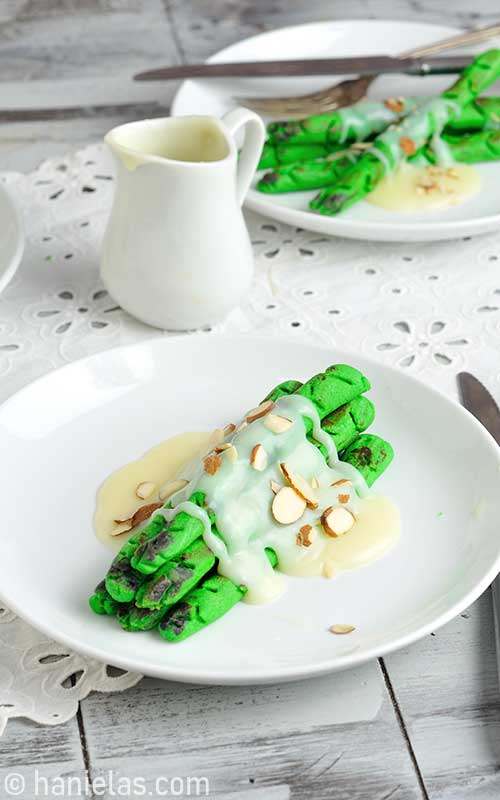 updated from 2015
HOW TO MAKE APRIL FOOLS DAY ASPARAGUS FOOD PRANK
To make green asparagus stalks I used my sugar cookie dough. I plated baked cookies and drizzled them with smooth chocolate ganache (aka béchamel sauce) and sprinkled with sliced almonds on the top. Now, let me show you how you can make this fun vegetable dessert, too.
COLOR SUGAR COOKIE DOUGH
Prepare sugar cookie dough and immediately color cookie dough with green food coloring. For brighter green I also added some yellow gel food coloring.
SHAPE ASPARAGUS COOKIES
Start shaping asparagus stalks right away. Take a piece of colored cookie dough and shape it into a rope.
Cut the rope into about 4-5 inch stalks. Shape one end into a point. Gently roll one end between your fingers to shape it into a cone.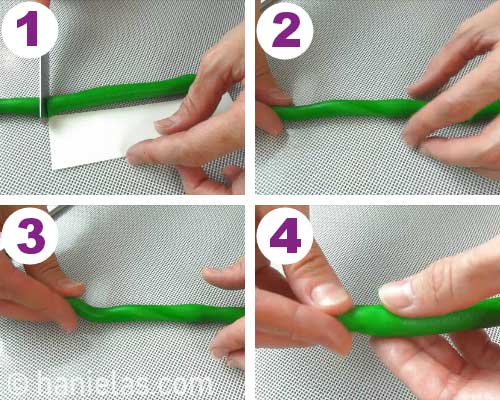 USE SCISSORS
Place green stalks onto a baking sheet lined with parchment. Take small sharp, food only scissors and make small incisions into the cookie dough.
First make a cross cut into the pointed end of the stalk.
And then continue making "V" cuts along the top and sides of each green stalk. Chill cookies in the fridge for 15 minutes.
PAINT UNBAKED COOKIES
When you look at asparagus it's bright green, almost electric green with some brown or purple spots. To give my cookies more realistic finish I painted them with food paint.
HOW TO MAKE QUICK FOOD PAINT
To paint the unbaked cookies I used a quick food paint. I diluted little bit of brown and purple gel food coloring with water. Stir gel color with a little bit of water. Then I painted chilled cookies with brown and then little bit of purple paint. Use purple just on the rounded end and around the "V" cuts.
Look at the difference! Top picture shows unpainted stalks and the bottom picture is of stalks painted with quick food paint.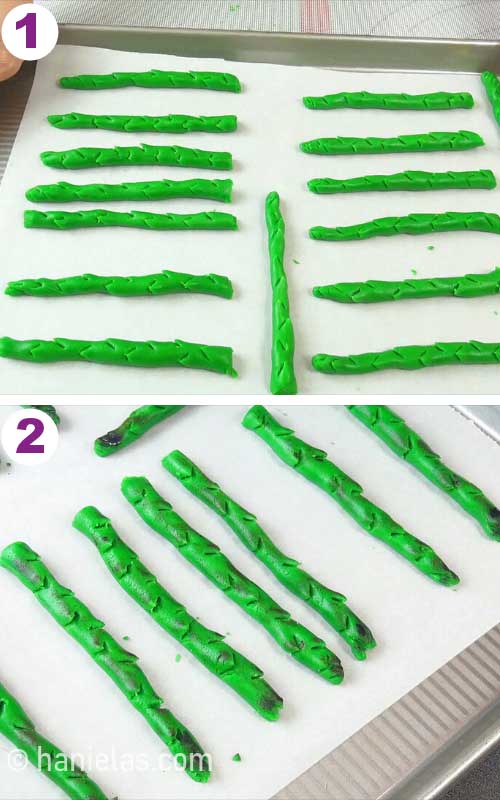 BAKE PAINTED SUGAR COOKIES
Bake the cookies at 375F for 9 minutes. Allow cookies to cool before plating them.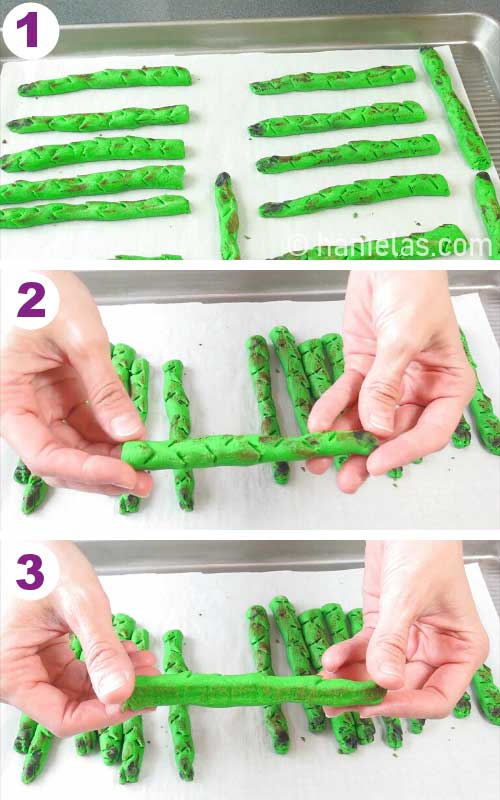 HOW TO SERVE ASPARAGUS COOKIES
I decided to serve my delicious tender asparagus cookies with white chocolate ganache (aka béchamel sauce) and almonds.
WHITE CHOCOLATE GANACHE
To make ganache heat heavy cream until near boiling. Then pour cream over white chocolate and allow to sit for 2-3 minutes. Whisk cream with chocolate until smooth and homogeneous. Flavor with candy flavoring if desired. Lorann Flavoring work great. Be sure to add only few drops, if using. It's very concentrated.
Allow ganache to cool for couple of hours.
PLATE ASPARAGUS COOKIES WITH CHOCOLATE GANACHE AND ALMONDS
Plate baked and cooled asparagus cookies. Pour cooled white chocolate ganache over the top and lastly sprinkle with sliced almonds.
TO MAKE APRIL FOOLS DAY ASPARAGUS COOKIES DESSERT YOU NEED
RECIPES
TOOLS
Get all the tool you need in my Amazon Shop
Baking Sheets
Parchment Paper
Knife
Food Colors to color cookie dough : leaf green and lemon yellow
Food Colors to paint the cookies : brown, purple
Dropper
Food Only Paint Brush
MORE APRIL FOOLS DAY DESSERT IDEAS :
This post was originally published on March 24th, 2015. On March 28th, 2020 I updated this post with new step by step photos, written text and a video.
This post contains Amazon affiliate links that earn me a small commission, at no cost to you. I only recommend products that I use and love. Learn more about my affiliate policy here.