Pickled Peppers in Oil and Vinegar
With a bountiful garden crop of peppers this year I decided to make Pickled Peppers in Oil and Vinegar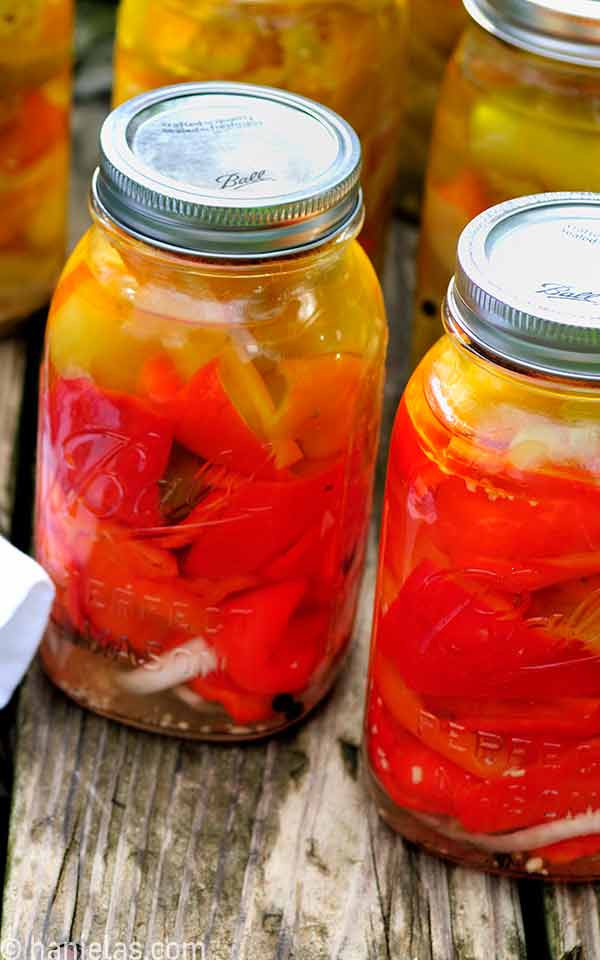 updated from 2011
HOW TO MAKE PICKLED RED PEPPERS IN OIL AND VINEGAR
I grew up eating pickled peppers and though I haven't made them before I knew whom to call. I called my mom and my in-laws to get the recipes, it always helps to have several recipe sources.
WHAT KIND OF PEPPERS TO USE?
We grow Aruba Peppers in our garden, so I use them to make my pickled peppers and I often use them to make red pepper paste, too. To make pickled canned peppers you can use bell peppers, banana peppers, and even hot peppers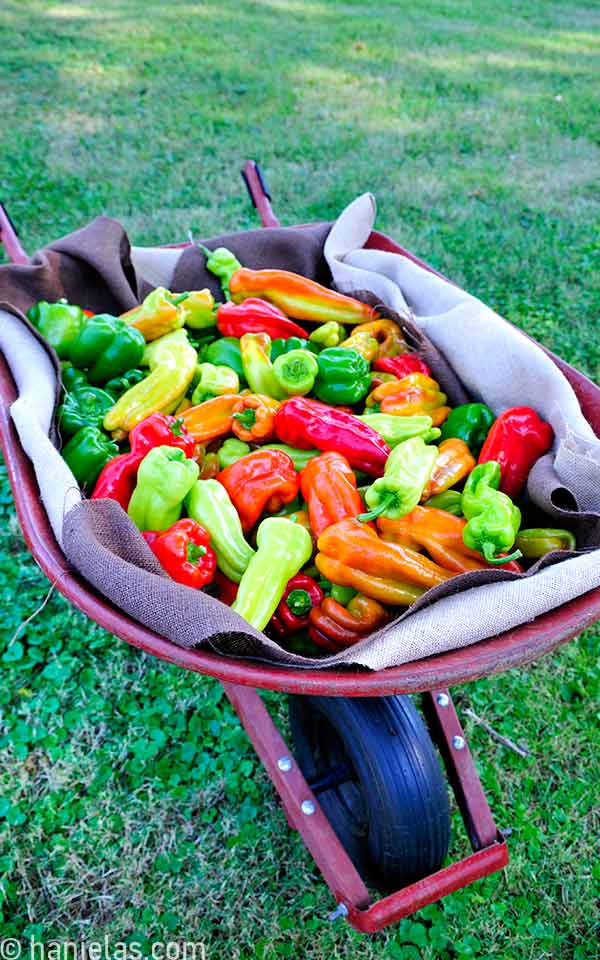 WASH AND CLEAN PEPPERS
Soak peppers in the water for 5-10 minutes. It helps to loosen dirt. Scrub them well with a vegetable brush.
Cut each pepper and remove seeds and ribs.
STERILIZE GLASS CANNING JAR
Scrub the jars in hot water and sterilize them upside down in the canning pot for 20 pots.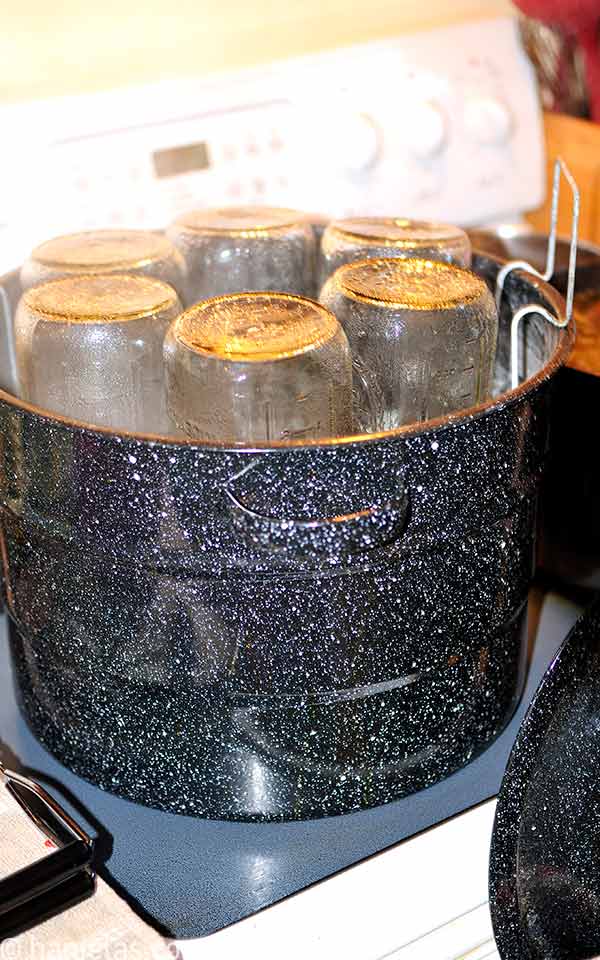 SEASONINGS
In this recipe, I use several seasonings; you can experiment with different flavors and add herbs and other spices of your liking.
Bay Leaf
Allspice
Black Pepper
Sliced Onion
Garlic (optional)
Chili Flakes (optional)
PICKLING BRINE
Prepare pickling brine: bring water, vinegar, oil, salt, and sugar to boil. Boil for 3 minutes.
BLANCH PEPPERS
Blanch prepared peppers in the simmering brine for 2 minutes. Remove them, and place them onto a flat tray.
FILL JARS
Drop the seasonings into sterilized jars.
Use a canning funnel to fill the jars with blanched peppers and pour the brine into the jars, about an inch below the rim. It's easier to fill jars using a canning funnel. Before I placed lid with rubber seal on top of each jar, I wiped the rims with a clean kitchen towel dipped in vinegar. This step is IMPORTANT to ensure that there is no grease and that the lid will catch on during canning. Secure sterilized lids onto the jars with canning rings. Don't tighten them too much.
PROCESS IN WATER BATH
Process jars in a water bath with at least an inch of water above the jars, for 15 minutes. Turn off the heat and let jars sit in the water for 5 minutes. Then remove jars from the water bath with a canning jar lifter and carefully place them onto a tray or a counter. Let them sit for 10-15 minutes. During this time you might heart popping sound of lids getting attached to the glass, this is normal. If you don't hear popping sound, this is also normal. We have wait till later to check if jars are properly sealed. Then tighten the rings, use a towel, if jars are too hot to touch. Carefully invert jars onto a flat surface lined with a kitchen towel and let them sit for 24 hours.
HOW DO YOU KNOW IF A JAR SEALED PROPERLY?
After 24 hours, you can perform a simple test if the jar is sealed correctly. Unscrew the ring and lift the jar upside down. Check for any bubbles traveling up, and then you can also knock on the glass if you get a hollow sound. Another simple test is to check the lid, press it in the middle, and if it "pops" up and down, it hasn't sealed properly.
For the best taste, let canned pickled peppers mature for several weeks and enjoy.
MORE DELICIOUS RECIPE FOR CANNING
Pickled Peppers in Oil and Vinegar
This recipe uses 10kg/22 pounds washed and cleaned pickles.
Check the notes for scaled-down recipe for brine.
Ingredients
PICKLED PEPPERS IN OIL AND VINEGAR
Peppers
22

pound

peppers, 10 kilos, washed and cleaned
Brine/Pickling Liquid
3

quarts

water (12 cup, 3 liters)

1 ¾

cup

white distilled vinegar (13.5fl oz., 400ml)

1

quart

oil (4 cups, 1 liter), vegetable or olive oil

4.2

oz.

pickling salt (120grams)

17.6

oz.

granulated sugar (500grams)
Seasonings per 1 Quart (700ml to 1000ml) Jar
1

whole bay leaf

2

allspice berries

2

whole black pepper berries

2

thick onion slices

1

sliced garlic clover (optional)

1/8

tsp

chili flakes(optional)
Instructions
PICKLED CANNED PEPPERS IN OIL AND VINEGAR
Brine/Pickling Liquid
Pour all the ingredients into a large pot. Bring all the ingredients to boil. Let boil for 3 minutes. Stir.
Blanch Peppers
Into the boiling brine, add prepared peppers and blanch them for 2 minutes. Remove blanched peppers from the hot brine onto a flat tray or clean baking sheet.
Seasonings per 1 quart (700ml to 1000ml Jar)
Into washed and sterilized jars, add seasonings (per one-quart jar): 1 whole bay leaf, two allspice berries, two black pepper berries, two thick onion slices, sliced garlic clover(optional), 1/8teaspoon chili flakes(optional).
Fill Jars
Fill jars with blanched peppers and pour the hot pickling liquid over the peppers, at least 1 inch below the rim of the jar.
Close Jars
With a clean cloth or a paper towel and a little vinegar, wipe all the rims on the filled jars, and make sure they are dry and oil-free. This is very important!

Place sterilized lids onto the filled jars, and secure them with the rings. You want them just to catch on, so don't tighten them too much.
Process Jars in Water Bath
Process jars in the water bath, in the boiling water for 10-15 minutes.

Remove jars from the bath onto a flat surface covered with kitchen towels and let sit for 5-10 minutes. Tighten the rings and invert them onto a flat surface covered with kitchen towels, let rest for 24 hours. 
Notes
Do you have a scaled-down recipe? – Here is the 1/3 of the brine/pickling liquid recipe: 1 liter water, 135ml Vinegar, 35 ml oil, 40 grams of pickling salt, and 165 grams of sugar.
This recipe was published on August 22nd, 2011. On September 7th, 2022 I updated this post with new picture and written text.