Dress up your holiday dessert table with this bright and cheerful Christmas Tree Cake Roll. Spice it up with candy cane cream cheese filling and decorate with candy Christmas lights. Let's make it together.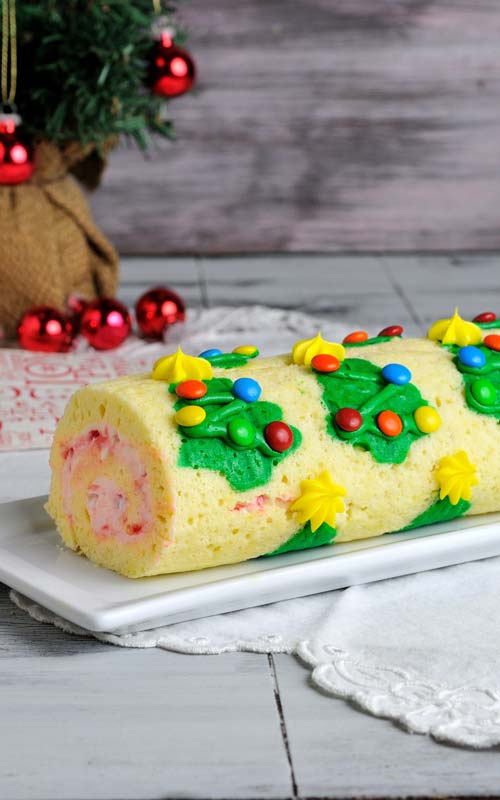 HOW TO MAKE CHRISTMAS TREE CAKE ROLL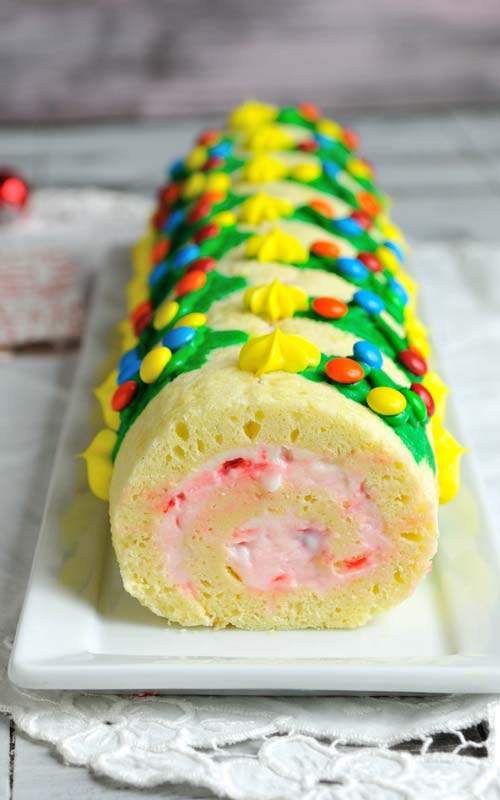 HOW TO MAKE PATTERN CAKE ROLL
Pattern cake rolls are super simple to make. 1st we need to pipe a pattern onto a parchment. Then we need to set the pattern. You can either bake it off or freeze it. I usually freeze the pattern.
TREE PATTERN
Print my tree pattern. Cut the parchment sheet to fit your baking sheet )(half sheet). Place the pattern under the parchment.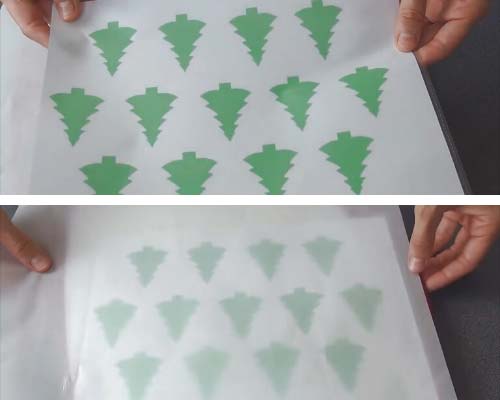 PATTERN BATTER
Prepare green pattern batter. Pour it into a piping bag. Cut the tip of the piping bag.
Pipe all the trees onto the parchment. Then slide the parchment sheet onto a flat freezer save tray and freeze for 20 – 30minutes.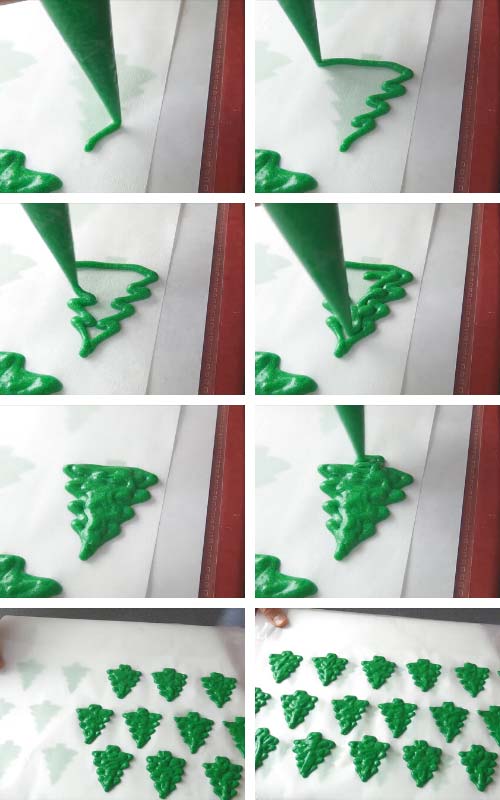 SPONGE CAKE ROLL
Preheat oven to 350F. Spray the baking sheet with a nonstick spray or use soften butter. Prepare sponge cake batter following the recipe in the recipe card. Take out the tree pattern from the freezer and carefully slide it into a prepared baking sheet.
BAKE THE CAKE
Bake the cake for 13-15 minutes. Immediately turn the cake out onto a surface lined with wax paper and dusted with powdered sugar. Peel off the parchment.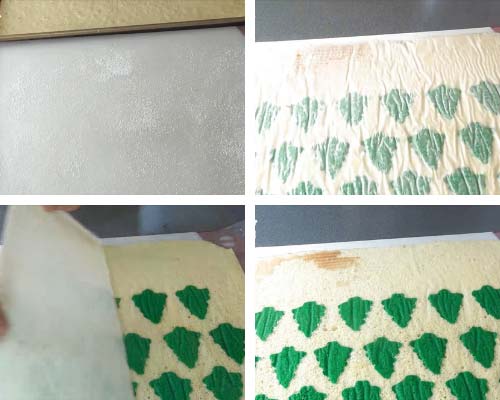 While cake is still hot flip it so the trees are facing your work surface. Peel off the wax paper.
Roll the cake while still hot into a log and let it cool to room temperature. I like to wrap it in a clean kitchen towel.
FILL CHRISTMAS TREE CAKE ROLL
CANDY CANE CREAM CHEESE FILLING
Prepare cream cheese filling, reserve about 2/3 cup. To the remaining filling stir crushed candy canes. Carefully unroll the cake and spread the filling onto the cooled cake. If you see any cracks in the cake spread the filling over those first.
After you fill the cake roll it up again. Wrap it in a food wrap and chill for a couple of hours. Chilling helps to firm up the cake so it's easier to decorate and slice.
DECORATE CHRISTMAS TREE CAKE ROLL
Use leftover plain Cream Cheese Filling. Color it with yellow and green food coloring. Fit a piping bag with a star tip and a round tip #3 or #4. Spoon filling into the prepared piping bags.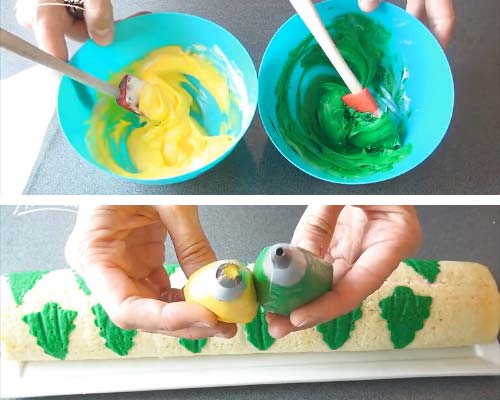 Take cake roll out of the food wrap. Transfer it onto a long tray. Then pipe yellow stars onto the trees.
Finish decorating by piping a green garland on the trees. Then you can decorate garland with sprinkles or Mini M&M Candies. They work great as Christmas lights.
TO MAKE CHRISTMAS TREE CAKE ROLL YOU NEED
TOOLS
Find all the tools you need in my Amazon Shop
Baking Sheet (baking surface dimensions 17.25 x 12.25 x 1 inch)
Piping Tips any open star tip will work, round tip #3 or #4
Mini M&M Candies
Food Colors : leaf green, yellow
Spatula
Hand Held Mixer
MORE CHRISTMAS DESSERTS :
Christmas Tree Cake Roll
Makes one Cake Roll, about 17 inches long.
Ingredients
Pattern Batter
2/3

cup

all purpose flour

1/2

cup

powdered sugar

3

tbsp

room temperature butter

3

egg whites

at room temperature

1/4

tsp

vanilla extract

1

tbsp

water, use when batter is too stiff to work with
Cake Batter
5

tbsp

butter

melted, cooled

6

eggs

separated, at room temperature

1

cup

granulated sugar

1

cup

all purpose flour

pinch

salt

2

tsp

Vanilla extract
Cream Cheese Filling
1 1/2

block cream cheese

1 block is about 226 grams, room temperature

1/4

cup

room temperature unsalted butter

1 1/4

cup

powdered sugar

use more if you prefer sweeter filling

2-3

tbsp

cream or heavy cream

2

tsp

Vanilla extract

1/2

cup

crushed peppermint candies

3 -4

drops

Concentrated Peppermint Flavoring
Instructions
Pattern Batter
Cream butter (3tbsp) with powdered sugar (1/2cup). Beat until creamy. Gradually beat in egg whites (3 egg whites). Mix until well blended together. Then add vanilla extract (1/4tsp) and on low speed add flour (2/3cup). If batter appears too stiff beat in 1 tbsp of water.

Color batter with leaf green food coloring. I used Americolor brand. Place tree pattern onot a flat surface. Layer a piece of parchment over it. With green pattern batter pipe trees onto the parchment paper. Freeze for 20-30 minutes.
Cake Batter
In a clean bowl beat egg whites (6 egg whites) with a pinch of salt until soft peaks are formed. Then gradually beat in about 1/2 of the granulated sugar (1/2 cup). Beat until stiff and glossy peaks are formed.

In a bowl beat egg yolks (6 egg yolks) with remaining sugar (1/2cup) until pale in color and doubled in volume(ribbon stage). Gradually add melted and cooled butter (5tbsp). Beat well. Lastly beat in Vanilla extract (2tsp).

Sift flour (1 cup) and salt (pinch) into a bowl.

Into the egg yolk mixture gradually and alternating fold in sifted flour and meringue. 

Spray the jelly roll pan with non stick spray, lay the piped frozen tree pattern into a bakign sheet (half sheet) and spread the cake batter over the tree pattern layer.

Bake at 350F for 13-15 minutes.

Dust the wax paper sheet with powdered sugar, invert baked and still hot cake onto the wax paper. Peel of the top layer of parchment paper. Now it's time to flip the cake so the tree pattern is facing the surface. Place another layer of wax paper on the top of the tree pattern. Put a cutting board or another baking sheet on the top and flip the cake, peel the wax paper. Starting at the side with no tree pattern, roll the cake. Wrap into a kitchen towel, let cool completely before filling, about 3 hours.
Cream Cheese Filling
Beat cream cheese ( 1 and 1/2 block of cream cheese) and butter (1/4 cup) until smooth and creamy. Then gradually add powdered sugar (1 cup and 1/4 cup) alternating with cream (2 -3 tbsp), beat well. Then mix in Vanilla extract (2 tsp). Reserve about 2/3 cup of cream cheese frosting.Place into a small dish, cover and refrigerate until ready to use.

Into the remaining frosting stir in crushed candy candies (1/ 2cup) and few drops of peppermint flavoring. Don't add too much as flavor will be overpowering.
Fill Cake Roll
Carefully unroll cake roll and spread candy cane cream cheese onto the cake. Ten roll it up again. Cover with food wrap and refrigerate for couple of hours, until it firms up a little.
Decorate Cake Roll
Divided reserved filling and color one portion with green and one with yellow food coloring. Spoon green frosting into the piping bag fitted with a round piping tip #3 or #4. And yellow frosting into a piping bag fitted with a small open star tip.

Unwrap cake roll from a food wrap. Pipe yellow starts on the top of the trees. And green garland across. Decorate garland with Christmas lights. Use sprinkles or small candies, such as mini M&M candies.
Storage
Cake roll should be stored loosely but well covered in the fridge. Prepare it up to 3 days ahead.
This post was originally published on December 22nd, 2015. On November 5th, 2019 I updated this post with new step by step photos, written text and a video.
This post contains Amazon affiliate links that earn me a small commission, at no cost to you. I only recommend products that I use and love. Learn more about my affiliate policy here.