Orange Petit Beurre Cookies
Are you looking for a way to travel back in time…back to your childhood? I found the way! These biscuits will do just that.
I can't stop myself from eating one more…
Recipe
3cups all purpose flour
1/2 cup whole wheat pastry flour
1/2 cup corn starch
1/4tsp salt
1/2tsp baking powder
1/2tsp baking soda
12tbl butter at room temperature
1cup granulated sugar
3 large egg yolks
2tbl orange liqueur/or 1tbl orange extract/
1tbl orange zest
8tbl heavy cream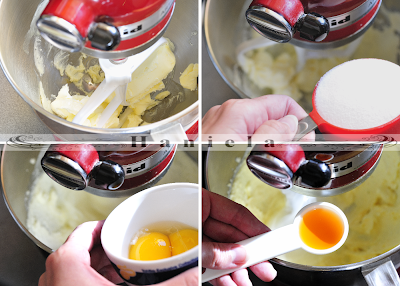 -combine and sift flours add corn starch, salt, baking powder and baking soda.
-using the mixer beat butter and sugar together until fluffy, add egg yolks, one at a time, beat until smooth.
-add orange liqueur, one tbl at a time, beat until liquid is absorbed
-add orange zest
-turn the mixer on slow speed, add half of the flour mixture into the butter mixture
-scrape the bowl with spatula
-add heavy cream and rest of the flour
-turn the dough onto the board and work it with your hands until it comes together
-separate dough into two and make rectangle shaped disk
-wrap the dough and chill for at least 3 hours, or up to 2 days
Oven : 320-325F
-Line baking sheet with parchment paper

Rolling the Dough
– if the dough has become too hard to roll, let it soften a little or you can put it in the microwave for 5-10 seconds to soften it.
– roll the dough between two pieces of wax paper, you want to roll the dough thin
– trim the sides
– using a ruler measure and cut desired shapes
– prick cookies with the fork
For cutting the the dough I use Wilton Pastry Wheel
I also tried making biscuits thicker, they turned out delicious as well.
Personally I prefer a slightly slender look in these.
I thought it would be fun to add a little flare to these biscuits. I used a rubber stamp to create a design the on the cookie.
Here are the finished stamped cookies, I wish the tulip stamp was more visible, but still they are quite pretty, I think.
I also tried using small cookie cutters Fox Run 26-Piece Alphabet Cookie Cutter Set
and those worked really well. What a wonderful way this would be to create a message for recipient and tell them something with a special cookie message….I know, I'm getting ahead of myself.
– if cookies get too soft to transfer to baking sheet, place them into the fridge for a few minutes and then once little chilled you should be able to transfer cookies onto the baking sheet. I used an Wilton 9 Inch Angled Spatula, With Black Handle
for this process. It works great.
-cookies don't spread too much, so you can space them out fairly closely to each other
– bake in the preheated oven, for 8 -10 minutes, baking times may vary depending on the size of the cookie and thickness.
– remember to rotate baking sheets in half time
– biscuits are done when edges are just starting to turn golden, remove from the oven and let cool
– enjoy alone, with cup of tea, milk or coffee.
Tips
for vanilla flavor :
omit orange zest and orange liqueur = use 1tsp vanilla extract and 10tbl heavy cream
I found this dough to be very easy to work with. I didn't use any extra flour when rolling the dough.