Browsing online, I found irresistible felt Santa Ornaments, and immediately I knew I had to turn them into Triangle Santa Cookies.
updated post from 2010
HOW TO DECORATE TRIANGLE SANTA COOKIES
Triangle-shaped cookies are super easy to make. Use a round plastic container or a plate to cut out a large round cookie. Then with a knife or a bench scraper, cut the round into even wedges. Or use a triangle cookie cutter instead.
DECORATE SANTA FACE
Start by tracing the outline guides onto the cookie with an edible marker.
TIP: I used a piece of parchment to make the template. To make a sturdier template you can also use a cardstock
With 15 to 20-second consistency icing pipe the face (steps 1-2). Immediately pipe the eyes using wet on wet technique, with black 15-second consistency icing (steps 3-4). To add reflection, pick up a dot of ivory or white icing with a scribe tool and place it onto the black eyes (steps 5-6). Let the icing crust for 30 minutes.
TIP: To make skin tone icing I used ivory gel food coloring to color icing, and I added a minuscule amount of pink food coloring.
BODY AND SANTA HAT
Use a sky blue 15-second consistency icing to outline and flood the bottom part of the cookies. Use a scribe to distribute the icing evenly (steps 1-8). Let the icing crust for 20 minutes.
With 15-second consistency red royal icing outline and flood the hat (steps 1-5). Let the icing dry.
DECORATE CHEEKS WITH PETAL DUST
Add blush to the cheeks using dry FDA-approved petal dust. Dip a dry food-only paintbrush into pink petal dust, gently shake off the excess. Then apply dust onto the cheeks using a circular motion.
Use a small decorating bottle and blow the air onto the cheeks to remove residue petal dust.
PAINT WITH EDIBLE GOLD PAINT
I decided to paint the hat gold. I used a Glamorous Gold Edible Art Decorative Paint by Sweet Sticks (step 1).
Pour a few drops of gold paint into a palette or on a piece of wax paper. Dip the flat food-only paintbrush into the gold paint (step 2). Paint the red icing (steps 3-4).
SANTA BEARD
Lastly, make the beard with white 15 to 20-second consistency white royal icing. Pipe the outline and then fill the section with icing. Use a scribe to distribute the icing evenly (steps 1-5).
Then place a cookie onto a small funnel tray and dust the beard with white sanding sugar.
TIP: If you don't have a funnel tray, use a clean, dry coffee filter instead.
DECORATIVE BORDER
And lastly, pipe a decorative pattern on the bottom. Use piping consistency royal icing to create a beaded border.
TIP: Learn more about the different consistencies of royal icing. And how to use them in cookie decorating.
TABLESETTING COOKIE IDEA
I made these cookies for a friend in 2010. She requested that I pipe a name on each cookie. What do you think? Aren't these adorable? As you can see, triangle cookies are also great for platters and table-setting cookies. Writing the names on the cookies can be as easy as writing them onto the dry icing with an edible marker. Or you can pipe the names with royal icing. I used the same idea to make New Year's Eve Party Cookies.
MORE CHRISTMAS COOKIE DECORATING IDEAS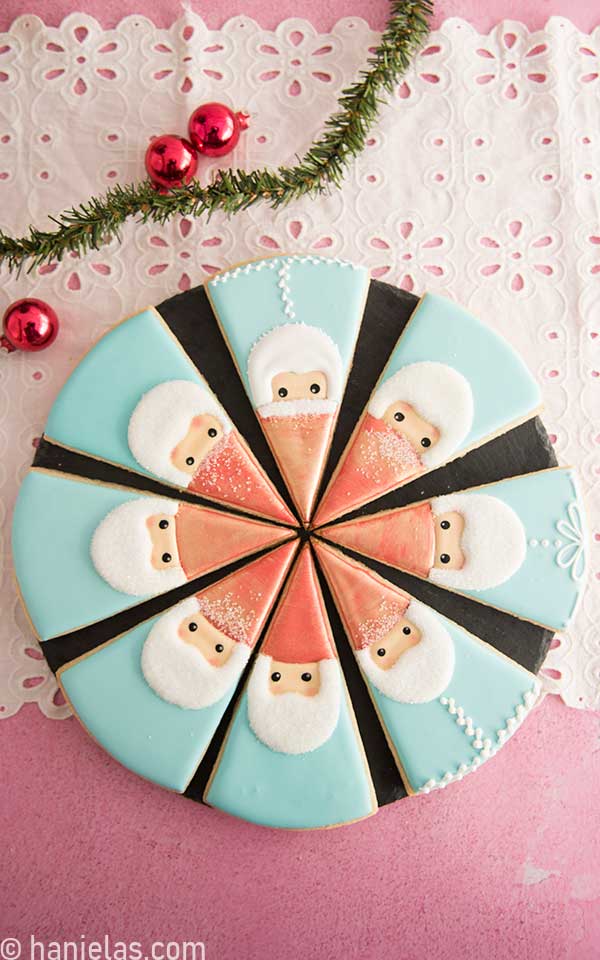 Did you make these Decorated Cookies? Tag @hanielas on Instagram and hashtag it #hanielas
TO MAKE TRIANGLE SANTA COOKIES YOU NEED
RECIPES
Cut-Out Sugar Cookies
Royal Icing
TOOLS
Tipless Piping Bags
White Sanding Sugar
Food Gel Colors by Americolor Brand: Super Red, Sky Blue, Ivory,
FDA Pink Petal Dust – for the cheeks
Food-Only Paintbrush
Scribe
This post was originally published on December 7th, 2010. On December 7th, 2021 I updated this tutorial with step-by-step picture instructions and written text.