Butterfly Cookie Chocolate Chip Cupcakes
Today is my Birthday and my wish has come true, we are having a warm sunny day, with clear blue skies, fresh air and blooming flowers, we have a blooming bush with clustering flowers in the front of the house.It is so pretty!
I decided to treat myself to a long walk later today and I know many of you probably thought I'd bake a cake for myself and actually I didn't really bake anything super special this year, I had plans for a cake but didn't have time to make it, so I just used some left over cupcakes and cream cheese for my little Birthday Dessert. I hope you try this one, it is a keeper.
Today I will leave you with my newly favorite recipe for Chocolate Chip Cupcakes, cream cheese and few tips that I picked up along the way of being a baker. Chocolate chip cupcakes can be eaten alone, no icing needed, but with icing they are even more delicious.
Haniela's Birthday Post Includes:

Chocolate Chip Cupcake Recipe
Cream Cheese Vanilla Bean Frosting Recipe
Frosting Marbeling Effect
Cookie Pop
Chocolate Chip Cupcakes
(makes about 18 cupcakes, doubled recipe makes 9″ + 6″ round cake, or 2 8″ rounds, or one 9″x13″ pan)
1/2 cup room temperature butter
3/4 cup granulated sugar
1/3 +1/4 cup packed brown sugar
1/2cup mini semi sweet chips
* I always use cake flour, I tried using substitutions but I doesn't work for me.
Preheat oven to 330 F
Line the muffins pans with cupcake liners.
In a large bowl, sift together, flour, baking powder and salt.
In a medium bowl stir together mini chocolate chips with 1tbl flour,coating the chips.**
Using your stand mixer or hand mixer, beat butter with sugars for 5 minutes or so, add sour cream, gradually and beat until smooth.
On medium speed alternatively add flour and one egg at a time. Beat until smooth. Add vanilla extract . Beat just until combined. Fold in flour coated mini chocolate chips.
Pour the cake batter into a prepared muffin pan.
Bake at 330F for about 18 -20 minutes, or until golden brown and toothpick inserted in the center comes out clean.
Cool on wire rack.
** Coating mini chips with flour prevent sinking during baking
Vanilla Bean Cream Cheese Frosting
2 packages of cream cheese
1stick of room temperature butter
2 + cups of powdered sugar(use more if desired)
1tsp vanilla extract
1tsp vanilla bean paste(optional)
1tbl milk or heavy cream
food color to tint the icing to desired color
Mix cream cheese until smooth, add butter and mix until smooth, add powdered sugar and mix on low speed until combined, increase the speed and beat for 2 minutes until smooth, add vanilla extract and vanilla bean, add milk or heavy cream and beat until smooth, tint with food coloring and decorate your cupcakes. If frosting gets too soft, chill it for 15 minutes, if you leave it longer it may get too hard to pipe.
Creating a Marble Effect
I used Wilton Tip 2D to pipe the frosting onto the cupcakes.
-fit the piping bag with a 2D Wilton tip
-stand the piping bag in the tall glass or a jar, this helps to stabilize the bag when filling it with frosting(see
here
)
– #1.color about 1/3 cup of frosting with the icing you'd like to use create marble effect
– # 2.color rest of the icing as desired
-using a spatula, spoon or a table knife spread #1. icing into the piping bag inner wall, in one straight line as seen in the picture
-fill the piping bag with remaining frosting, taking care not to swirl two colored icings too much together.
-test on a small piece of paper
-once you create pressure and frosting will start to come out through the Wilton tip, you'll notice parts of it are different color, your marbling color.
-pipe the icing onto the cupcakes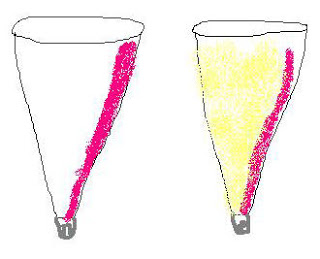 Cookie Pop -Cupcake Topper
I love butterflies and so I decided to add a little butterfly flare to my chocolate chip cupcakes. Mini Cookie on a stick or Cookie Pop.
You can use any cookie recipes that you like, or pick from my collection of roll out cookie recipes recipes
When making cookies on sticks, I find that thickness of the cookie dough is really important, you want the cookie to be thick enough to be able to insert the cookie stick but you don't want it to be too too thick.
You need:
Cookie Dough
Painter's sticks – I use these as rolling pin thickness guides
Level 1- one stick on each side,for linzer and honey cookies
Level 2 – 2sticks on each side, for sugar and chocolate cookies
Level 3 – 3sticks on each side – cookie pops
Cookie Sticks
Mini Cookie Cutter
I find that stacking 3 standard painter's sticks together creates a perfect thickness for cookies on the stick.Stick is easily inserted into the cookie without having to worry about tearing the cookie dough.
I wrapped the sticks with a food plastic wrap or you can glue them together and wrap them in food grade plastic wrap.
once you are ready to proceed, simply place you cookie dough between two single or stacked painter's sticks, place the parchment paper on the top and using your rolling pin roll the cookie dough, keep in mind that your rolling pin must be standing on the painter's stick to maintain the same thickness of the cookie dough throughout. Cut out cookies.Space them out on the parchment paper lined baking sheet.
Insert a cookie stick, gently using a rotating motion
Bake at temperature provided with the cookie recipe, keep in mind that thicker cookies may take longer to bake, that being said, smaller cookies take less time to bake. I baked mine for approximately 9 minutes.
Decorate with your favorite icing. I used Royal Icing.
More on Cookie Decorating can be found under Tutorials