Giant Chocolate Candy Bar
Surprise a chocolate lover with a homemade Giant Chocolate Candy Bar.
Forget a boring store bought chocolate bar. Make your own chocolate bar filled with your favorite treats.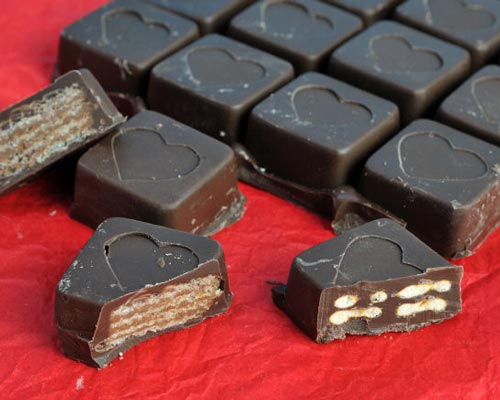 Jazz up this giant chocolate candy bar with a variety of fillings. Have fun with it. Use spiked ganache filling, use crystallized ginger, freeze dried raspberries, peanut butter, nuts or caramels.
GIANT CHOCOLATE CANDY BAR
SILICONE MOLD AND FILLINGS
To make small chocolate bars I used Wilton Square Silicone mold. It makes 24 individual chocolates.
They are so cute and can be individually wrapped, too.
I filled my giant chocolate bar with wafer bars and pretzels. Next time I'm trying some dried fruit, too.
1st I cut the wafer bars to the size of the mold. Actually you want the wafers slightly smaller than the actual mold.
CHOCOLATE
In the recent years I've been using Ghirardelli or Merkens Chocolate disks. Both work well but especially Ghirardelli. It stays melted for a really long time.
You can also use tempered chocolate if you wish.
If chocolate starts to set in the piping bag, heat it up in the microwave, at 50% power.
HEART IMPRINT
To make heart imprint in the chocolate I used heart cut outs. I cut out 24 hearts from a plastic sheet.
To keep the heart cut out in place in the mold I first used a little bit of chocolate to glue them on the bottom of the mold. Secured like this they won't shift or float.
FILL THE MOLD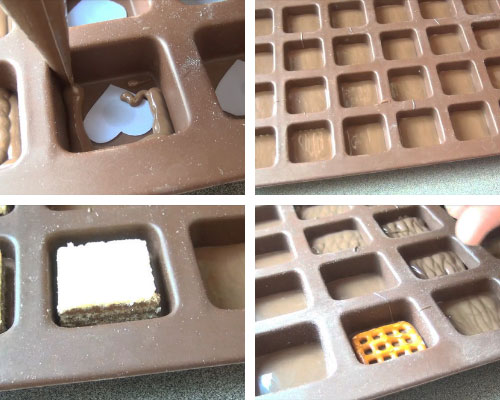 Then using a piping bag I piped some melted chocolate on the bottom of the mold.
Right after I gently pressed cut up wafer bars and pretzels into the mold.
I was able to layer pretzels twice, adding more chocolate between pretzel layers.
Them you can fill in the gap around the edge and seal the top with more melted chocolate.
Once you fill the mold, hold edges of the mold with both of your hands and be sure to carefully bang it on the work surface. This helps to sink chocolate in any spots that were missed and it also pushes air bubbles to the surface.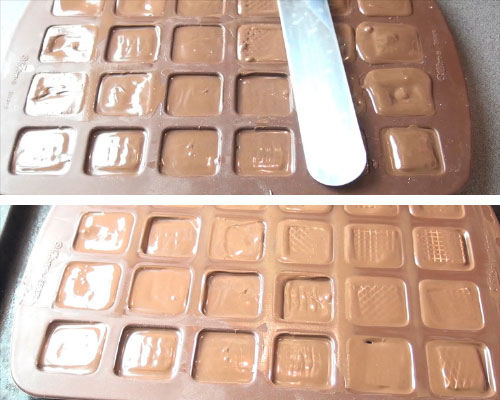 Smooth the top with a long spatula and chill until firm, 30 minutes.
UNMOLD CHOCOLATE BARS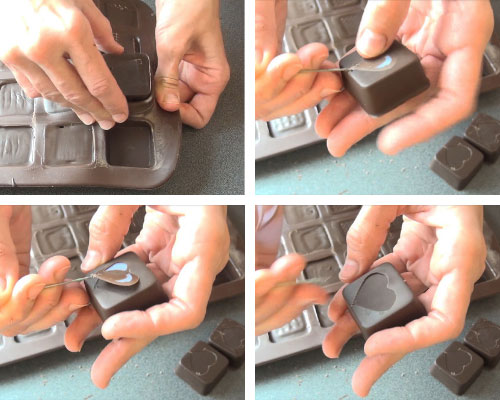 Once the chocolate set you can unmold each individual chocolate bar.
To remove the plastic heart you might need to use a exacto knife or a sharp knife to loosen up the edge or use a needle tool to remove the plastic heart.
SHAPE GIANT CHOCOLATE CANDY BAR
Next I made a frame form aluminum foil.
Spread melted chocolate on the wax paper, layer the frame onto the chocolate.
Then arrange small chocolates onto the melted chocolate. Let harden.
Peel off the aluminum foil frame and a bottom wax paper.
Trim the edges if needed with a sharp knife. You can warm the knife in hot water first. Wipe it dry and then use it to clean up the edges.
PRETTY PACKAGING
If you'd like to take it up a notch you can wrap a giant chocolate candy bar in a pretty wrapper.
Include a personalized message and gift it to someone who likes chocolate or keep it for yourself.
It makes for a cute Valentine's Day Gift or a party favor.
I used a non stick pan lining paper to wrap it.
Giant Chocolate Candy Bar
makes 24 mini chocolates, or one giant chocolate bar
Ingredients
20 oz(560grams)

dark chocolate, tempered or use candy melts

Ghirardelli

Fillings

wafer bars, dry fruit, nuts, pretzels, thick caramel etc
Instructions
Melt the chocolate as directed on the packaging. 

Pipe a dot of chocolate into each mold cavity. Top it with a cut out shape of your choice. Press the template down. Pipe chocolate into the cavity so it covers bottom of the mold. Then using the filling of your choice. I recommend using solid filling so it doesn't spread and doesn't touch the wall for the mold. Once your filling is in. Pipe more chocolate around and on top of the filling, till the mold is filled. Use a long a spatula and smooth the top. Refrigerate for 30 minutes, until set. 

Unmold chocolate and carefully using an exacto knife remove the plastic templates leaving an impression in the chocolate.

If desired you can now proceed and make giant chocolate bar. Make a frame from the foil. please the frame on a wax paper. Spread melted chocolate on the bottom of the frame and then arrange chocolate pieces within the inside of frame. Let the chocolate set. Peel off the frame and bottom wax paper and cut the chocolate around the edges as needed. 

Wrap the chocolate bar in a personalized wrapper. 
TO MAKE A GIANT CHOCOLATE CANDY BAR YOU NEED
PIN IT for later
This post contains Amazon affiliate links that earn me a small commission, at no cost to you. I only recommend products that I use and love. Learn more about my affiliate policy here.