Ruffle Cupcakes and Bella Cupcake Couture Party
Few weeks ago Betsy from
Java Cupcake
invited me to participate in a super fun Bella Cupcake Couture Blog Party, featuring beautiful cupcake wrappers from Bella Cupcake Couture Shop.
Each blogger received a set of pretty cupcake wrappers and then we all created cupcakes to match the wrappers. 21 Bloggers, 21 Cupcakes Ideas.
And there is also an amazing GIVEAWAY!
I received beautiful Bird and Blossom Wrappers, they are made from a thick textured paper and come in sets of 12. Wrapper is adjustable into 3 sizes. You can see how easy they are assembled
Here
.
Vanilla Cupcakes(12cupcakes)
5 Tbl(70grams) room temperature butter
3/4 cup(150grams) granulated sugar
3 egg yolks
1 1/2 tsp vanilla extract
1 1/4 cup cake flour
1 1/4 tsp baking powder
pinch of salt
1/4 cup (60ml)milk
1/4 cup(60ml) plain yogurt or sour cream
3 large egg whites
Preheat oven to 350F, line a muffin pan with cupcake liners, set aside
Wipe the bowl of your mixer with white vinegar and wipe
it dry, add egg whites, pinch of salt and beat egg whites until medium
soft peaks are formed, add 1/4 cup sugar an beat until firm but not dry
peaks are formed, scrape the meringue into a small bowl and set aside
In the same bowl you made the meringue cream butter with sugar until creamy, 5 minutes
While your butter is creaming sift together flour, baking powder and salt, set aside
In a small dish combine together milk and yogurt.
Add egg yolks to the butter and beat well, add vanilla
extract, scrape the bowl and continue beating until smooth and well
combined
On slow speed alternatively add milk mixture and flour, on low speed beat until smooth
To the batter add about 1/3 of meringue, fold into the batter until smooth, fold in the remaining meringue
Fill the prepared muffin pan, about 2/3 full
Bake for 18-20 minutes
Remove from the muffin pan and cool the cupcakes on the cooling rack
American Buttercream –
(this buttercream is rather sweet, if you prefer less sweet buttercream, you can option for
Swiss Buttercream
)
3 sticks(340grams) room temperature unsalted butter
5 1/2cups (624grams)powdered sugar
3-4 tbl water
2tsp Vanilla Extract
pinch of salt
In a bowl of your mixer beat room temperature butter until smooth, gradually add powdered sugar and salt. Beat until smooth, gradually add water and then add vanilla.
Color frosting with desired colors.
If icing gets little soft while piping you can place it in the fridge to firm up.
Ruffled Cupcakes
Wilton Decorating Tip-#125Large Flower Petal
12 Inch Disposable Pastry Bag, 100 Bags

AmeriColor Student Soft Gel Paste Food Color 12 Pack Kit
Food Coloring
Divide icing, color one part light pink, and rest with dark pink.
Marble icing: lightly stir two icings together, just until you can still see streaks of dark pink in the icing.
Fit the piping bag with the petal tip.
Fill the bag with icing.
Frost the cupcakes: watch me frost the cupcakes in my video tutorial : Pretty Ruffle Cupcakes Video Tutorial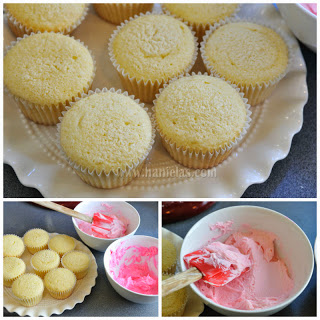 Pretty Ruffle Cupcakes Video Tutorial
More Amazing Cupcakes!
Check out all the Cupcake Fun.
Visit all 21 Cupcake Displays by clicking on the links below.
GIVEAWAY – CLOSED
Thanks to our amazing Prize Pack sponsors for their generous donations! Please, visit their websites to see more of their fabulous products!
To enter to WIN this Prize Pack, simply fill out the entry form below.
Contest opens on May 21st, 2013 at 07:00 PST and closes on May 27th 2013 at 23:59 PST.
One winner will be chosen and announced within 24 hours of the contest ending.
Winner will be contacted via email to claim their prize.
This contest is open to residents of the USA and Europe only.