Decorated Basketball Cookies
Whether you're planning a march madness party or a basketball birthday party, these Decorated Basketball Cookies will be perfect for the occasion.
updated post from 2011
HOW TO MAKE DECORATED BASKETBALL COOKIES
Did you know basketball wasn't always orange? Before the late 1950s basketballs were mostly brown. So why did the color change, why are basketballs orange? The visibility factor played a role in the color change. Brown ball was difficult for the players and fans to see, so it became orange.
Basketball Orange Color
To achieve basketball orange icing I used an orange gel food color as my base. And to orange, I added a minuscule amount of red and ivory. When I say minuscule, I mean the size of a tip of the toothpick.
But, in all honesty, you can use orange color if that's all you have. Don't make it too dark if you plan on airbrushing the cookies.
Baking Perfect Round Cookies
When baking round cookies I omit baking powder in my Classic Sugar Cookie Recipe.
And I also love to use my perforated baking mats. They are basically mesh version of silicone mats. Originally made for bread baking, they can also be used for baking cut-out cookies. Perforated mats help cookies retain it's cut shape. This is especially useful when working with rounds or squares. Of course, it works with all the shpes but geometrical ones can be sometimes especially tough to bake evenly.
Flood Round Cookies
To decorate, I first outlined and flooded round cookies with 15-second consistency orange icing (step 1-6). Let the icing dry before the next step.
How to Create Pebbled Basketball Texture on Cookies
Before we get further, some of you are probably wondering if you could make basketball cookies with the pebbled dots textured look of a real basketball. Yes, you can. You can use nylon netting that's held in place using an embroidery hoop. Place the nylon netting on top of the dry icing and airbrush with an orange airbrush color. If your base orange icing on the cookies is darker you might want to add a minuscule amount of red airbrush color into your orange airbrush color before airbrushing.
Basketball Stencil for Basketball Cookies
To create the characteristic black grooves on the basketball I used a simple stencil/template. These stencils can be purchased readily available, or you can make your own using my handy template. Find all the tools and recipes at the bottom of this post.
The way how you transfer grooves' piping guide onto the cookie depends on the tools you have available. You can use:
Airbrush
Scribe/Edible Marker
Projector
Airbrush
You can use an airbrush and spray over the stencil/template with an orange airbrush color. And if your base orange icing on the cookies is a bit darker you might want to add a minuscule amount of red airbrush color into your orange airbrush color before airbrushing.
Hold the stencil in place with a scribe and airbrush over the thin, narrow slits (steps 1-3). Then you can also create shading on the side of the ball and airbrush it darker (step 4-5).
Scribe/Edible Marker
If you don't have an airbrush you can use a scribe or an edible marker to trace the guides onto the icing. If using a marker, use a marker with a fine tip.
Projector
If you have a projector you can easily use it to create piping guides.
How to use a projector for cookie decorating, via Sweetopia.
Piping Black Grooves on the Basketball Cookies
Follow the guides and pipe over them with a piping consistency black royal icing (steps 1-6).
If you find this step difficult with a tipless piping bag, use a piping bag fitted with a piping tip PME #1.5 or #2. Allow icing to dry for an hour or so.
How to Pipe a Basketball Hoop Cookies
I decided to pipe the basketball hoop with netting onto the round cookies. It's quite simple.
Use red royal icing of 20 to 25-second consistency to pipe the hoop. Smooth the icing with a scribe tool. Let crust well before piping the netting.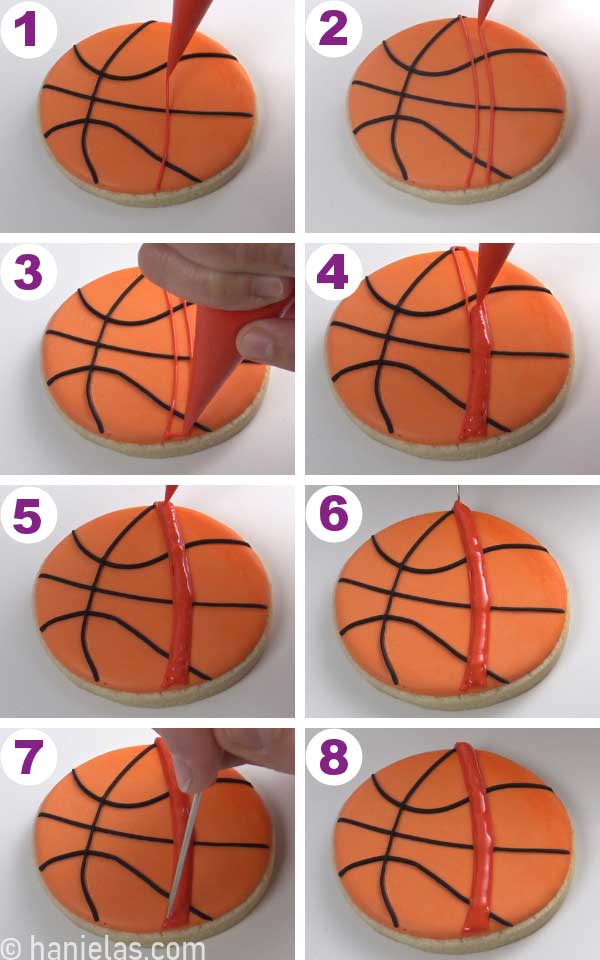 And now you can pipe the netting. I used white royal icing piping consistency. Pipe first set of lines in one direction and then in the opposite, letting the lines overlap.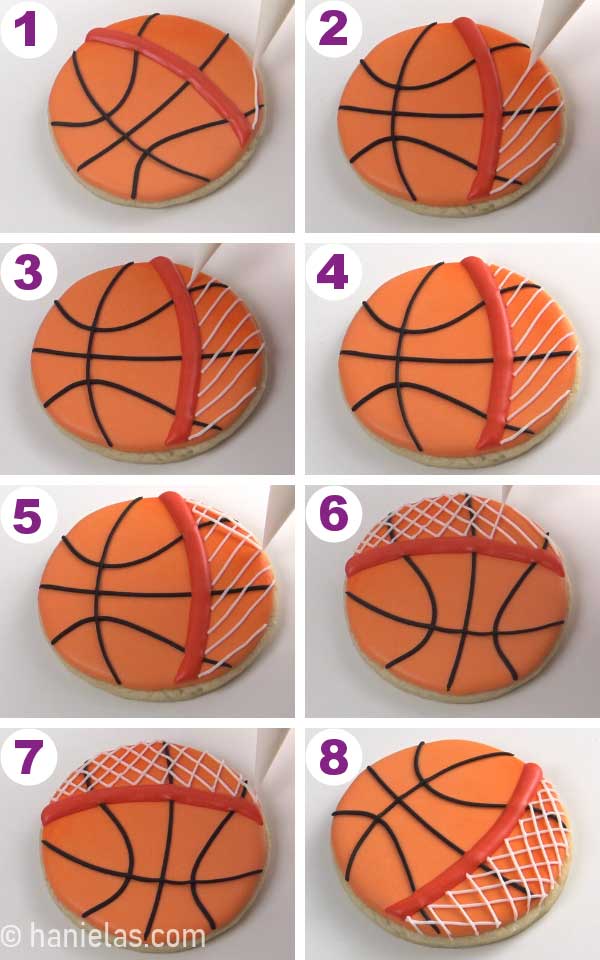 To Make Decorated Basketball Cookies You Need
RECIPES
TOOLS
Shop all the tools in my Amazon Shop
Round Cookie Cutter
Perforated Mats
Concentrated Gel Food Colors(Americolor Brand): orange, red, ivory, super black
Airbrush
Airbrush Colors: orange, red(optional)
Scribe
Tipless Piping Bags
Basketball Grooves Template (digital download available in my template shop)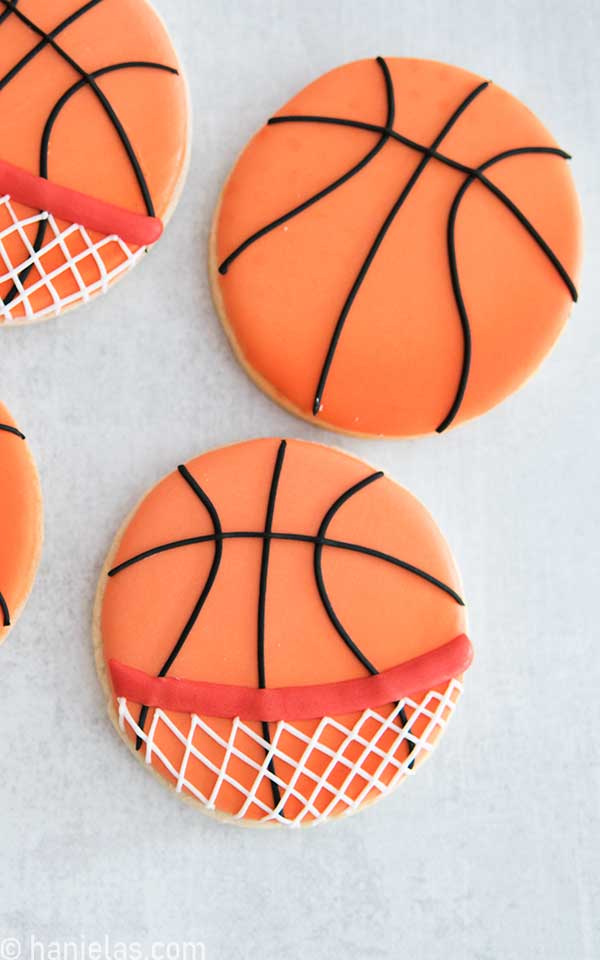 This post was first published on October 19th, 2011. On March 22nd, 2022 I updated this post with new step-by-step pictures and written text.