Are you headed to a tennis party? Bring these decorated Tennis ball cookies with you, and you'll be an instant match-winner. Follow my step-by-step tutorial on how to make tennis ball cookies.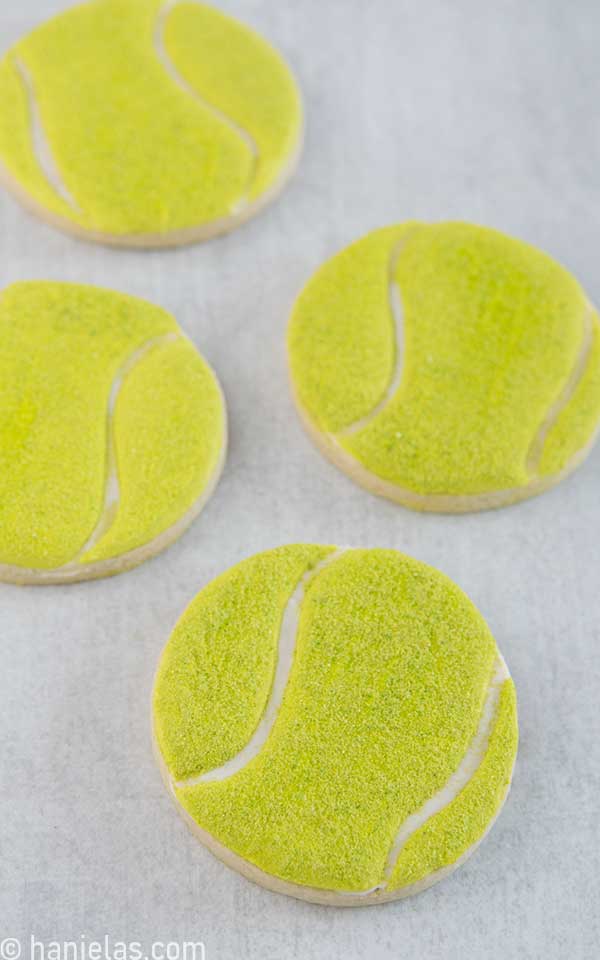 HOW TO DECORATE TENNIS BALL COOKIES
Tennis Ball Fuzz
First, let's talk tennis ball fuzz, shall we? What is it? Tennis ball fuzz is made out of wool, nylon, and cotton. It's not there just for the looks. Felt is a functional part of the ball. It keeps the ball from going super fast and slows it down. It allows for a better racket grip and uniform bounce on different surfaces, and most of all felt surface provides for a better spin, a key part of any tennis match.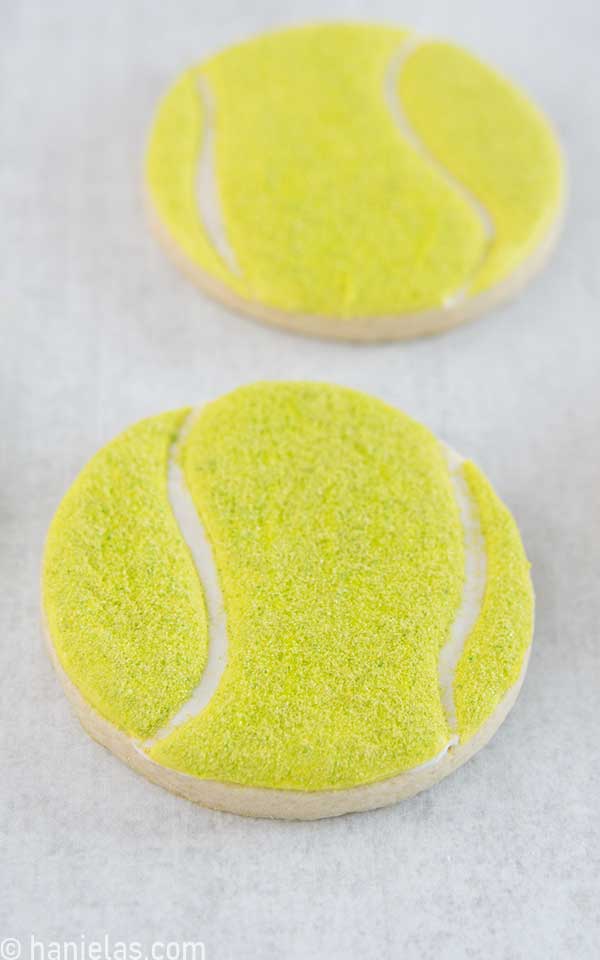 Tennis Ball Color
Before the fluorescent yellow color, tennis balls used to be white. But because the white ball was hard to follow on the television, they changed the color to yellow-green, making it easier to spot.
How to Make Tennis Ball Fuzz for Cookie Decorating
There are a couple of ways to create fuzz on tennis ball cookies:
Sanding Sugar
Texture Royal Icing
Fine Colored Sugar – this is the option I used, as it imitated the felt texture really well.
To prepare fine-colored sugar I used white granulated sugar, corn starch, and electric yellow and green concentrated food gel colors.
I used 1 cup of granulated sugar and 1 to 2 teaspoons of corn starch.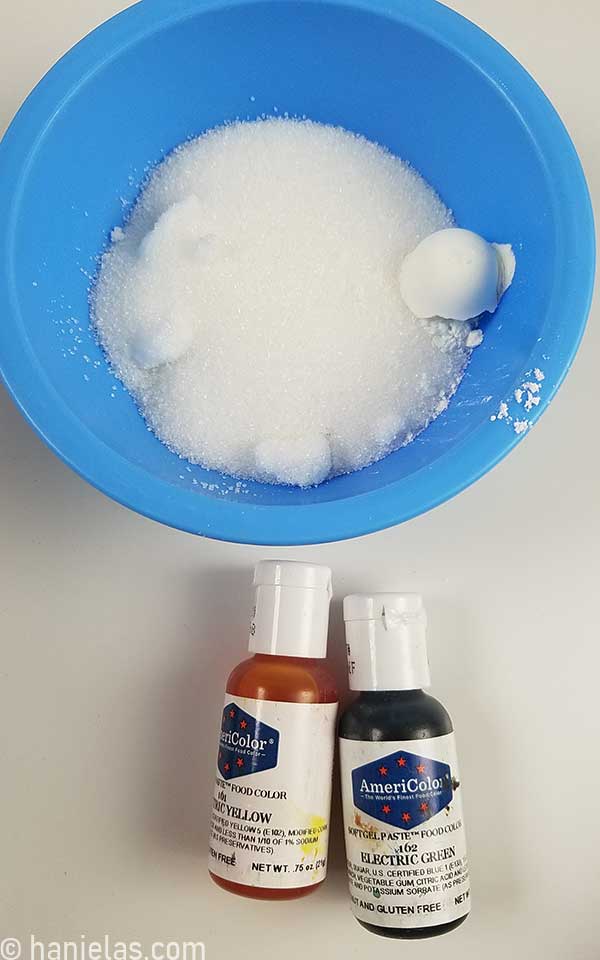 Pour about 1 cup of granulated sugar into a food blender, a small chopper, or a coffee grinder; add about five drops of yellow gel color and one drop of green gel color (steps 1-2). Pulse the blender until sugar is pulverized and homogeneous in color. If you'd like to intensify the color of the sugar, add a little more gel color.
Pour colored, pulverized sugar onto a baking sheet/tray lined with parchment. Dry the sugar in the oven at 86F-100F (30C-40C) for about 20 minutes (step 5). Then, let it cool, sift it and store it in an airtight container (steps 6-8).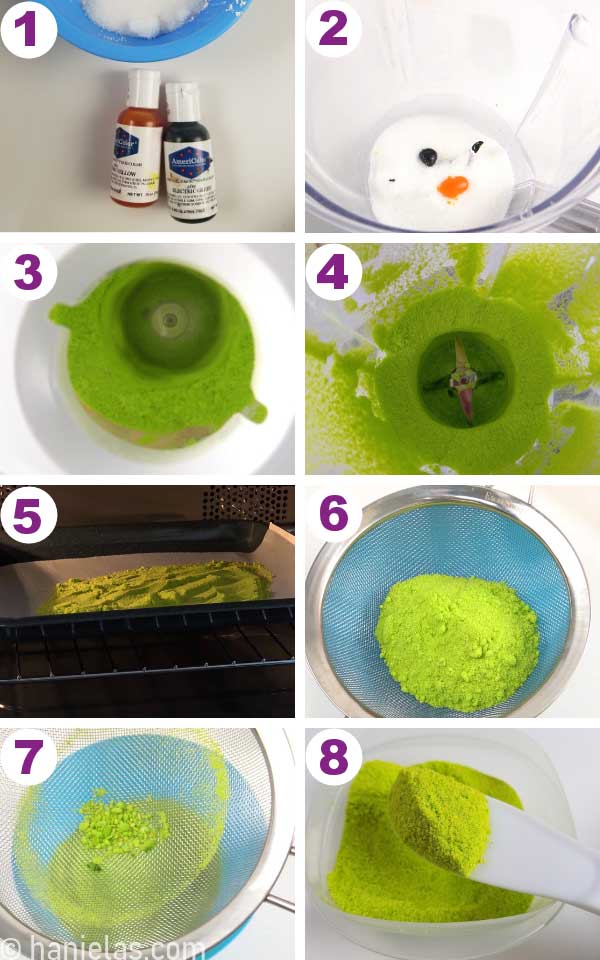 Decorate Tennis Ball Cookies with Royal Icing
I used two icing colors to decorate tennis ball cookies:
White
Yellow with a green hue – color icing with yellow and add a minuscule amount of green gel color (for the best results, use electric gel food colors, or lemon yellow and leaf green)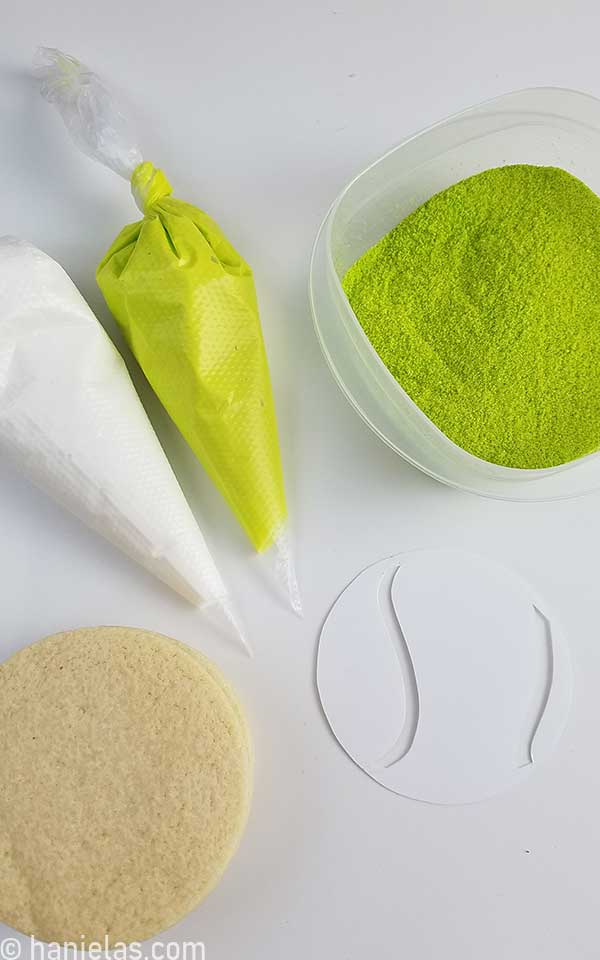 I used a handy template to trace the seam outlines onto the cookie. Instead of using an edible marker, I scratched the cookie's surface with a scribe (step 1). Then I spread a thin layer of white icing over the seam sections (steps 2-4). Place the template over the cookie and double-check if the seam sections are fully iced with white icing (step5). Before the next step, let the white icing dry for an hour or 2 (steps 5-6).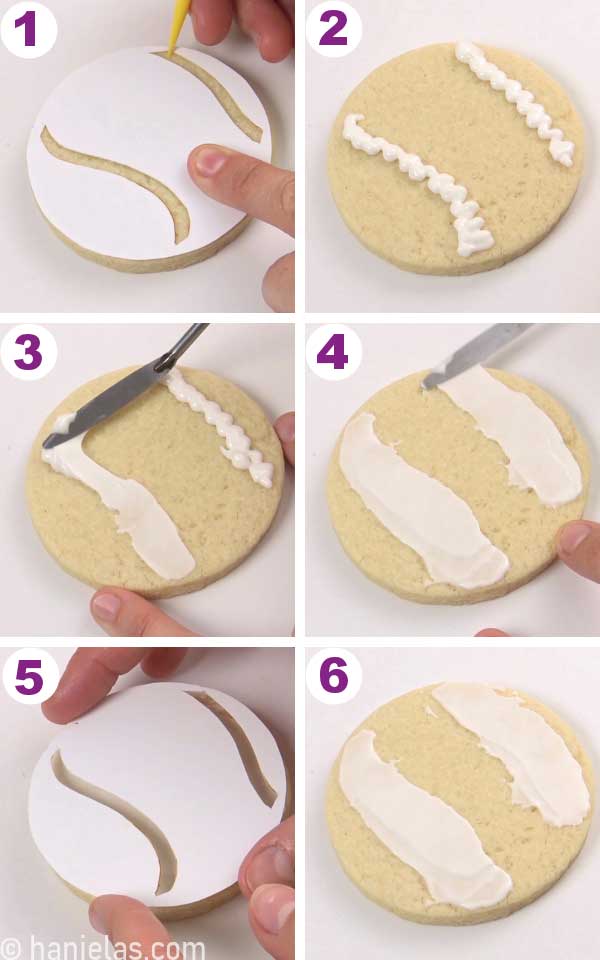 With a scribe, I traced the outline of the tennis ball seams onto the icing by gently scratching the surface of the white icing layer (step 1). Using a yellow/green 15-second consistency icing, follow the guides, outline, and flood the side section, leaving the white seam section white (steps 2-4). Smooth and shape the icing with a scribe while wet (steps 5-6).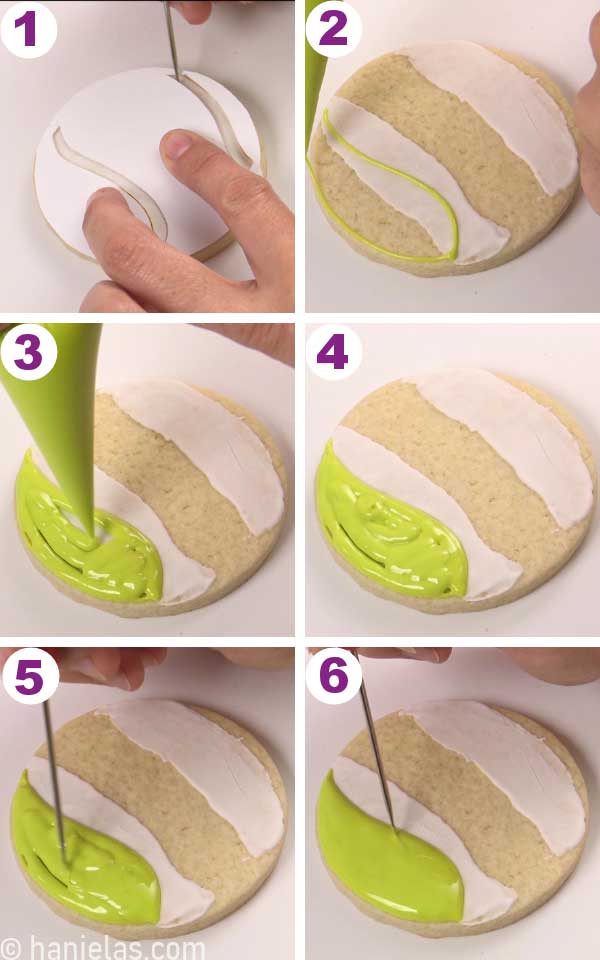 Outline and flood the remaining sections, skipping over the white sections (steps 1-8). Let the icing dry overnight.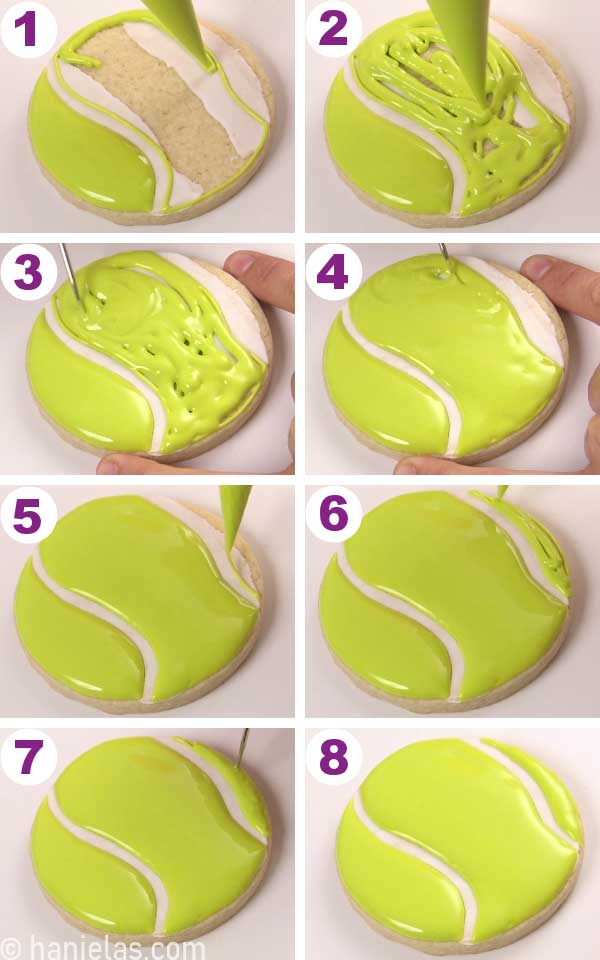 How to apply fuzz on tennis ball cookies
Brush a thin layer of flood icing (same icing as for the base) onto the dry base layer (steps 1-5). Immediately dust the surface with fine-colored sugar ( step 6). Gently shake off excess onto a tray. Let dry for a couple of hours (steps 7-8).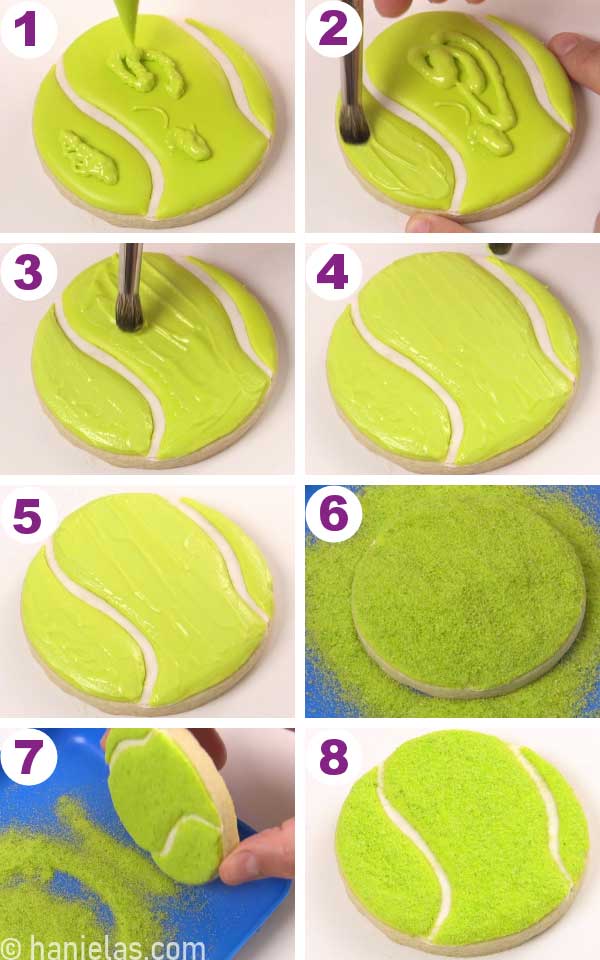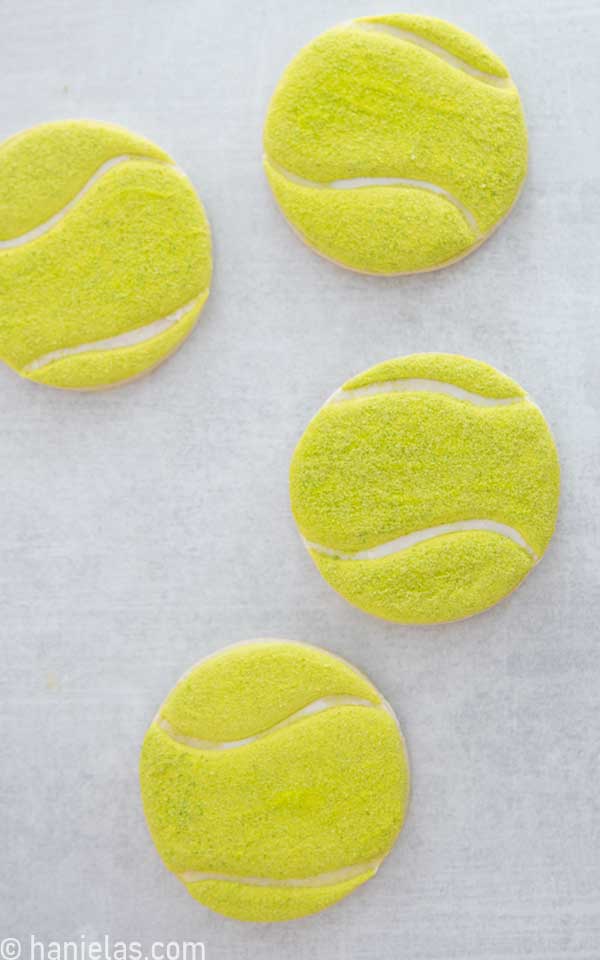 To Make Decorated Tennis Ball Cookies You Need
RECIPES
TOOLS
Shop all the tools in my Amazon Shop
Round Cookie Cutter
Americolor Brand Gel Food Colors: electric yellow, electric green, or yellow and leaf green
Tipless Piping Bags
Scribe
White Granulated Sugar
Chopper, blender, or a coffee grinder
Bead Tray
Food-only Paintbrush
Palette Knife (optional, use a brush instead)