Concrete Texture Royal Icing
Have you ever wondered how to make a Concrete Texture Royal Icing?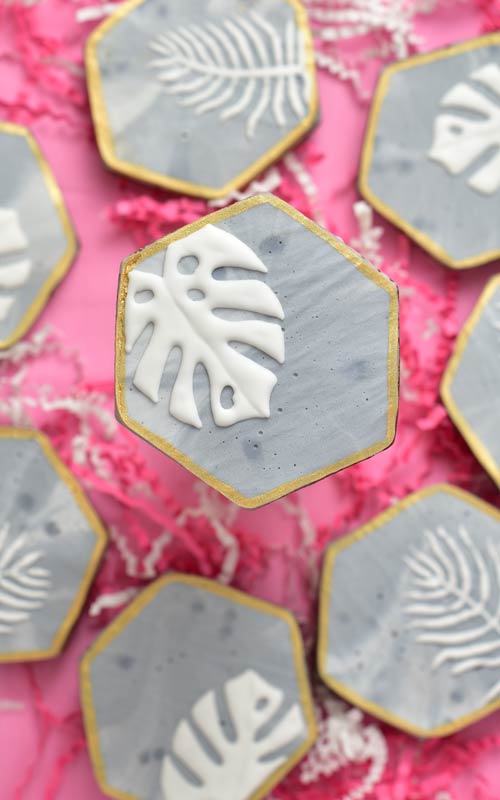 I've been eyeing images of modern Concrete Cakes on Instagram for months. They are so gorgeous. An I love this minimalist decorating approach, too. My favorites are from Don't Tell Charles. This cake artist makes beautiful concrete buttercream cakes.
Inspired by this popular concrete trend I've finally decided to try my hand at concrete texture royal icing technique.
I first nibbled at it when I worked on my Succulent Cookies. Though I used a completely different method to make concrete flower pots. If you missed that post check out my Succulent Cookies and step by step video tutorial on how to make flower pots with a cool concrete texture.
HOW TO CREATE CONCRETE TEXTURE ROYAL ICING
Today, however I'm taking a different decorating route. Modern, easier, faster and oh so fun! This decorating technique is so minimal, you'll love it.
I thought concrete texture would look great on geometric shapes. Hexagon is still super trendy, so why not?! I baked yummy hexagon Chocolate Cookies for this project.
To decorate I use my favorite Fresh Lemon Royal Icing. How does it pair with chocolate cookies? Awesome. I love that flavor combo.
If you are not a fan I'd suggest coffee, almond or raspberry flavored royal icing. Or go with delicious vanilla icing.
DIPPING ROYAL ICING DECORATING METHOD
There is a wide range of concrete finishes. From rough, cracked to smooth and polished. I wanted to achieve concrete finish that was mainly smooth but with air bubbles giving it more interest and concrete like appearance.
A popular marbling dipping cookie decorating method is known for an undesired amount of air bubbles. They rise to the surface and float on a freshly dipped cookie. Usually, when decorating cookies you'd want to avoid having bubbles in the icing.
Then I thought, why not make the use of these air bubbles to make the concrete bubbles?
To make concrete texture royal icing you actually want these air bubbles in your royal icing. And you want a lot of them.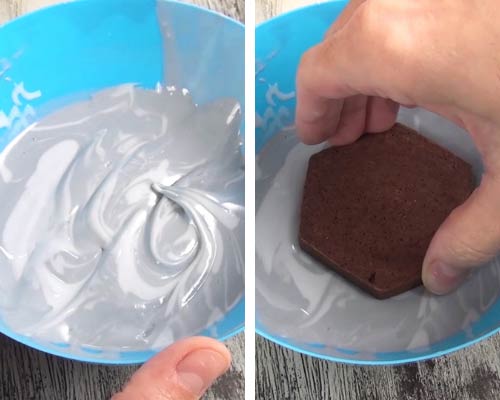 Color royal icing with a gel black food coloring into 3 shades of gray.
Thin royal icing to 10 second consistency. (Use a spray bottle, and room temperature water)
Pour a medium gray royal icing into a bowl, drizzle lightest shade of gray over and gently stir.
Dip a cookie into the icing. Holding the edges with your fingers. Gently wobble the cookie. As to coat the whole surface of the cookie.
Lift up the cookie and let the icing drip. Give it a little shake to speed up the dripping.
Turn the cookie so iced side is now facing up. Place it on a flat surface, give it a little shake to smooth the top.
Using the darkest shade of gray, pipe random dots onto the wet icing.
Then take a wax paper square and gently place it on the top of the wet icing.
Don't put too much pressure on it.
Use your finger, run it along the edges to make the wax paper stick.
Let dry overnight.
CONCRETE TEXTURE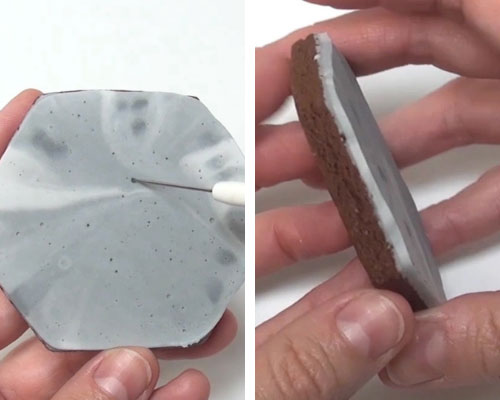 Once dry peel off the wax paper. Notice all the tiny little holes? Those are the air bubbles that popped when I placed the wax paper on the icing. How cool is that?
PAINT WITH EDIBLE GOLD
I used Glamorous Gold Paint to paint the edges.
Using a paper template and a needle tool I traced the outline of Monstera Deliciosa Leaf design onto the icing.
With white royal icing 20 second consistency I iced ½ of the Monstera leaf design. Let it crust 10-15 minutes. Finish the 2nd half of the Monstera leaf.
To make a Parlor Palm leaf design I used 25 second consistency royal icing.
TO MAKE CONCRETE TEXTURE ROYAL ICING YOU NEED
RECIPES
Royal Icing (Fresh Egg Whites, Liguid Egg Whites and Meringue Powder Recipes)
TOOLS
My Amazon Shop – includes my Favorite cookie cutters, Decorating tools, Food colors, Sprinkles, Baking tools, My favorite kitchen tools, including my favorite knives.
Wax Paper
Piping bags or a sandwich bag will work for this project as well
ROYAL ICING CONSISTENCIES
Dipping Method : 10 second consistency
Monstera Deliciosa Leaf : 20 second consistency
Palm Leaf : 25 second consistency
OTHER BEAUTIFUL CONCRETE TREATS :
PIN IT for later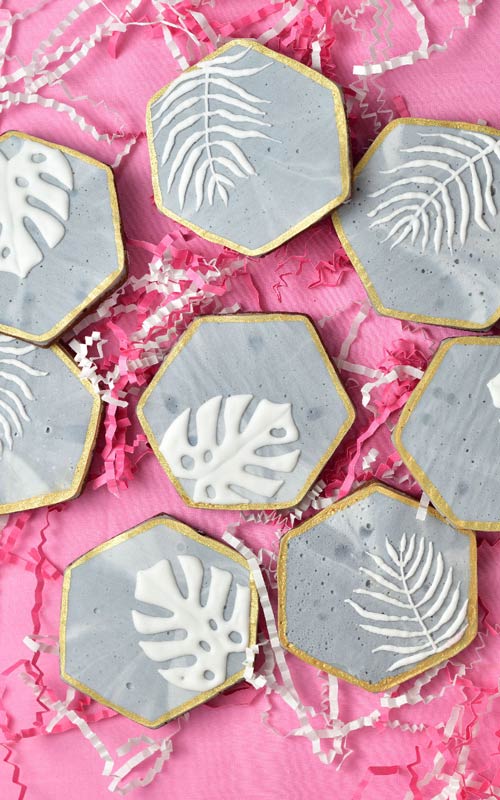 This post contains Amazon affiliate links that earn me a small commission, at no cost to you. I only recommend products that I use and love. Learn more about my affiliate policy here.