The fact is you could be munching on these easy apple muffins in 30 minutes. Are you still not convinced!? Imagine the combination of soft texture with bursting pockets of juicy apple and the slight caramelized crunch of the muffin top. Isn't it just delightful!
updated from 2010
RECIPE FOR EASY APPLE MUFFINS
We all love good, simple recipes, and this irresistible muffin recipe is an absolute joy to prepare. You don't need any complicated tools, just your hands and a wooden spoon or a spatula to mix the batter.
WHAT YOU NEED TO MAKE SIMPLE APPLE MUFFINS FROM SCRATCH
MUFFIN BATTER INGREDIENTS
Flour
Sugar
Baking Powder
Cinnamon
Nutmeg
Salt
Apples – preferable tart or any firm apple will do
Egg
Milk
Oil
Lemon Zest
Vanilla Extract
TOPPING INGREDIENTS
Brown Sugar
Cinnamon
Butter
Pecans or other nuts, or you can use rolled-oats
MAKE THE TOPPING
I use pecans in this topping recipe, but you can easily use other nuts like walnuts or hazelnuts. If you are allergic to nuts, I suggest you explore the option of rolled oats. Roasting enhances the flavor of oats from raw to nutty, which is absolutely fantastic. And you can also use seeds like pumpkin seeds or sunflowers seeds.
WHAT TYPE OF APPLES TO USE
I'm an avid advocate of apple eating. And that includes apple sauce, desserts, chips, or dried apples. I tell you, if there were only one fruit I could keep, without a doubt, I would keep an apple. Apple is such a versatile fruit. I often use apples in casseroles and salads to add a touch of sweetness without added sugar.
What type of apples do I use to make the muffins? If available, I use tart apples but any firm apple will do a fine job. Oftentimes, I toss apple mixture with freshly squeezed lemon juice to increase their tartness.
Inspired by my dad's potato pancakes, I use grated and sliced/diced apples to make the apple muffins' batter. Grated apples keep the muffin tender and moist, and chunks provide that extra bite of juiciness that we all love.
MUFFIN BATTER
This simple batter comes together quickly. In separate bowls combine dry and wet ingredients, and after that, pour dry ingredients into the wet and gently stir with a wooden spoon to combine. Muffin batter should have some lumps; it's perfectly normal; don't over-stir it.
FILL THE MUFFIN PAN WITH BATTER
Fill the muffin pan lined with cupcake liners to about 2/3 full, and right after that take the topping and divide it among the muffins.
BAKE APPLE MUFFINS
Bake muffins in a preheated oven at 350F (180C) for about 18-20 minutes, or until the toothpick inserted in the middle of the muffin comes out clean.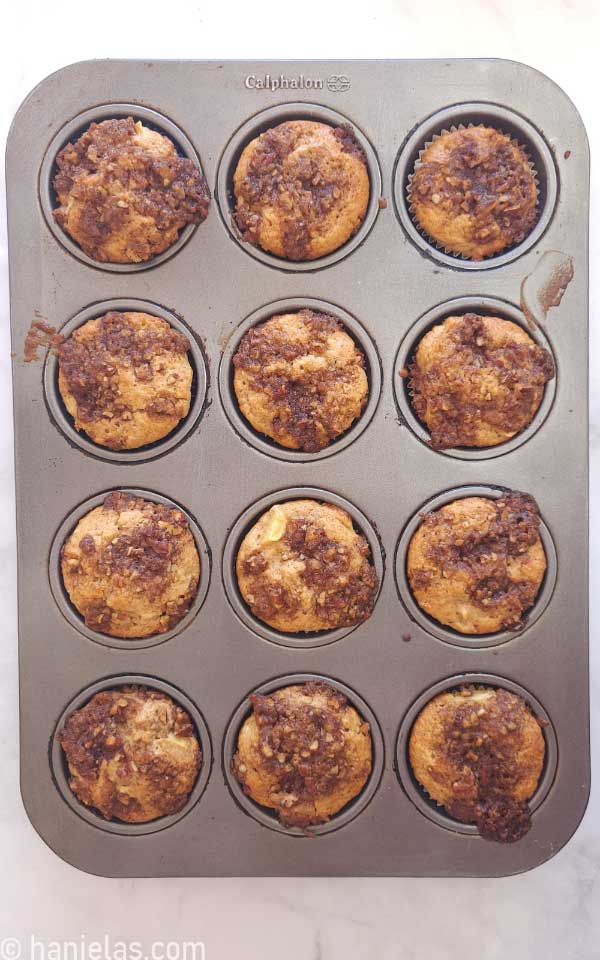 Let muffins cool in the pan for 2 minutes, then transfer them onto a cooling rack.
APPLE MUFFIN BAKING SUCCES TIPS
Please, use room temperature ingredients.
Dry muffins can be a result of several things – too much flour, overmixing, overbaking, cooling the muffins in the pan. Only do the minimal amount of stirring/mixing when combing wet and dry ingredients. Let the baked muffins cool in the pan briefly, after 2 minutes transfer muffins onto a cooling rack.
Use liners or grease the muffin pan; unfortunately, it's a lost cause to attempt to remove a baked-on muffin from the pan.
TRY THESE DELICIOUS MUFFIN AND CUPCAKE RECIPES
Apple Muffins
Ingredients
Muffin Batter
1

egg

1/2

cup

milk (120 ml)

1/4

cup

cooking oil (60ml)

1

tsp

Vanilla Extract

2

cup

apples / grated (1 cup) and sliced (1cup)

1 ½

cup

all-purpose flour (210 rams)

1/2

cup

granulated sugar (100 grams)

2

tsp

baking powder

2

tsp

cinnamon

1/4

tsp

grated nutmeg

1/2

tsp

salt
Topping
1/2

cup

brown sugar

1/3

cup

chopped pecans

3/4

tsp

cinnamon

2

tbsp

butter room temperature
Instructions
Preheat oven to 350 F. Line or grease a muffin pan.
Topping
In a small dish, combine all the ingredients: brown sugar (1/2 cup), cinnamon (3/4 teaspoon), soft butter (2 tablespoons), and chopped pecans (1/3 cup). Use a fork or your fingers to combine the ingredients.
Muffin Batter
In a medium mixing bowl, beat the egg slightly with a fork, stir in milk (1/2 cup, 120 ml), oil (1/4 cup, 60 ml), Vanilla Extract (1 teaspoon), and 1 cup grated and 1 cup sliced apple.

Into another mixing bowl, sift flour (1½ cup, 210 grams), granulated sugar (1/2 cup, 100 grams), cinnamon (2 teaspoons), baking powder (2 teaspoons), salt (1/2 teaspoon)

Add flour mixture into the wet mixture and stir just until flour is moistened. Batter should be lumpy, do not overbeat.
Bake Muffins
Fill the muffin pan with the batter to about 2/3 full. Divide the topping and sprinkle the top of each filled muffin cavity.

Bake muffins for about 18-20 minutes. Let cool in the pan for 2 minutes, remove from the muffin pan, and let cool on a cooling rack.
Notes
How long do apple muffins keep? Muffins keep at room temperature for 3 days. They keep for 7 days in the fridge. Store muffins in an airtight container or ziplock bag.
What kind of oil can I use? Use a mild-tasting oil. I use vegetable oil.
Can I use other nuts? Absolutely. You can use almonds, walnuts, and hazelnuts.
I'm allergic to nuts; what can I use instead? In this topping recipe, you can use chopped rolled oats; they develop a welcoming nutty flavor when toasted.
This recipe was originally published on December 1, 2010. On June 21st I updated this recipe with step-by-step photos, written text and a recipe card.