I love desserts with fruit and one of my all time favorites is a Kiwifruit Cake. My mom's recipe has served me many times and it never disappoints my taste buds. Refreshing, with an airy filling topped with fresh kiwifruit and fruit jelly glaze. It takes two days to make but is really worth it !
This cake usually is made into bars but I decided to try to make 6 inch cakes.
Recipe (2 – 6 inch cake layers)

5 eggs
200 grams powdered sugar
5 Tbl Hot water
5 Tbl oil
200 grams flour
2tsp baking powder
Filling
330 ml whipping cream
500 ml sour cream
6-7 whole kiwifruits – when making as a sheet cake / for 2 6 inch cakes I used 4 kiwifruits/
1tbl vanilla sugar
Glaze
450 ml water
juice of one lemon
100 powdered sugar
43 grams corn starch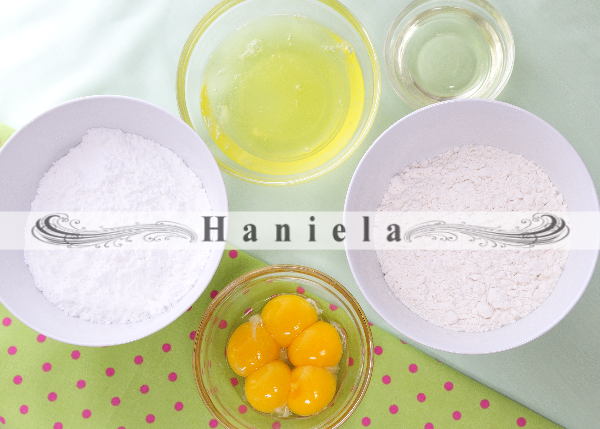 FIRST DAY
Prepare you pans, lining them with parchment paper.
Oven on 345F /170C/
Separate egg yolks and egg whites.
Mix egg yolks with powdered sugar, until nice an pale in color, slowly add oil and hot water. Mix into a nice foam.
Whip the egg whites with a pinch of salt.
Fold the flour mixed with baking powder into the egg yolk mixture alternatively with whipped egg whites.
Pour into prepared pans.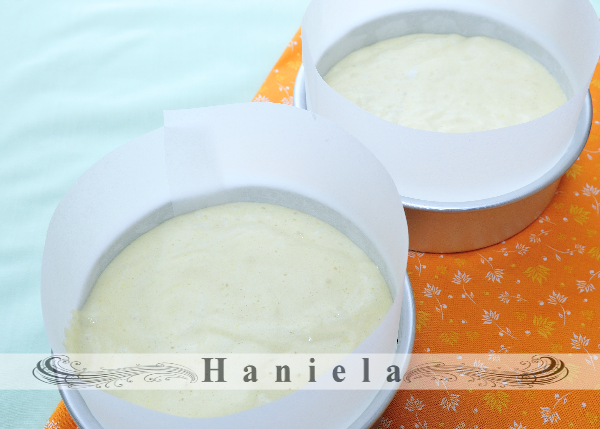 Bake in the preheated oven until the toothpick from the center comes out clean. Mine took around 40 minutes, but times may vary depending on the oven.
When they are done the top should be golden. Let cool for 10 minutes in the pans, carefully run a knife around the edge and flip the cake onto the cooling rack.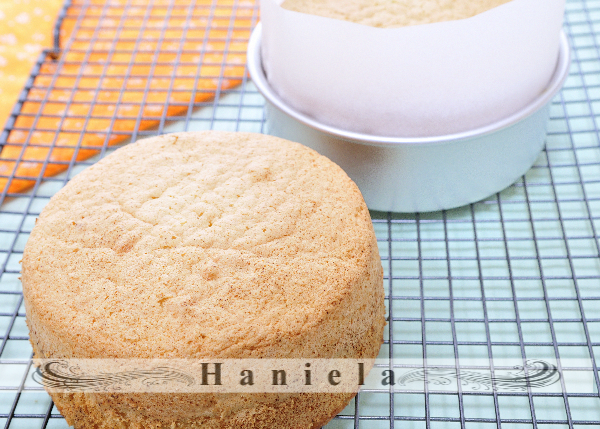 Let cool completely before filling the cake. Level the top if needed, using long serrated knife, eat the leftovers.
While your cakes are cooling prepare the filling.
Whip whipping cream with 1tbl vanilla sugar, fold in sour cream. Filling won't be sweet.
Fill your cakes.
Cover and place in the fridge overnight.
NEXT DAY
I find that using the ripe kiwifruits in the this dessert really makes a difference. Peel and slice the kiwi fruits.
Arrange the fruits slices on the top of your filled cakes.
Yum, doesn't it look pretty?You can also use other fruits of your choice, this would be especially delicious with strawberries, or raspberries as well, especially when in season.
Now here comes the last part before eating… we have to make the glaze that goes on the top, it is made using 3 ingredients/ you can also use gelatine if you'd like/
Mix water and juice / you can also use your choice of fruit juice, I only used juice of one lemon, as it is concentrated, if you are using orange juice and such, I suggest you go by your taste/
Separate 1/2 cup of liquid, add corn starch and using a tiny whisk, or a fork mix well till well combined.
Pour all the liquids into the pot, add powdered sugar and cook like you would pudding, mixture will thicken, stir and let boil for a minute or two. Take the pot from the heat and pour the glaze into a bowl, cover with plastic wrap in the fashion that wrap is touching the glaze preventing it to form a skin, let cool to lukewarm. When lukewarm, slowly pour on the top of the cake. Spread evenly using a spatula.Let cool in the fridge.
I added a little piped design and a few flowers on the top along with a sugar gem just to give it a little sparkle.