Homemade Parmesan Rosemary Crackers
Homemade parmesan-rosemary crackers are a tasty treat. They are super easy to make. And from start to finish it takes no longer than 20 minutes for these crisp, savory crackers come out of the oven.
updated from 2013
HOW TO MAKE HOMEMADE PARMESAN ROSEMARY CRACKERS
It takes less than 20 minutes to make these delicious savory crackers at home. Pair them with a nice bottle of wine for a hostess gift. Or use them as tasty appetizers at your next party. Don't be surprised if they become the talk of the party and get labeled "the best homemade crackers." They are amazing. Not only because of their taste but how easy they are to prepare at home.
INGREDIENTS
All- Purpose Flour, or Combination of All purpose flour and Whole Wheat
Salt
Rosemary
Parmesan Cheese
Fresh or dry rosemary
Butter of Butter Subtitute
Baker's Ammonia – produces light, airy, crisp crackers (substitute 1:1 ratio baking powder : baking soda)
Water
PREPARE SAVORY DOUGH
I used fresh rosemary, but you can use a dry version, too. In a food processor, pulse dry ingredients with cold butter until a coarse mixture forms. If you do it by hand, use a fork or pastry cutter to avoid softening the butter too much (step 1).
Gradually add water until the dough comes together (step 2)
SLICE AND BAKE CRACKERS
Immediately turn the dough onto a work surface lightly dusted with flour. Gather dough into a ball and flatten it into a disk.
Roll it out between parchment sheets or silicone baking mats, to about 1/8-inch (3mm) thick. Cut out shapes (step 1), remove the scraps and re-roll the dough. Or use a pastry wheel and cut the dough into squares or other geometrical shapes (step 2).
Slide the parchment or baking mat onto a baking sheet and bake crackers at 400F(205C) for 10-12 minutes. During this time, you may notice ammonia fumes coming from the oven. This is normal when using baker's ammonia. Smell is temporary and doesn't affect baked crackers. Keep your head turned away when you open the oven door and let the ammonia fumes escape the oven. Let crackers cool on the baking sheet before serving and storing them.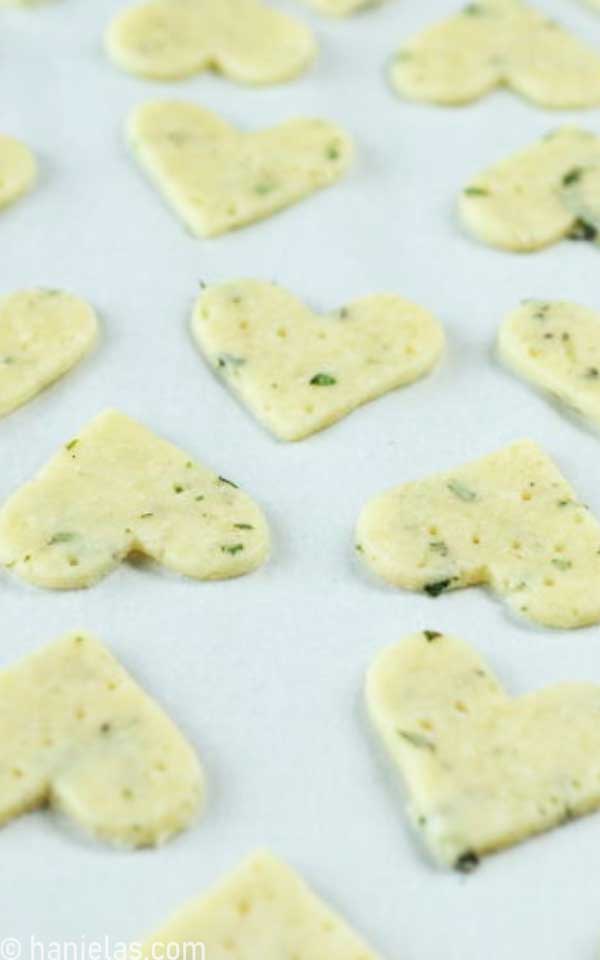 HOMEMADE CRACKERS SUCCESS TIPS
Can I use use vegan butter? – Yes, absolutely. Remember, vegan butter or vegetable spreads tend to have more water. Therefore when finishing the dough, start with less water then listed in the recipe.
I don't have Baker's Ammonia. Can I still make these? – Yes, you can still make these with baking soda and baking powder. However, the result will be slightly different than when Baker's Ammonia (Ammonium carbonate) is used. Baker's Ammonia produces exceptionally light and crispy crackers.
Can homemade cracker be frozen? – Yes, you can freeze the dough for up to 3 months. And baked crackers can be frozen in an airtight container for 3 months, as well.
What to put in homemade crackers? – There are so many options: use nuts, seeds, chopped prosciutto, herbs, try using caramelized onions, use toppings such sea salt, caraway seeds.
How to keep homemade crackers crisp? – Store crackers in airtight, sealable containers.
Can whole wheat flour? – Use 1:1 ratio of all-purpose to whole wheat flour and if possible use 1 tablespoon orange juice in place of water.
Are homemade crackers healthy? – In my option, they can be healthier. Many commercially produced crackers are fried, so baking them makes them a bit healthier. Use fresh ingredients for the best results
Are these homemade crackers food with cheese? – I love them plain, with cheese, sun-dried tomatoes, cheese spread, red pepper paste or fig jam.
DELICIOUS HOMEMADE CRACKERS IDEAS
Parmesan Rosemary Crackers
Makes about 100 crackers (1 inch by 1 inch)
1 serving 10 crackers
Ingredients
Parmesan Rosemary Crackers
1

cup

all-purpose flour (143grams)

1/2

cup

Parmesan cheese finely grated

1/2

tsp

baking ammonia

1/2

tsp

salt

1/8

tsp

ground black pepper

3

spring of fresh rosemary (3/4 tsp to 1 tsp dry rosemary)

leaves removed from the stems

4

tbsp

cold butter; cut smaller pieces/vegan butter or another vegetable substitute (60grams)

cut into chunks

3-4

tbsp

cold water

1

tbsp

kosher salt for topping or sea salt
Instructions
Preheat oven to 400F/205C.
Dough
Combine flour (1 cup/430 grams), salt(1/2 teaspoon), ground black pepper (1/8 teaspoon), rosemary (1 and 1/2 teaspoon dry), finely grated parmesan cheese (1/2 cup), and baking ammonia (1/2 teaspoon). Pulse until combined,

Add cubes of cold butter or another butter substitute (4 tablespoons, 60 grams) and pulse until coarse mixture forms.

Gradually, while pulsing, pour cold water (4 tablespoons) over a coarse mixture of flour and butter. Pulse until the dough holds together and forms a sort of "ball".

Scrape the dough out of the bowl onto a lightly floured surface, gather it with your hands, and flatten it into a disk.
Roll out the dough
Roll the dough out between 2 parchment sheets or silicone baking mats. Lightly dust the surface with flour. Roll the dough out to about 1/8-inch(3mm) thick.

Slice the rolled-out dough into about 1-inch wide strips and then cut 1-inch strips perpendicular to the first set of stripes. Slide the baking sheet or silicone mat onto the baking sheet or rimless cookie sheet. Sprinkle with sea salt or kosher salt.

Bake crackers in the preheated oven for 10-12 minutes until the edges are golden.

If cutting out shapes like hearts, cut the shapes with a cookie cutter and then remove the scraps leaving the cut shapes on the parchments/silicone baking mat. Bake as stated in the previous step.
Notes
How to store homemade crackers? – Store crackers in an airtight container for up to a week. Or freeze for up to 3 months.
I don't have baker's ammonia; what can I use?
 In place of 1/2 teaspoon of baker's ammonia, you can use 1/4 teaspoon of baking powder and 1/4 teaspoon of baking soda. (Keep in mind that a combination of baking powder and baking soda may cause slightly different results)
This recipe was originally published on January 20th, 2013. On January 26th, 2023 I updated this recipe with written text, pictures and recipe card.