Homemade Prosciutto Crackers with Rosemary
These easy-to-make homemade prosciutto crackers take less than 20 minutes to make from start to finish. They are perfect for snacking or entertaining. Enjoy them plain or pair them with wine, figs, cheese, or meats.
updated from 2012
HOMEMADE PROSCIUTTO CRACKERS
This quick and easy recipe is perfect if you need something small to nibble on, or you are hosing a last-minute party.
INGREDIENTS: MAKING THE DOUGH
This tasty dough may be prepared quickly using a food processor. Don't worry, you can make it by hand if you don't have a food processor to do the work. To make prosciutto crackers by hand, follow the directions in the recipe card.
Pulse dry ingredients with ham, until combined and prosciutto ham is chopped into small pieces (steps 1-2).
While pulsing, add water and olive oil to dry ingredients and mix until thoroughly combined and big clumps of dough form (steps 1-3). Invert dough pieces onto a lightly floured work surface and gather them into a ball, cover with a food wrap and let rest for 5 minutes (steps 5-6).
ROLLING AND CUTTING CRACKERS
On parchment paper or a silicone baking mat, roll the dough out to about 1/16 inch thick sheet.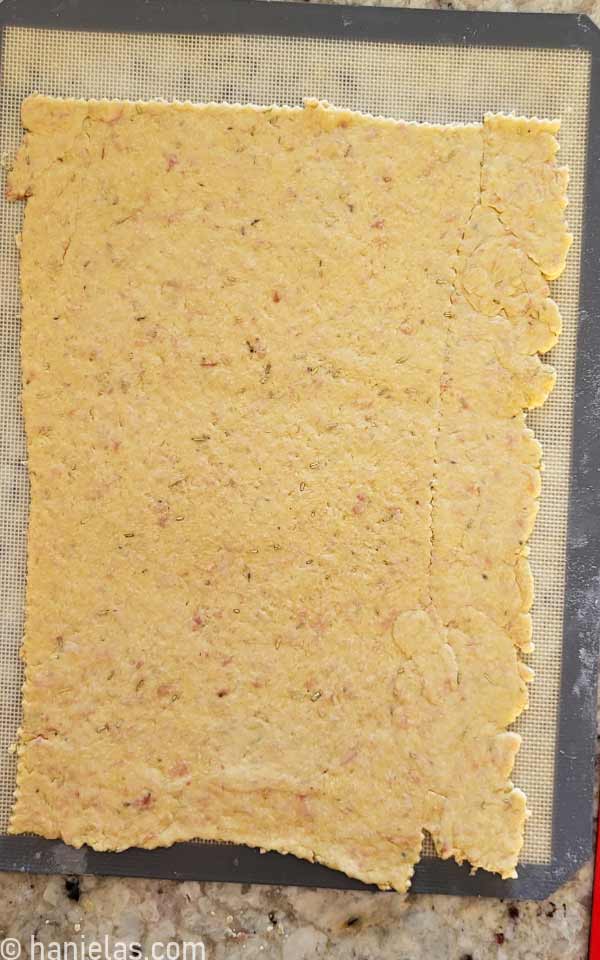 Trim the edges to make an even rectangle, then cut up strips with a pastry wheel. I used a red rolling guide that is 1-inch wide to make even 1-inch wide strips.
If the guide or anything else you use to cut up even strips is sticking to the dough, dust it lightly with the flour.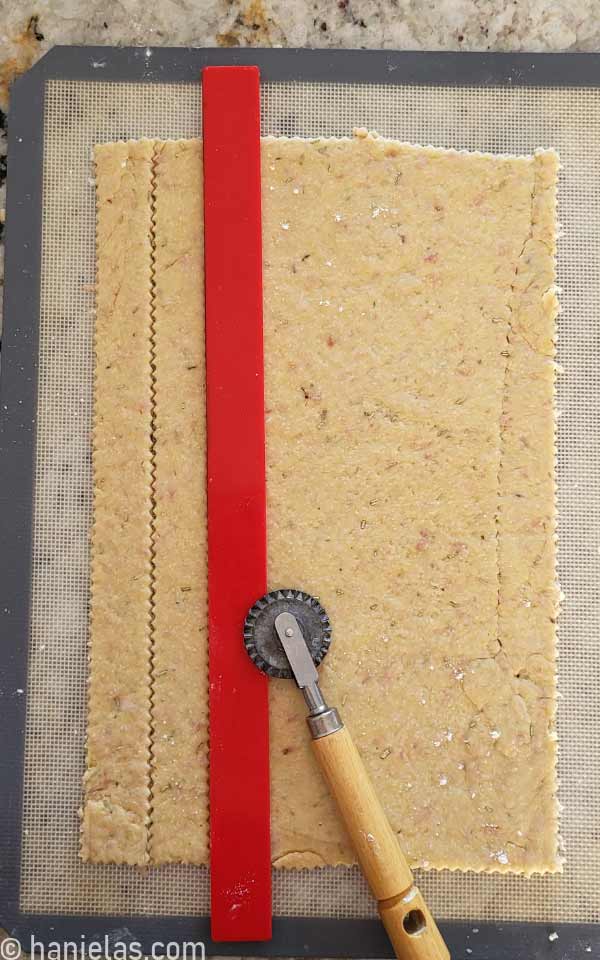 Continue cutting strips in the opposite direction.
BAKING THE CRACKERS
Bake crackers in the oven at 380F (190C) until lightly golden around the edges, about 10-12 minutes.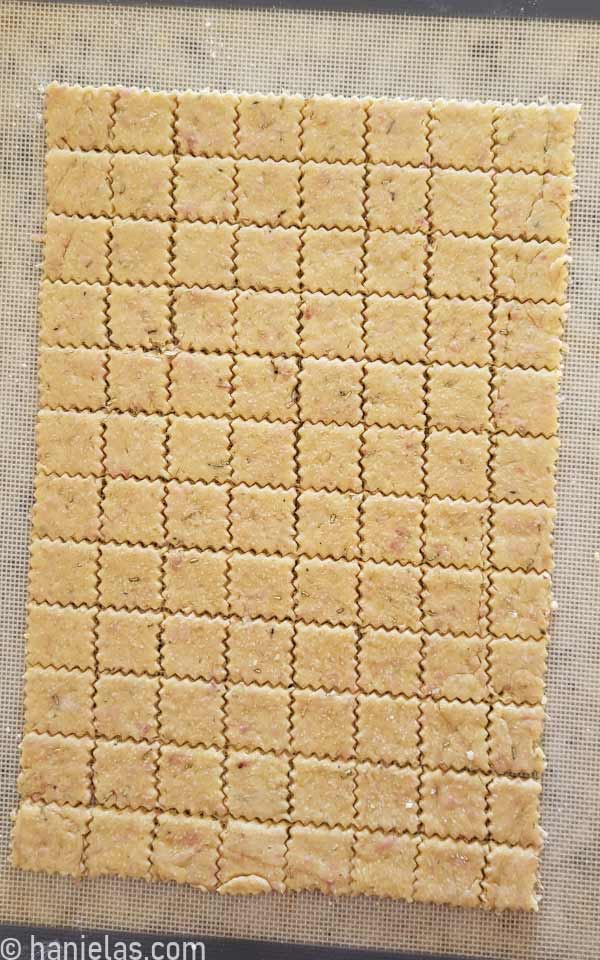 Let crackers cool and then store in an airtight container for up to a week.
SERVING SUGGESTIONS
Delicious Appetizer – serve crackers along with cheese, fig spread, grapes and wine
Prepare a showstopper charcuterie – arrange crackers, cheese, meats, and fruits on a board. How to make an easy charcuterie board via Ahead of Thyme.
Use crackers as garnish for soups and salads.
Make cute little crackers sandwiches with pepper paste and cheese. Do you remember movie called The Terminal? Tom Hanks' character made sandwiches using saltines.
Crackers are great picnic food, too.
Take them along with you on a hike or a walk.
MORE SAVORY RECIPES
Rosemary Prosciutto Crackers
This recipe makes about 80 1-inch x 1-inch crackers.
1 Serving = 10 crackers
Equipment
food processor, or chopper (optional)

baking sheet

pastry wheel or knife

silicone baking mat or parchment

Rolling Pin
Ingredients
2

cups

all-purpose flour ( 280grams)

1

tsp

baker's ammonia

1 1/4

tsp

salt

1/4

tsp

granulated sugar

1/8

tsp

freshly ground black pepper

1

tsp

fresh rosemary leaves or 1/2 tsp dry rosemary

3

slices

prosciutto

4

tbsp

finely grated Parmesan cheese

1/2

cup

cold water or milk (120ml)

1/4

cup

olive oil

1/2

tsp

kosher salt for sprinkling
Instructions
Dough
By Hand: finely chop prosciutto slices (3 slices) and fresh rosemary ( 1 teaspoon). Into a bowl, pour flour (2 cups, 280 grams), parmesan (4 tablespoons) baker's ammonia (1 teaspoon), salt ( 1 teaspoon and 1/4 teaspoon), ground pepper (1/8 teaspoon), and sugar (1/4 teaspoon). Add chopped prosciutto and rosemary. Stir well.

In a small bowl combine water (1/2 cup, 120ml), olive oil (1/4 cup),

Gradually pour the liquid over the dry ingredients while stirring the mixture with a fork or spoon. Gather dough into a ball. Cover the dough with a food wrap and leave it to rest for 5-10 minutes

With a Food Processor: into a bowl of your food processor, add flour, baker's ammonia, salt, rosemary, prosciutto slices, ground pepper, and sugar.

Pulse until well combined, and the prosciutto is cut into small pieces. While pulsing, gradually pour in water and olive oil.

Turn off the food processor and dump dough pieces onto a work surface lightly dusted with flour. Gather dough into a ball. Cover the dough with a food wrap and leave it to rest for 5-10 minutes.
Roll Out Crackers
Preheat oven to 380F (190C).

Roll the dough onto a silicone baking mat to about 1/16 inch thick. Cut it up with a pastry wheel into squares, rectangles or triangles.
Bake Crackers
Slide the baking mat onto a baking sheet and bake crackers in the oven until lightly golden brown around the edges, about 10 -12 minutes.

When you open the oven, you'll notice a potent ammonia smell. Please don't worry. This is normal. Crackers won't smell or taste like ammonia.

Let crackers cool, and then store them in an airtight container for up to a week.
Notes
I don't have baker's ammonia; what can I use in place of baker's ammonia? – You can use baking powder.
Baker's Ammonia produces lighter, crispier crackers and cookies. It doesn't leave behind a soapy/metallic taste like baking soda and baking powder.
This post was originally published on September 8th, 2012. On February 18th, 2023, I updated this recipe with new step-by-step photos, a recipe card, and written text.