Olympics Soccer Rice Krispies Cake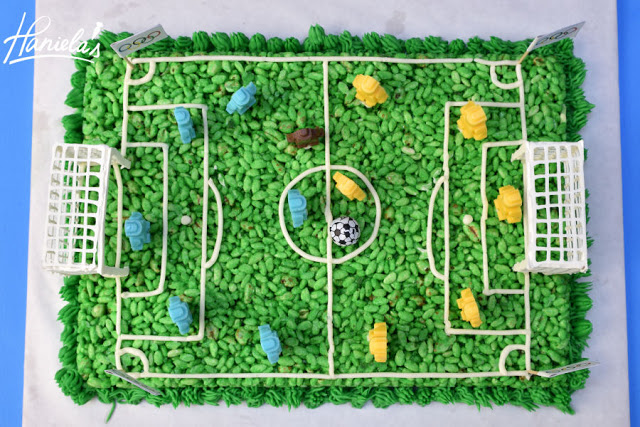 To celebrate Olympics I made a Soccer Cake.
Rice Krispies Soccer Cake (you can also use puffed rice)
Tools you will need: 9×13 inch cake pan, white, yellow, blue, brown chocolate candy melts,
piping bag, lego silicone mold, food coloring, grass piping tip
,
paper flag, toothpicks,
chocolate soccer ball
(available at party city or on amazon)
Rice Krispies Layer
12cups cereal
2 bags mini marshmallows
1stick (113grams) unsalted butter
2tsp vanilla extract
Green food colorings -I used electric green and leaf green
Line 9×13 inch cake pan with the foil, spray with non stick spray, set aside
 Melt butter, add marshmallows and heat on medium heat until marshmallows are melted. Remove from the heat, and stir in green food coloring until thoroughly mixed in. Stir in all of the cereal.
Once cereal is coated nicely, press it into the prepared pan into an even layer.
Cover and refrigerate for 4 hours or overnight.
While cake layer is chilling prepare decorations
Chocolate Lego Players
Use chocolate candy melts and a  lego silicone mold to make the players
Chocolate Goal – this is optional, you can get a small plastic ones if you wish
Use white chocolate and piped the goal sides, let them harden and then glue them together with the chocolate, let harden.
Olympics Flag
print small rectangles with Olympics circles on them. Use double sided tape to glue them together and attach a toothpick.
American Buttercream
1cup unsalted butter at room temperature
2 to  2 1/2cups powdered sugar, you can add more if desired, I usually use less than 2cups because I  find it too sweet
1-2tbl milk or heavy cream (optional, I don't always add it)
1tsp vanilla extract or other flavoring, almond and lemon is nice, too.
To pipe grass you will need grass piping tip and also green food coloring to color buttercream.
I used a small round piping tip to pipe the lines.
Beat butter for about 30 seconds then add powdered sugar and beat until sugar is completely absorbed by the butter, beat for about a minute after that until smooth and creamy. Add heavy cream if using and beat well. Add vanilla and beat until combined.
Buttercream can be stored in the fridge, let it come to room temperature before using for piped designs. If it become too soft while you are piping, stick into the fridge for 10 minutes and then continue with the project.