Hydrangea Cookies Tutorial
BAKING HYDRANGEA COOKIES
Espresso Cookies
3 c. all-purpose flour
1 1/4 teaspoon baking powder
2tbl espresso powder
2 sticks butter, unsalted, softened
1 cup granulated sugar
1 large egg 1/2 t. kosher salt
2 teaspoon vanilla extract
1/2tsp chocolate extract
Sift together the flour, espresso powder and baking powder.
In a mixing bowl, beat the room temperature butter and sugar until light and fluffy. About 4 minutes. Scrape the bowl at least once while mixing.
Add in the egg and mix till fluffy and pale in color.
Add salt and both extracts.
Slowly add flour mixture (1 cup at a time) and stir until incorporated. Don't be afraid to use your hands a little to form a uniformed cookie dough. 😉
Form the dough into a disc and wrap in plastic wrap.
Refrigerate for at least 1 hour. If the dough gets too hard to roll let soften a bit before rolling the dough.
note: I sometimes make this dough in the evening and place it in the fridge and I make the cookies next day.It works fine.
Preheat oven to 360 degrees F.
Roll the dough between 2 pieces of parchment paper to 5/16 inch(about 7mm) thick. I use two rolling guides made of two wooden painting sticks, I got at the painter's store. I glued 2 together. Total I needed 4 sticks. Place your sticks guides on the work surface, and put the disk of dough between them, put parchment paper on the top and using a rolling pin, roll the dough out, making sure your rolling pin rolls on the top of the wooden sticks to ensure the right thickness.
When building hydrangea cookies I recommend cutting out the circle shapes first and placing them onto a prepared parchment lined baking sheet and then proceed with the rest of the building process, as viewed in the photo below
Place cookies in the fridge to harden for about 10 minutes and then put them in the oven.
Bake the cookies for approximately 8-10 minutes Rotate sheets in half time for even baking.
Remove cookies from the oven and allow to cool on the sheet for 5 minutes. Do not attempt to move the cookies at this stage, they are too soft and will break.
Slowly remove cookies from the sheet using a a wide spatula place them on the cooling rack and let cool completely.
DECORATING HYDRANGEA COOKIES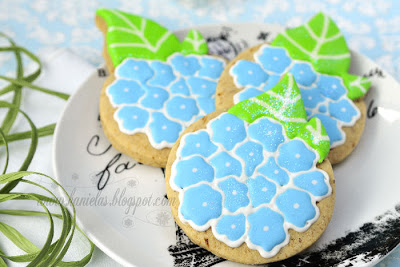 Things you'll need:
royal icing
, food colors, pastry bags and tips, tooth pick, dry paint brush
I used small sandwich size plastic bags (as seen in the picture), you are welcome to use piping bags with piping tips.
FLOWERS
Tip # 3- outline flowers – using outline consistency white icing
Tip # 2- fill individual flowers with flood consistency blue and/or pink, purple icing. Try not to fill small flowers that are next to each other at the same time to prevent overflowing of the icing. Wait for about 20 minutes before flooding flowers that are next to each other.
Tip # 1- make dots in the middle of the freshly flooded flower,s using flood consistency white icing, using wet on wet technique
Let dry completely

LEAVES
Tip #2 – outline leaves with outline consistency green icing
Tip #3 – fill the leaves with flood consistency green icing
Tip #1 – make white "veins" on the leaves – flood consistency white icing, using wet on wet technique Using a brush dust some White Disco Dust onto the freshly flooded leaves
Let dry completely
HYDRANGEA COOKIES