Slovak Ginger Cookies(Zazvorniky)
Have you ever had Zazvorniky, crisp and light ginger cookies? My dad's aunt made them every Christmas. I remember sitting in her kitchen, on a large bench by the kitchen window, eating these delicious crispy cookies with tea.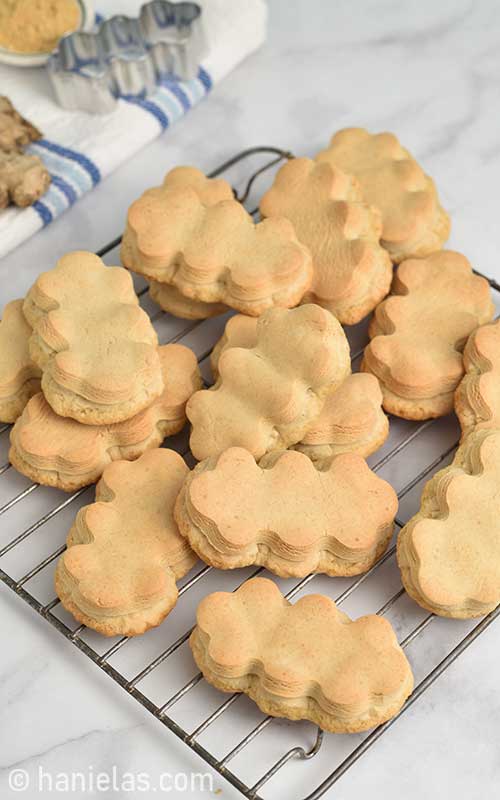 updated post from 2012
HOW TO MAKE ZAZVORNIKY (SLOVAK GINGER COOKIES)
My dad's aunt was the only baker in the family I remember to ever make these tasty ginger cookies. Many years have passed since last time I had them.
A lot of family recipes are lost and so I turned to internet to find a recipe. After a little bit of digging online I found several. Time to test them all.
I tested several recipes, mixed, baked, tasted. Then again and again. And today I'll share with you how to make these crispy ginger cookies.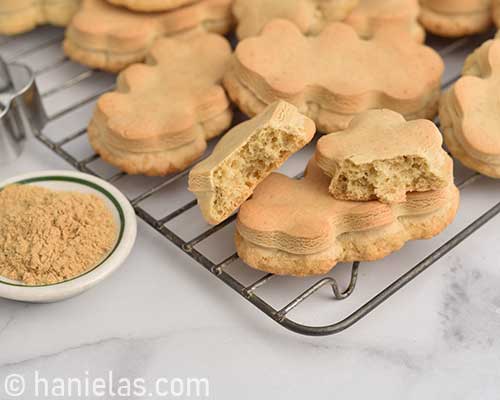 INGREDIENTS
Flour
Powdered Sugar
Ground Ginger
Baker's Ammonia
Salt
Butter, melted and cooled
Vanilla Extract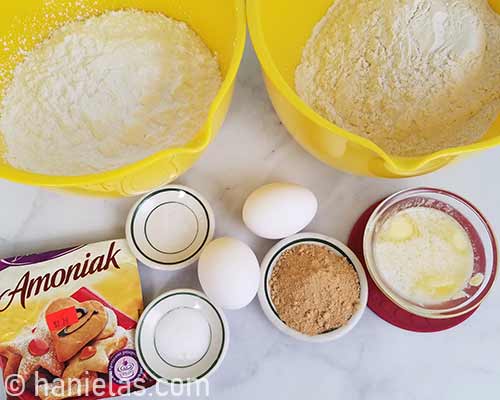 GROUND GINGER
Zazvorniky rely on their characteristic flavor on ground ginger. This recipe uses full 2 tablespoons yet cookies are not overly spicy or gingerly. It's a taste that is hard to explain. You just have to try and make them yourself.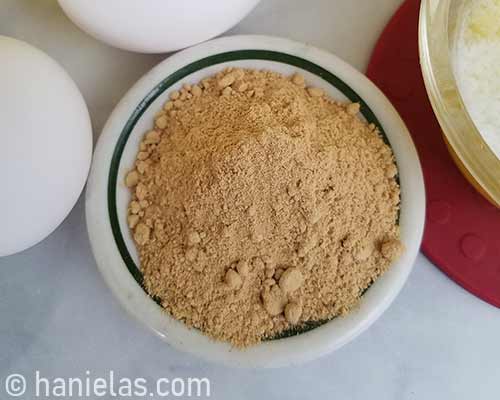 ZAZVORNIKY COOKIE CUTTER
Traditionally zazvorniky cookies are cut using a special cookie cutter. Though not necessary to make these cookies. You can find special cutters resembling shape of a ginger root. Ginger root is a rhizome of irregular shape, usually branched or palmate.
My dad's aunt also used flower shapes with a hole in the middle. And I've used snowflakes and shamrocks in the past as well (scroll down to see them).
BAKER'S AMMONIA
Zazvorniky get their light crispy texture form Baker's Ammonia.
WHAT IS BAKER'S AMMONIA? Baker's Ammonia is an old leavening agent. It was used way before baking powder and baking soda came to the picture. And it is mainly used in low moisture baked goods such as cookies and crackers producing super crisp texture. Baker's ammonia doesn't leave the soapy-tasting residue of baking soda or baking powder.
However, when baking with baker's ammonia be prepared for a little bit of smell coming out of the oven. I remember when I first read about it I was prepared to vent the whole house. But honestly, it's not that bad. Just keep your distance from the oven when you first open the oven door. Try not to lean in and look at the cookies. Allow fumes to escape first. Smell diminishes very quickly. And it's totally worth it. I use baker's ammonia to make Rosemary Prosciutto Crackers and they are so crispy!
ZAZVORNIKY COOKIE DOUGH
DRY INGREDIENTS
Into a bowl sift flour, salt, baker's ammonia and ground ginger (step 1-8).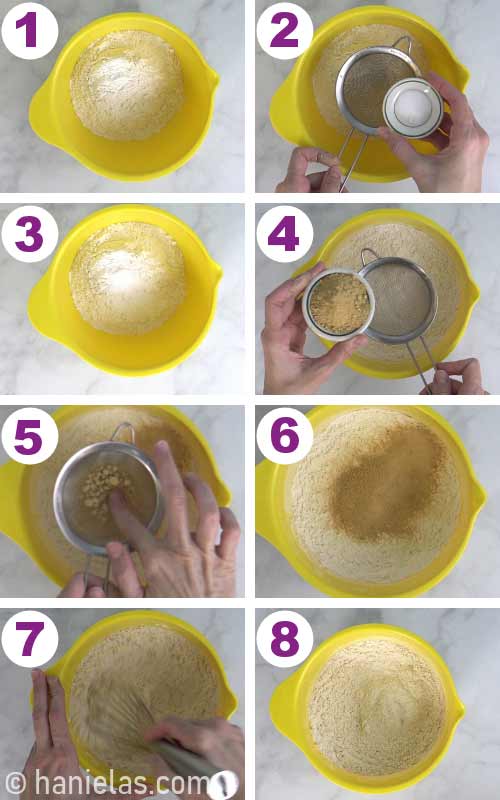 EGGS, SUGAR AND RIBBON STAGE
In a bowl of your mixer using a wire beater beat room temperature eggs and powdered sugar for 10 minutes. Or until mixture reaches ribbon stage. It should be doubled in volume and pale in color (step 1-4).
Then gradually beat in melted and cooled butter. Scrape down the bowl to make sure all is well combined (step 5-8).
WHAT IS RIBBON STAGE? Ribbon stage is a baking term that refers to batter consistency. It is reached when batter lifted up with a whisk, spoon or a spatula falls back down into a bowl slowly forming a ribbon. It should hold its shape for a few moments, slowly disappearing, blending into the mixture.
COOKIE DOUGH
Before you beat in dry ingredients swap out wire beater for a paddle attachment. Then gradually in 3 additions and on low speed beat in flour mix (step 1-6).
This cookie dough is not super moist, it's on a drier side. However it shouldn't be so dry that when pressed with fingers it doesn't hold together. If that's the case beat in 1 tsp milk (step 7-8).
IS YOUR COOKIE DOUGH TOO DRY? Beat in 1tsp of milk.
ROLLING OUT COOKIE DOUGH
Turn the dough out onto a clean work surface and gather the dough into a ball(step 1-4). Flatten it into a disk and roll it out between 2 – ¼ inch rolling guides (step 5-6). Cut out cookies with a cookie cutter (step 7-8).
WHAT ARE ROLLING GUIDES? Rolling guides are pieces of wood, plastic or silicone. They are placed on each side of the dough. Then rolling pin is rolled on top of the rolling guides, pushing the dough down only as far as rolling guides allow it. Rolling guides ensure that cookie dough is rolled out with even thickness throughout. I often tell folks to use unused paint sticks or you can get super cheap untreated wood rods at lumber department at your local hardware store.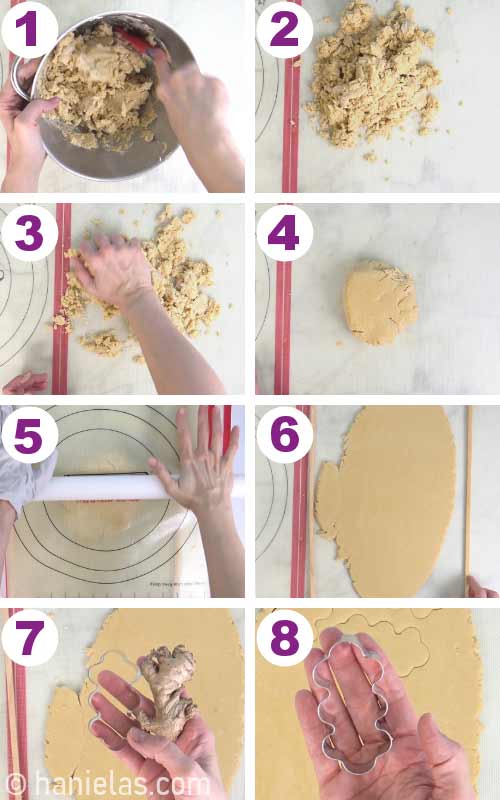 RESTING OVERNIGHT
Cut out as many cookies as you can and transfer them onto a tray lined with wax paper or silicone baking mat. Allow cookies to dry for 8 hours or overnight, uncovered (step 1-8).
BAKE ZAZVORNIKY
BAKING TIPS : Top surface of unbaked cookies should be dry to the touch. And cookies when baked should have characteristic feet on the bottom. Similarly like French Macarons. Space the cookies out onto a parchment lined baking sheet about 1 inch apart.
Bake zazvorniky in the preheated oven at 350 F for 10-12 minutes. Baked cookies should be pale to very light golden in color. As I mentioned before be sure not to lean into the oven when you open the oven door. Allow the baker's ammonia odor escape from the oven first.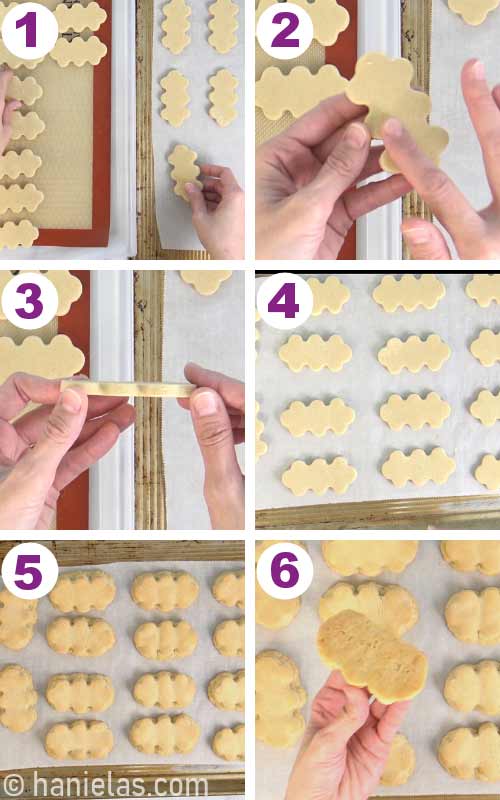 HOW LONG DO ZAZVORNIKY LAST?
These cookies last for 2-3 weeks. That is if you don't eat them before that. You can enjoy them plain or drizzle them with some melted dark chocolate.
CAN I SHIP ZAZVORNIKY/GINGER COOKIES?
Absolutely.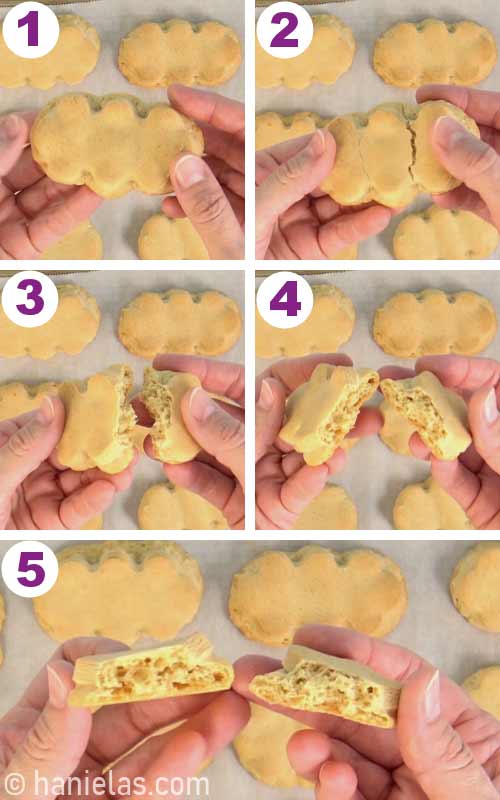 DRIZZLE WITH CHOCOLATE
Melt dark chocolate and pour it into a piping bag. Then drizzle zic-zac lines onto the cooled cookies. Allow chocolate to set.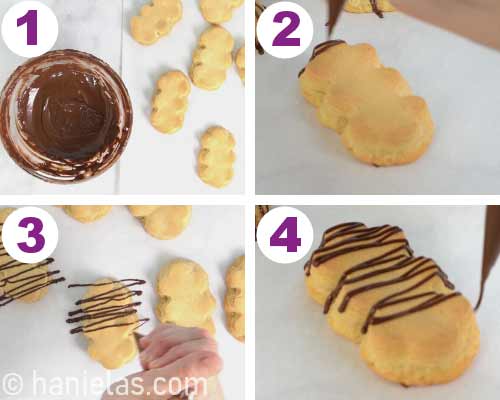 If you don't have a specialty ginger root cookie cutter use other cutters instead.
HOW SHOULD I STORE THE COOKIES?
Store cookies in an airtight container at room temperature or in a cool room.
TO MAKE ZAZVORNIKY YOU NEED
TOOLS
Find all the tools you need in my Amazon Shop
Baker's Ammonia
Ground Ginger
Zazvorniky Cookie Cutter
Stand Mixer
Baking Sheets
Parchment Paper
MORE GINGER DESSERT RECIPES :
Slovak Ginger Cookies |Zazvorniky|
Traditional Slovak Ginger Cookies.
Ingredients
ZAZVORNIKY/GINGER COOKIES
Cookie Dough
2

cup

all purpose flour

2

tbsp

ground ginger

1/2

tsp

baking ammonia

pinch of salt

2

cup

powdered sugar

2

large eggs, at room temperature

4

tbsp

melted butter, cooled

1/4

tsp

Vanilla Extract
Topping – optional
1

cup

chopped chocolate/chocolate chips (optional)
Instructions
Prepare Zazvorniky/Ginger Cookie Dough
Into a large bowl sift flour (2 cups), ground ginger (2 tbsp), baking ammonia (1/2tsp) and salt (pinch). Set aside.

At medium high speed, in a bowl of your stand mixer, using a wire attachment beat room temperature eggs (2 eggs) and powdered sugar for 10 minutes. Until thick and doubled volume and pale in color.

Into the egg mixture gradually and on medium speed beat in melted and cooled butter. Beat until well blended together. Beat in Vanilla Extract (1/4 tsp), about 2-3 minutes.

Swap out wire attachment for a paddle attachment and into the egg yolk sugar mixture gradually and on low speed beat in flour mixture. Cookie dough is dense.

TIP : If your cookie dough is too dry and is not holding together when pressed together between fingers beat in 1 tsp milk.
Cut Out Cookies
Roll the ginger cookie dough between 2 pieces of parchment paper or use a silicone mat. Roll it out about 1/4 inch thick. Cut out shapes with a cookie cutter. TIP : Use 1/4 inch rolling guide to roll out cookie dough with an even thickness.

TIP : Zazvorniky are traditionally made using a special cutter, resembling the shape of a ginger root. If you don't have this cutter no worries you can use other shapes. I've use snowflakes, stars, trees in the past.

Transfer cut out cookie onto a tray lined with wax paper. Allow dry/rest uncovered overnight. Top of the cookies will be dry to the touch.
Bake Cookies
Preheat oven to 350 F. Using a spatula transfer cookies onto a baking sheet lined with parchment paper. Try not to crowd the baking sheet. Bake cookies for 10-12 minutes, until edges are well risen and cookies are lightly golden around the edges.

When you first open the oven door there will be a slight smell from the baking ammonia. This is normal. Just try not to lean towards the opened oven. No worries, cookies won't smell or taste of baker's ammonia.

TIP : Cookies shouldn't be brown when baked. Larger cookies will need to be baked for 2-3 minutes longer.

Remove baking sheet from the oven and let the cookies cool to on a baking sheet for 5 minutes. Then transfer to a cooling rack to cool completely.
Storage
Store cookies in an airtight container or a paper box for 3-4 weeks. These cookies are light and crisp. 
Decorate -optional
Once cookies are cooled you can drizzle them with melted chocolate. Melt about a 1 cup of chocolate chips in the microwave. Pour chocolate into a piping bag. Cut a small opening on the bag and pipe zic-zac pattern over cooled cookies. Allow chocolate to harden and then store in the container.
Notes
WHY DO YOU CALL GINGER COOKIES "ZAZVORNIKY"?
Zazvor means ginger in Slovak and Czech, hence the name zazvorniky.
I DON'T HAVE BAKING AMMONIA, CAN I USE SOMETHING ELSE?
You can use baking powder. However cookie texture may be slightly different than of those cookies made with baking ammonia. Baker's ammonia produces a lighter, crunchier crumb than baking powder.
WHERE CAN I GET BAKING AMMONIA?
Occasionally you can find Baker's Ammonia at European Markets, Polish or Russian Markets often carry this old school. Your best option is obtaining if online. Baker's Ammonia at King Arthur Flour 
DO YOU HAVE OTHER RECIPES USING BAKING AMMONIA?
Parmesan Rosemary Crackers
Rosemary Prosciutto Crackers
This was post was originally published in December 10th, 2012. On February 26th, 2020 I updated this post with new step by step photos, written text and a video.
This post contains Amazon affiliate links that earn me a small commission, at no cost to you. I only recommend products that I use and love. Learn more about my affiliate policy here.