Gingerbread Cupcakes with Lemon Frosting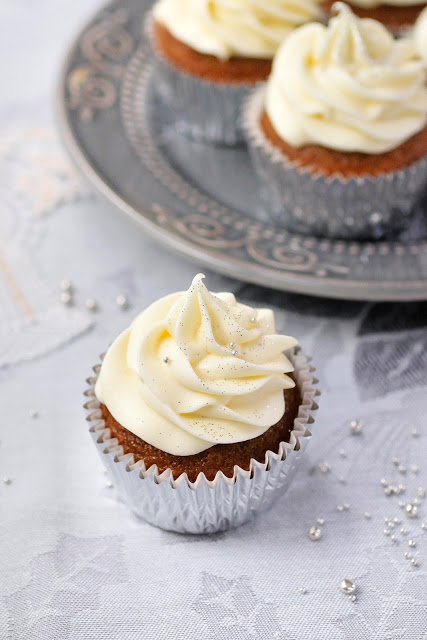 You either like gingerbread or don't; there really is no middle ground here, I really hope you like it because that is what I'll be sharing with you today.
I made these for a friend for New Year's 35th Anniversary Celebration. Pairing gingerbread and lemon comes from my honey cookies, I like to decorate them with lemon flavored icing, it seems like a perfect marriage so why not for cupcakes.
I know I know I hear you, you are ready for some pink and red and Valentine's Day treats and I promise I'll get there soon.
Gingerbread Cupcakes ( makes about 12)
7 tbl butter(100grams)
1/4cup +3tbl brown sugar(85grams)
1/2cup golden syrup(125ml)-Table Syrup, you should be able to find in the baking isle of you grocery store, look in the isle where corn surup or pancake syrups are sold.
1/4cup +3tbl milk(100ml)
1eggs
1cup all purpose flour(145grams)
1/2tbl ground ginger
1tsp cinnamon
1/2tsp baking soda
1/8tsp cloves
1/8tsp nutmeg
1/8tsp allspice
1/8tsp salt
1 1/2 tbl chopped crystallized ginger
Preheat oven to 350F and line a muffin pan with cupcake liners
In a medium size bowl, sift together, flour, spices, baking soda and salt, set aside.
In a medium size sauce pan, heat together milk, golden syrup, brown sugar and butter, stirr until sugar is dissolved, do not allow it to boil. Remove from heat at once and let cool to room temerature
Once cooled pour the mixture into a medium size mixing bowl, using a whisk beat in the egg.
Once again sift all the dry ingredients into the bowl with wet ingredients, use a whisk to prevent having lumps in the batter and stir just until combined.
Stirr in chopped ginger.
Fill the muffin pan, each cavity about 2/3 full, bake for 16-18 minutes, until toothpick inserted in the center comes out clean. Remove from the oven, let cool in the pan for couple minutes, transfer cupcakes to the cooling rack and cool completely before frosting
Honey – Lemon Cream Cheese Frosting
1 package of cream cheese
6tbl room temperature butter
1/2tsp lemon extract
3tbl honey
1 1/2 to 1 3/4 cups powdered sugar
2tbl fresh lemon juice
Cream butter, add cream cheese in large chunks, not at all once, beat after each addition, beat until smooth on medium high speed, lower the speed and add honey beat until combined, then add powdered sugar, mix on low speed and gradually increase, beat until smooth, add lmeon juice by tbl, no all at once and beat until absorbed, add extract, continue mixing for one more minute.Taste.
Fill the piping bag with frosting and frost the cupcakes. I used Wilton M1 tip to decorate these cupcakes, but you can use any tip you like.