I made a delicious Shark Week inspired Shark Cake Roll. Shark Week kicks off this weekend on Discovery Channel with a week long shows filled with all things sharks! To celebrate the most anticipated summer event I decided to make super easy Shark Cake Roll.
JUMP TO RECIPE|PIN IT for later
SHARK CAKE ROLL
Instead of making a fondant or buttercream shark cake I chose an easier route. This cute patterned Shark Cake Roll is made using simple pattern making technique to create ocean waves. And it's filled with delicious homemade strawberry cream cheese frosting.
Cake is made without fondant and buttercream.
CAKE BATTER
Prepare basic sponge cake batter, follow the recipe below. Then divide batter into 3 bowls. Color cake batter into 3 different shades of blue. Use sky blue or royal blue food coloring to make different blue hues.
Make sure you fold the color into the batter, try not so stir as stirrring will deflate the batter too much.
BAKE
Preheat your oven to 350F. Spray a rimmed half sheet baking sheet with a non stick spray and line it with a parchment.
Pipe colored batter in a zizzac pattern alternating colors as you go. Bake the cake at 350F for 12-13 minutes, until toothpick inserted in the center comes out clean. Cake is pretty thin so it really doesn't take that long to bake.
CAKE ROLL
While the is baking dust wax paper sheet with powdered sugar. Run a small rubber spatula along the edges of baked cake to make sure it's not stuck to the side of the baking sheet. Immediately invert it onto a sugared wax paper. Peel off the parchment.
Place another wax paper on the top of the cake. Then support it with a a baking sheet or a cutting board and flip the cake. Then peel off the wax paper from the top, dust it with little bit of powdered sugar. Lay a piece of wax paper on the top and roll it into a log and let cool completely.
CREAM CHEESE STRAWBERRY CAKE FILLING
Prepare delicious cream cheese strawberry filling, follow the recipe.
Unroll a cooled cake roll, peel off the wax paper and spread the filling on the cake. Slowly roll it again into a log. Wrap the cake in a plastic wrap and refrigerate for 4 hours and up to overnight. Cake can be made up to 3 days ahead and stored in the fridge.
SHARK FIN COOKIES
First, you need to bake 6-7 fin shaped cookies. Use my delicious Sugar Cut-Out Cookie Recipe. Freeze leftover cookie dough for up to 3 months. Prepare a Small Batch Royal Icing. Color 1/2 of the icing with little bit of black food coloring to make light gray royal icing. Next, color about 1/4 of the remaining icing with black to make dark gray royal icing. Thin icing to 15 second consistency.
ROYAL ICING COLORS AND CONSISTENCIES :
Light and Dark Gray – 15 second consistency
DECORATING STEPS :
Flood fin cookie with light gray royal icing. Use a needle tool to shape the icing while wet. Immediately pipe a line with dark gray icing on the outer curved edge. Accentuate the point with a needle tool. Let icing dry overnight.
SHARK CAKE ASSEMBLY
Carefully with a twisting motion insert a toothpick into each fin cookies. Remove the plastic wrap from a chilled cake roll. Arrange fin cookies on the top of the cake roll.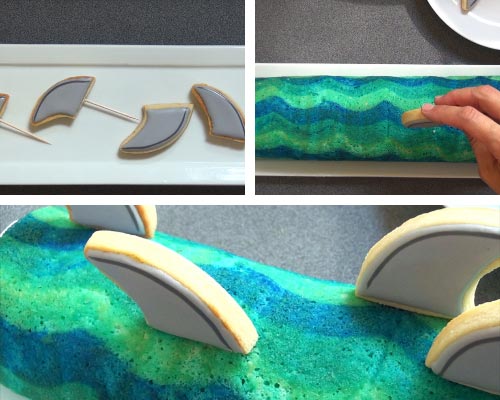 This ocean inspired Shark Cake is perfect for toddler birthday parties. It's super cute and this shark cake design won't scare anyone. And if you are looking for a cake to make without fondant or buttercream you cake rolls are fun and you can make the
TO MAKE SHARK CAKE ROLL YOU NEED
RECIPES
Cake Roll Batter and Filling Recipe – below
TOOLS
Food Colors – sky blue, royal blue
Fin Cookie Cutter – trim the bottom if you need it to be smaller
USEFUL TUTORIALS
FUN SHARK WEEK INSPIRED TREATS :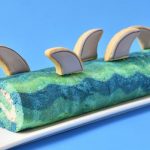 Shark Cake Roll
Make fun Shark Cake Roll for birthdays or shark week.
Course:
Dessert, Frosting
Cuisine:
American, German
Keyword:
birthday shark cake, cream cheese strawberry frosting, easy shark cake, shark cake, shark week dessert
Ingredients
Cake Roll Batter
5

tbsp

coconut oil

(or use butter, melted and cooled, or vegetable oil)

6

eggs

(separated, at room temperature)

1

cup

granulated sugar

1

cup

all purpose flour

1/2

tsp

baking powder

1/2

tsp

salt

blue food coloring
Filling
1

pkg

package cream cheese

(230grams, room temperature)

1

cup

powdered sugar

1/4

cup

room temperature butter

1

tsp

vanilla extract

1

tbsp

heavy cream

(or whipping cream)

1/2

cup

fresh strawberries, washed an diced

2

tsp

vanilla extract
Instructions
Cake Roll Batter
Preheat oven to 350F, 12 -13 minutes

Into a bowl sift together flour (1cup), baking powder (1/2tsp) and salt (1/2tsp), set aside.

Using a wire beater, in a clean, grease free bowl of you stand mixer, or use a hand held mixer beat egg whites (6 egg whites) with a pinch of salt until soft peaks are formed. Then gradually beat in about 1/2 of the granulated sugar (1/2 cup), beat until stiff and glossy peaks are formed.

In a bowl beat egg yolks (6 egg yolks) with remaining sugar (1/2 cup) until pale in color and doubled in volume. Beat in vanilla extract (1tsp) and gradually coconut oil (5tbsp). Beat well.

Into the egg mixture gradually, alternating fold in sifted flour and meringue. Don't stir, fold the batter.

Divide batter into 3 portion, color each one with blue gel food coloring, varying the amount of color added or combining with sky and royal blue coloring. Fold the color into the batter, try not to stir it, as stirring will deflate the batter. Idea is to have 3 different shades of blue colored cake batter. Fill 3 piping bags with colored batter.

Spray the jelly roll pan with non stick spray. Line the pan with a parchment. Pipe ziczac lines across the baking sheet, alternating 3 colored cake batters.

Bake at 350F for 12-13 minutes, till toothpick inserted in the center comes out clean. Don't over bake.

Dust the wax paper sheet with powdered sugar, invert baked and still hot cake onto the wax paper, peel off the top layer of parchment paper from the hot cake.

Place another layer of wax paper on the top of the cake. Place a cutting board on the cake and turn the cake upside down.

Roll the cake, into a log and let it cool. I like to wrap it also in the kitchen towel, let cool completely before filling.
Filling
1 package cream cheese(230grams), room temperature

1cup powdered sugar

1/4 cup room temperature butter

1tsp vanilla extract

1tbl heavy cream, or whipping cream

1/2 cup fresh, washed and diced strawberries

2tsp vanilla extract

Beat unsalted, room temperature butter (1/4cup, 4tbsp), then gradually add room temperature cream cheese (1 package, 226grams). Beat till well combined. Then beat in powdered sugar (1 cup). Beat until creamy. Then beat in heavy creamy (1tbsp) and Vanilla Extract (1tsp). Stir in washed, and dices strawberries (1/2 cup). Fill the cake and roll it again. Cover with plastic wrap and chill for 4 hours or overnight.

Carefully unroll the cake, peel of the wax paper. Spread the filling on the cake. Roll the filled cake into a log. Cover with plastic wrap and chill for 4 hours or overnight.
Fin Cookies
To make the fins you need to bake the Sugar Cookies, cut out fin shapes. Once the cookies are cooled decorate with gray royal icing. Let dry. Insert the toothpick into the cookies and then decorate the cake roll with the fins.

Cake roll can be made ahead of time, store in the fridge for up to 3 days.
PIN IT for later
I updated this post from 2016 with a step by step picture tutorial, written text and a video.
This post contains Amazon affiliate links that earn me a small commission, at no cost to you. I only recommend products that I use and love. Learn more about my affiliate policy here.