Watermelon Pinata Cookies
These cute Watermelon Pinata Cookies decorated with royal icing are perfect for summertime celebrations. Fill pinata cookies with your favorite candies.
RECIPE AND TOOLS JUMP | PIN IT for later
WATERMELON PINATA COOKIES
Use any of my Cut-Out Cookie Recipes to make these surprise pinata cookies. I made tasty Oatmeal Cut Out Cookies and to decorate I used Fresh Lemon Royal Icing.
For pinata cookies you need 3 cookies : Base, Middle (with a cut-out) and Top Cookie.
I used a multi triangle cutter and a small strawberry cutter to cut out the middle section. If you have other small cutter that will work use it instead.
DECORATE WATERMELON PINATA COOKIES
COLORS AND CONSISTENCY :
Dark Green, Light Green, White – 15 second consistency royal icing ( mix the shade of green you like by using leaf green and yellow food color; control the intensity by adding more white icing to green)
Dark Pinkish Red, Light Pinkish Red – 15 second consistency ( to color icing use pink food coloring and add a touch of red color)
DECORATING STEPS :
Pipe a thick line with dark green royal icing at the very bottom. Then pipe light green next to dark green and finish with piping a line with white royal icing.
WET ON WET ROYAL ICING MARBLING
This next technique is called wet on wet. To be able to use wet on wet technique icing has to be wet. Don't allow icing to crust.
Marble icing by running a needle tool through all 3 layers of icing. Create chevron/zic zac pattern with a needle tool by going up and down through the icing. Wipe the tip of the needle tool every time you run it through the icing.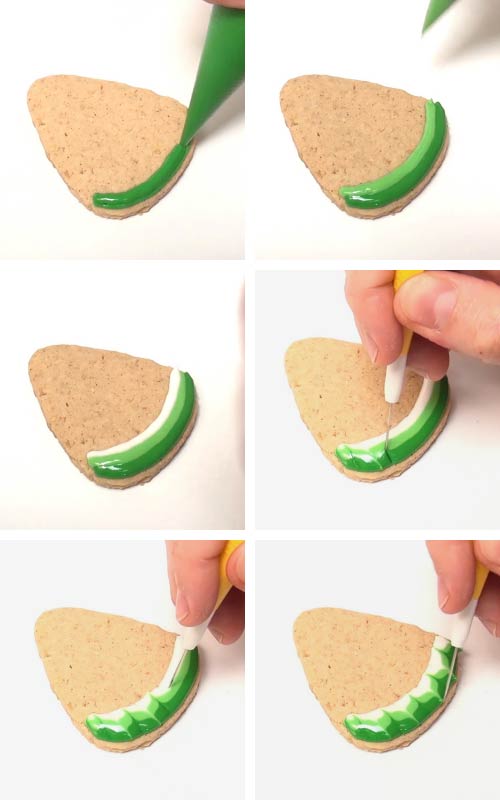 Using dark pinkish red icing outline and flood bout 2/3 of the cookie, leaving the very top empty. Then flood the top section with light pinkish red icing.
With a needle tool shape the icing, distribute icing to the edges. Then marble dark and light pinkish read using a linear motion. Run a needle tool in a straight line up and down though dark and light pinkish red.
CHOCOLATE COVERED SUNFLOWER SEEDS
Instead of black royal icing to make the watermelon seed I used chocolate covered sunflower seeds. I first saw this quick, fun tip over at Sweet Sugarbelle's Blog .
Check your local grocery store, perhaps you can get chocolate covered sunflower seeds in the bulk candy section of your store. Or order them online.
While icing is still wet add black chocolate covered sunflower seeds. I used tweezers to place them exactly where I wanted to.
ASSEMBLE PINATA COOKIES
I filled these cute watermelon pinata cookies with rainbow chocolate covered sunflower seeds. You can use other little candies like mini M&Ms, gummy candies, chocolate chips. Get creative.
COLOR AND CONSISTENCY :
White (any color will work) – 15 second or thicker icing
DECORATING STEPS :
Glue a middle cookie with a cut out center onto the bottom base cookie. Fill the center cavity with small candies. I used chocolate covered sunflower seeds. Then glue decorated watermelon cookie on the middle cookie. Let dry.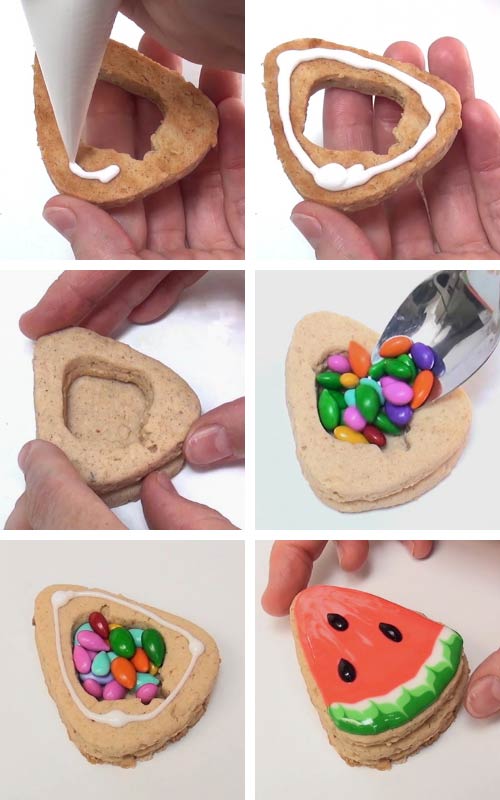 TO MAKE THE COOKIES YOU NEED
MORE SWEET PINATA TREATS :
PIN IT for later
This post containsThis post contains Amazon affiliate links that earn me a small commission, at no cost to you. I only recommend products that I use and love. Learn more about my affiliate policy here.