Roasted Pepper Split Pea Soup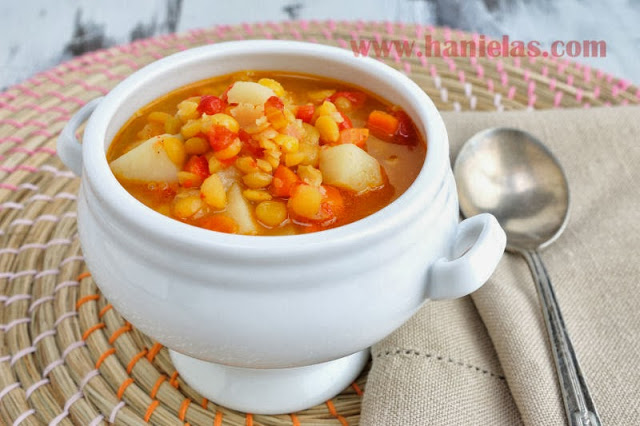 I recently discovered a really lovely blog called
Brooklyn Farm Girl
. What caught my eye at first was their amazing garden…in the middle of Brooklyn, you know the big city. Pamela and Matthew grow a rooftop garden. Yes, people really do that and it think it is awesome!
Anyway I decided to make this soup when saw
White Bean and Kale Pesto Soup
with roasted peppers over at Brooklyn Farm Girl. As you've probably noticed most of my recent recipes include roasted pepper, that is because we have lots of them and I really want to enjoy them while they last. They are so tasty, it would be almost like a crime not to use them.
Roasted Red Pepper Split Pea Soup (serves 4-6)
1cup yellow split peas(230grams)
1medium onion, diced finely
2 large carrots, peeled, diced
3 garlic cloves
1tsp olive oil
2 red roasted peppers
1/4sp fresh nutmeg
4cups(1liter) chicken stock or more if needed
2 medium potatoes, peeled, cubed
olive oil, salt, pepper
Drizzle 1tsp olive on garlic cloves, wrap the cloves into the foil.

Roast the peppers and remove skin from the peppers

. Roast the Pepper with the little garlic pouch. If you've never roasted pepper I suggest you follow the steps in the video below. Chop the peeled peppers into small cubes. Push the roasted garlic from its cases, set aside.

Heat 1tbl olive oil, add diced onion, cook until golden brown, add carrots ,stir for 2 minutes, add split peas, roasted pepper, and roasted garlic. Pour in 2 cups of chicken stock. Stir well. Bring to simmer and cook on low heat, stirring occasionally. Season with salt and pepper as needed.

Cook until peas are almost tender, then add remaining chicken stock and potatoes. Bring to simmer again and cook until the potatoes are knife tender. I like the soups to be thick so if you prefer thinner soup, add more chicken stock.

Stir in fresh nutmeg.

Enjoy.
This soup can be made day ahead and then reheated. The colors are so bright and cheerful, it was beautiful and delicious.