Roasted Butternut Squash Soup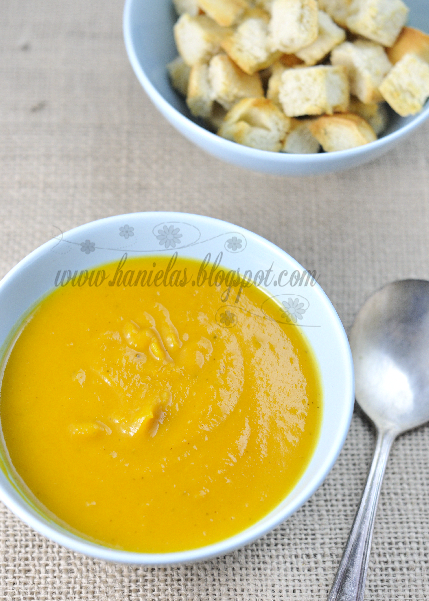 I've heard about this soup so many times, never made it though; but since I still have some raw butternut squash saved up from the last fall I finally came to my soup senses and decided to try it out.
I used my instincts when I decided to roast it first. I love roasted squash with garlic and little olive oil. I eat that alone, that is how much I love it.
Overall this is a pretty easy soup to make compare some more elaborate ones that I make(lots of chopping, and preparations), the only hard part really, is cubing the butternut squash. I left few tips for you at the end of the this post, and no it won't cut itself.
See I peeled and cubed 40 pound of it, I know, I can't even imagine how I did that, but will power is a strong tool, and you can do what ever you set your mind to.
ROASTED BUTTERNUT SQUASH SOUP
6cups(920grams,2 1/4pounds) of uncooked cubed butternut squash(medium to large butternut squash)
2tbl olive oil
1/2tsp kosher salt
pepper
2cloves of garlic(pressed)
lemon juice of 1/2 lemon
lemon zest of one lemon
1/2 tsp herb of Provence
Soup
1cup chopped red or yellow onion
1celery stick( cubed)
2medium carrots(peeled and cubed)
2garlic cloves (diced or pressed)
1tbl oil
1tbl butter
salt,pepper to season
freshly 1/4 tsp grated nutmeg
4cups chicken broth
1/2 cup heavy cream(optional)
Toppings
French Baguette- for croutons, or you can just buy them already made
Greek Yogurt
Mozzarella Cheese
Roasting Butternut Squash
Line a baking sheet with aluminum foil and fill it with your cleaned and cubed butternut squash.
In a small cup, combine olive oil, salt, pepper,garlic, lemon juice lemon zest, herbs of Provence.
Pour the mixture over butternut squash and using your hands, evenly coat cubed squash.
410F-BROIL
25-30 minutes, until tender.
Making Soup
In the meantime heat butter and olive oil in a large pan, add chopped onion, diced carrots, celery and diced garlic, sautee, until soft. Stir to prevent burning, add up to 1cup of chicken broth while sauteeing, care not to cover vegetable with chicken broth, just use little bit at a time, until veggies are really soft.
Add your roasted butternut squash to the sauteed veggies, and cook until the mixture becomes really soft, mushy soft, adding chicken broth until you used up up to 4 cups of broth.
Season again with salt, pepper, fresh about 1/4 tsp nutmeg, if you'd like spicy add some "heat" to it.
I used my blender for the next step but if you have immersion blender this would be a great time to use, process soup in batches until is smooth. Return to the pan and cook for a little longer.
I was going to add heavy cream, but I decided not to, you certainly can add heavy cream if you wish to.
Soup was creamy and nutty tasting.Very rich.


Croutons
I decided to make my own croutons, using french baguette, you can us rolls, or bread if you like as well, I cubed the bread and spread the cubes onto the same baking sheet I used for roasting butternut squash. Yummy. All the leftover flavors was picked up by my croutons.
Bake at 375 F, for about 20 minutes, until edges get brown and crispy.
This soup is really rich and filling so you really only need a little bit,and as many of you know it is rewarding, especially in winter months,
Actually I used butternut squash from our garden. I can't believe that is survived nearly 5 months, in a brown paper bag. I froze most of the 40 pounds we harvested but some I left uncooked in a cool place, still have few of them.
Tips on Cleaning Butternut Squash
As you know cleaning and cubing the butternut squash is a pain, and this year alone several people asked me is there an easier way to clean it? Not really, but it really pays of to have a good peeler, sharp knife, and wood, or silicone board.
I usually cut the squash in half, peel both parts, and than I half it, scoop the seeds out , rinse and cube.
I wear gloves when working with this type of a squash, juices tend to stick to my hands creating a layer of orange film, it is really hard to get it off and when it dries it actually hurts, so if you plan on preparing more than one butternut squash I highly recommend wearing gloves.
I started to buy Greek Yogurt, fat free version, which is still so creamy, keeps me wondering.
Addition to the soup, it cuts some of the nuttiness with smooth cooling taste and flavor.