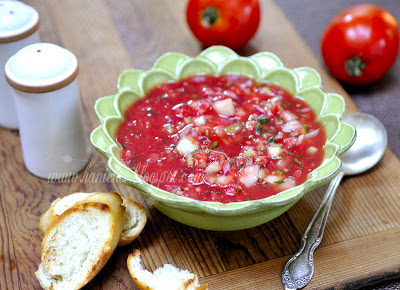 Ever since we picked tomatoes last weekend I had my mind on Gazpacho, a perfect Summer meal, refreshing and packed with nutrients as well as delicious flavors.
I love eating it with a piece of French Baguette toasted in the olive oil.
This gazpacho is thick, I like it that way, if you prefer thinner gazpacho add more tomato sauce.
Gazpacho (about 8 servings)
6 large ripe tomatoes, peeled
1 medium size purple onion, finely chopped
1 sweet red or green pepper, washed cleaned and chopped finely
1 large cucumber, peeled, removed seeds and chopped finely
3 garlic cloves, minced
2tbl finely chopped parsley
2tbl chopped chives
salt, pepper to season
2tbl lemon juice
1/4 cup red wine vinegar
1 to 2tsp honey, or sugar
1 cup tomato sauce
1/2 cup chicken stock
2tbl olive oil
In the blender quickly process tomatoes, I use the chop setting, but don't over do it, you want the chunky consistency. Pour the chopped tomatoes into the bowl, add all the chopped ingredients and then all the liquid ingredients, and stir until well combined, taste and season if necessary. Chill overnight.
Serve chilled with toasted bread and mozzarella cheese.