Father's Day Denim Pocket Whoopie Pies
Few weeks ago I shared with you how to make adorable Cookie Rulers and today I'm putting them to a  really good use – making Father's Day Denim Pocket Whoopie Pie with a Cookie Ruler sticking out.
Aren't these cute? You can also make these ahead of time and store them  in an airtight container in the fridge for up to 3 days or so. They make for a perfect Father's Day treat. Enjoy.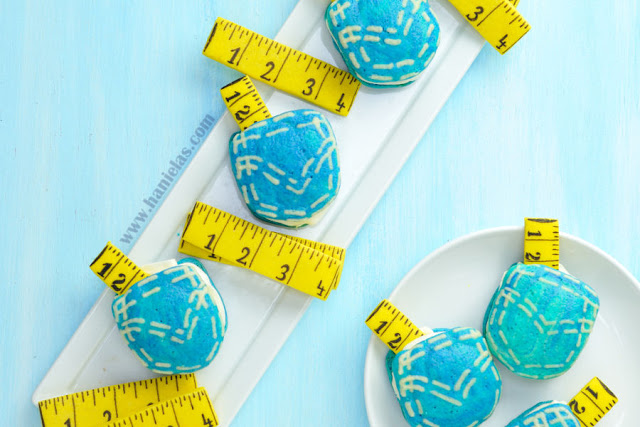 DENIM POCKET WHOOPIE PIES ( makes 6 whoopie pies, recipe can be doubled.
1/2 cup granulated sugar
4 tbl room temperature butter
1 large egg
1tsp vanilla extract
1 cup
3/4tsp baking powder
1/4tsp salt
1/4cup buttermilk( if you don't have buttermilk on hand make your own : to 1/4 cup whole milk add 1/2tsp white distilled vinegar, let sit for 5 minutes, then gently stir and use in the recipe as directed)
Food Coloring – royal blue, sky blue(I used americolor brand)
Beat butter and sugar until creamy and fluffy, add egg and vanilla, beat until doubled in volume and creamy, pale in color.
Sift flour, baking powder and salt.
Add 1/2 of the flour mixture into the butter mixture, stir on low speed, add 1/2 of the buttermilk, then add rest of the flour, stir and add rest of the buttermilk.
Divide batter into 2 equal portions. Take about 2tbl from each portion and reserve it. You should have 3 portions now. Color one portion with royal blue, one with sky blue. Don't fold the color completely in, little bits of white/blue streaks are . Fold blue batters together just until somewhat combined. Fill the piping bag with blue batter and also fill the piping bag with white batter. Cut the corner on the blue piping bag and start piping the pocket on the parchment paper, using a the template.

CREAM CHEESE FROSTING
1block cream cheese
1 1/2 cup powdered sugar to 2 cups, if you prefer sweeter frosting add more sugar
1/4 cup room temperature butter
1tsp vanilla extract
2tbl heavy cream
Beat butter until fluffy, add room temperature cream cheese, beat well, gradually add powdered sugar, at this point lower the speed and then increase as the sugar gets incorporated in the mixture, beat until fluffy and creamy, add vanilla extract and gradually beat in heavy cream.
 Tools you need :
Denim Pocket Template, available for FREE for Haniela's Patrons
Pledge as low as $1 a month to have access to all the templates and more, find how here
Disposable Piping Bags
Wilton Piping Tip 1M
Baking Sheets – my favorites!
McCormick Vanilla  – I use it all the time
Parchment Paper
Americolor Electric Food Colorings
Americolor Food Colorings
For step by step direction view my video :

d