In case you missed my Tulip Cookies Tutorial guest post over at Bea's Cancun Cookies last week, I'm sharing it on my blog today.
I prepared a Tulip Cookie Tutorial
for you. I wanted to achieve a new dimension with tulip cookies, tulip
cookies are mostly decorated flat so I thought I'd play around a little.
In
this tutorial you will find embroidery technique and sanding sugar
application, both techniques play a key role in this tulip design.
Bake cookies, and prepare Royal icing,
color icing with food color and make outline consistency icing(thin the
icing down with a bit of water to about a toothpaste consistency) and flood consistency.
You need 2 colors, for the petals and then for the flower stamens
I used a combination or red and touch of orange gel food coloring to achieve the red shade of icing I used to decorate my tulip cookies
Pipe a thick border with outline consistency royal icing, do one section at a time
Using a clean painter's brush, brush by pull the icing inward
toward the center of the cookie, wipe the brush into a damp towel if
necessary
Continue with other sections, all together there are 3 sections you need to do this
Once you have the brushed embroidery details finished you can move onto the front petals
Pipe the petals
Flood the petals with flood consistency icing
Let dry for several hours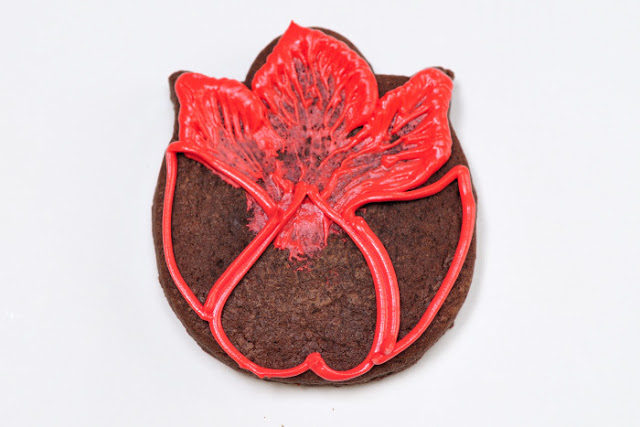 Once the icing has dried you can move onto adding details
First you need to pipe flower stamens and let them dry for an hour or so, use outline consistency icing to do this
Then outline the petals with outline consistency icing
Sprinkle sanding sugar on top of the freshly piped icing, shake off the excess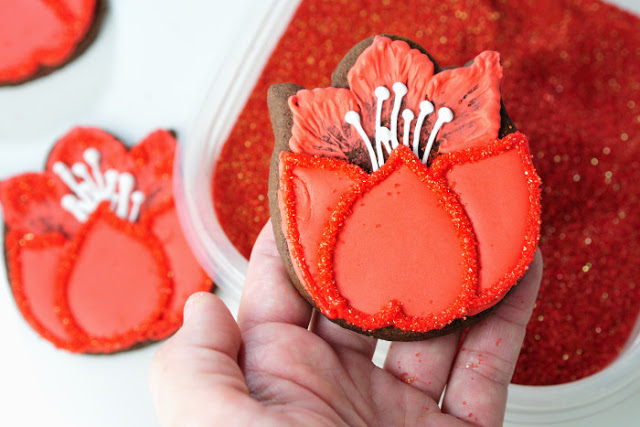 Pipe small dots onto the dry brushed embroidery design, you want only random dots, pipe only several dots not a whole lot
Using a clean painter's brush, brush the icing inward
Immediately sprinkle sanding sugar on top freshly brushed icing
Shake of the excess
Pretty Tulip Cookies