~St. Patrick's Vanilla Pudding with Meringue Dumplings~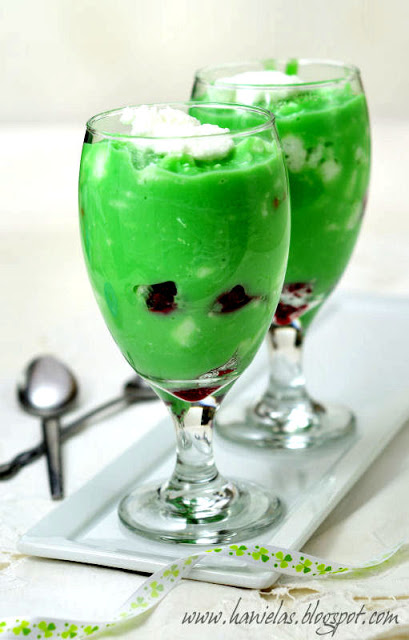 Today I'm going to show you how I make one of my favorite desserts from my childhood. I grew up in Slovakia and this pudding styled dessert was part of our snack at a local kindergarten. It was called Bird's Milk. I was only few years old but this dessert had made such impression on me I remember details like green glass dishes it was served in and a large stainless steel cart it sitting on, how teacher wheeled into the room.
This dessert is for kids as much as it is for adults and today I'm putting a St. Patrick's twist on my old time favorite.
St. Patrick's Vanilla Pudding with Meringue Clouds(about 4 servings)
Cooked Meringue Clouds/Dumplings
2cups milk
2egg whites
2tbl sugar
In a clean bowl whip egg whites until medium peaks are formed, add sugar and beat until stiff and shiny
Heat 2 cup of milk in a small sauce pan
Once milk is hot drop several tablespoon of meringue into the hot milk, cook for 30 seconds, gently stir with a wooden spoon and cook for another 30 seconds and up to 2 minutes.
You can taste the cooked meringue, once cooked it become firmer then uncooked
Remove cooked meringue clouds from the milk and drop them into a colander colander that is sitting on another bowl to catch the excess milk
Continue with remaining meringue
If you notice hot milk is about to seize while you are dropping meringue in, add a little bit of cold milk to control it.
Set the cooked meringue clouds aside


Vanilla Pudding
3cups milk ( use left over milk from the previous step-Cooked Meringue Dumplings plus add additional milk to get 3cups)
4-5tbl sugar
2egg yolks
1/3cup milk
5tbl corn starch or potato starch
1tsp vanilla extract
1tbl butter
food coloring
In a small dish whisk together cornstarch, egg yolks and 1/3 cup milk. Add food coloring if desired.
In a medium size sauce pan combine 3cup milk and 4-5 tbl sugar, or to taste
Add cornstarch egg yolk mixture and stir continuously, mixture will thicken, cook pudding, once you see bubbles, cook for additional minute or two, stirring.
Remove pudding from the heat, and stir in 1tbl butter and 1tsp vanilla extract
Strain pudding through a fine mesh strainer
Fold about 3/4 of cooked meringue clouds into the pudding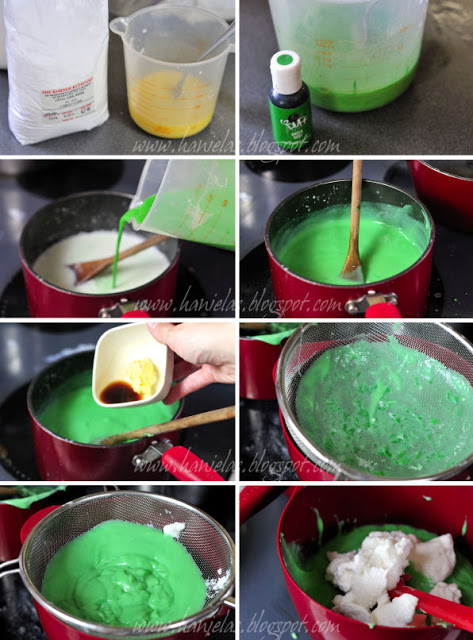 Serving Suggestion
This recipe makes about 6 – 1/2cup servings( I used a lot larger serving dishes, 1/2 cup won't cut it for me)
Layer each dish with berries, pudding mixture and vanilla biscuits, topping it with a reserved cooked meringue cloud.
Let cool to room temperature or chill, best eaten slightly chilled or at room temperature
You can make this a day ahead, make sure you cover the tops to prevent skin forming if stored in the fridge overnight.
Pudding is one of my favorites and addition of cooked meringue clouds/dumplings really brings it to a whole new level. Remember, vanilla flavor is not set in stone this dessert could be done with banana, chocolate and even a raspberry, possibilities are endless.