Pumpkin Orange Chocolate Hand Pies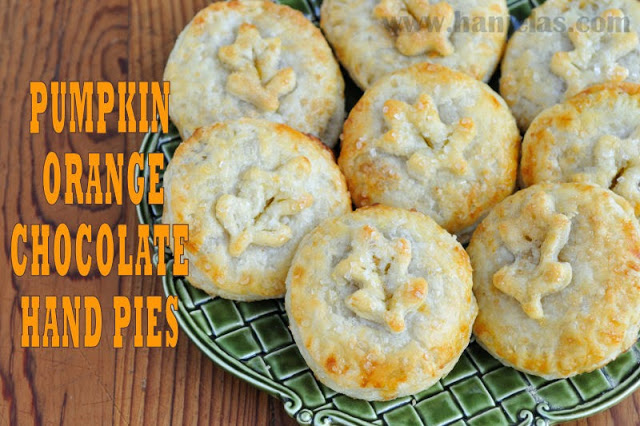 These pumpkin hand pies were delicious and they deserve a spot on your Thanksgiving table.
Pumpkin Orange Chocolate Hand Pies
Pie Dough
2 1/2 cups all purpose flour
1/2tsp salt
1tbl sugar
2sticks cold butter, cut up into chunks
1/4cup chilled milk or water
1tsp apple cider vinegar
zest of one lemon
1/4tsp fresh zested nutmeg
Egg Wash : 1egg + 1tsp water
Raw sugar or Coarse Sugar
Filling
1 cup pumpkin puree
2tbl cream cheese
1/4 cup granulated sugar
1tbl orange zest(from one orange)
1tsp mild molasses
1tbl honey
1/2tsp cinnamon
1/4tsp ground ginger
1/8tsp fresh zested nutmeg
1/4tsp salt
2tbl chopped crystallized ginger
2tbl mini chocolate chips
1 1/2 tsp flour
Make the Dough
Process flour, lemon zest, nutmeg, salt and sugar. Add chilled butter and process until roughly combined. Add milk mixed with apple cider vinegar, process just until coarse mixture is formed. Gather dough together, wrap in a clear plastic wrap and chill for one hour.
Prepare Filling
Beat cream cheese and sugar, add honey and molasses, spices, orange zest and pumpkin puree and flour. Stir in chocolate and crystallized ginger, set aside.
Make the Pies
Divide dough in half. Roll out each half into a thin layer, between 2 pieces of parchment paper, dust with little bit of flour as needed.

Cut our as many round as you can, you can reroll the dough, gather the scraps(don't knead them) and re-roll as needed. I used 3 inch round cutter.

Brush edges of each round with egg wash. Drop about 1/2 tbl of pumpkin filling in the center of each round. Top it with another round, and press the edges down. Using a fork to create a seam around. If desired use left over dough to make decorative leaves on the top.

Preheat oven to 395F.

Brush each hand pie with egg wash, make a cut or poke holes through the top layer of the pie. Sprinkle raw or coarse sugar on top. Bake for 18-20 minutes.
Here are more delicious pumpkin inspired treats:
Pumpkin Meringue Cookies
Pumpkin Shaped Soft Pretzels
Pumpkin Spiced Meringue Dessert
Pumpkin Chocolate Chip Cookies
Pumpkin Spice Caramel Latte Cupcakes