Valentine Heart With Arrow Cheese Biscuits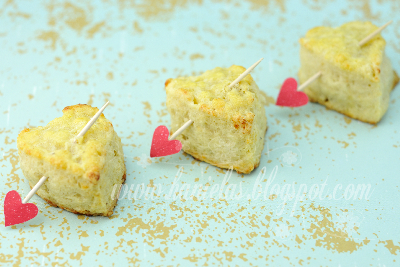 Cheese Biscuits
300 grams all purpose flour
1 stick(113grams) butter or margarine, lightly cooled, but not hard
125ml whipping cream
1 egg
2tsp baking powder
200grams grated cheese, I use mix of cheeses
1tsp kosher salt
pinch of pepper
egg- for brushing
caraway seeds- topping-optional
In a large bowl, combine flour, baking powder, salt, pepper. Add butter, cheese, egg, whipping cream and form the dough, at first I use a wooden spoon and then I use my hands to form the dough.
Flour your work surface, roll out the dough into a rectangle and fold, follow this technique here
I let the dough rest in the fridge covered with the plastic wrap for 15 minutes between each fold. I do 3 folds maximum.
Once you have completed the last fold and your dough has chilled for 15 minutes, you are ready to make the biscuits.
Preheat oven to 360F(182C)
Roll the dough to about 3/4 inch/rather thick/. Cut out hears ( I used a small to medium cutter, you can also use round cutter, or triangle, perhaps even a flower cutter) Transfer unbaked biscuits onto the prepared baking sheet that you lined with parchment paper.
Brush each biscuit with egg wash.
Bake for 15 minutes or until tops get lightly golden, rotate in halfway. Remove from the oven.
Enjoy lightly warm or room temperature.
~♥~
As you know I'm all about Hearts right now, but in case you missed it, check out my post
~I LOVE HEARTS~
Anyway, I was thinking about a way of making these as pretty as delicious they are and I came up with a simple solution. It is not perfect and hopefully I shall find a better way to decorate Savory Treats, but for now it will work, and my Honey thought it was rather cute too.
I wanted to recreate arrow through heart image, using my heart shaped biscuits and simple arrow .
You need:
Toothpicks,
Red scrapbooking paper, or Valentine's day inspired – cut out heart shapes or buy already pre-cut heart shapes
Glue
~
Heart with the arrow through it has several meanings, today it represent the symbol of someone struck by love that is beyond their control