I've put together 7 easy Halloween Cupcakes decorating ideas for you to try this spooky season.
HOW TO MAKE EASY HALLOWEEN CUPCAKES
To make Halloween Cupcakes you need baked and cooled cupcakes, buttercream, some cute edible decorations, piping bags, and a few piping tips(optional).
I used my One Bowl Sponge Cake recipe to make the cupcakes and Swiss Buttercream to decorate. You can also use American Buttercream.
HALLOWEEN CUPCAKE DECORATIONS
You don't have to look far for cute and easy-to-make edible decorations for your Halloween Cupcakes. Use candies, cookies, sprinkles, chocolates, and even marshmallows.
Scary Eyeballs
To make scary eyeballs I used delicious chocolate Sixlets candies and red and black edible markers. It's best to use large Sixlets.
Separate the colors you want to use. I used green and white candies (step 1).
Draw red veins in the circular pattern on a candy ball (steps 2-3).
Take a black edible marker and draw the pupil.
TIP: Don't rub drawn design with your fingers, it can smear.
Tombstone
To make the tombstone decoration you can use any number of flat cookies. I used wafer cookies. They work well because they are light, easy to cut, easy to source out. They also come in a variety of different flavors and are super delicious.
Trim the cookies to size you need. Keep in mind you'll be inserting close to 1/3 of a cookie into a cupcake frosted with buttercream (step 1-2).
Outline trimmed cookie with a black buttercream and dip the cookie into festive sprinkles (steps 3-4).
Lastly, write RIP on the front of the cookie. You can use a round piping tip #3, or you don't have to use a piping tip at all. You can use a tipless piping bag instead (steps5-6).
For easier handling and decorating place these into the fridge, and allow buttercream to firm up, for 5-10 minutes.
Decorated Marshmallows
Marshmallows make great decorations for cakes, cakes, and cookies.
Insert a short skewer into a large marsmallow (step 1).
Draw your designs onto the marshmallows with an edible marker (steps 2-4).
Cookie Dirt
MUMMY CUPCAKES
Spread a thin layer of black buttercream on a cupcake. Glue the eyeballs onto the black buttercream (steps 1-4).
With white buttercream and a piping bag fitted with a basketweave piping tip #47 pipe lines of buttercream across, avoiding piping over the eye section (steps 5-8).
JACK-O-LANTERN CUPCAKES
Jack-o-lantern cupcake is a popular pumpkin design and it works great not only for cupcakes but for cakes, cookies, hand pies, cake pops, and rice krispies, to name a few.
To pipe the pumpkin shape I used bright orange buttercream and a round piping tip #12 (steps 1-3).
Then with a black buttercream and a piping tip #3 pipe the eyes, nose and a mouth (steps 4-6).
Lastly, add green curly vines at the top with green buttercream and a piping tip #2 or#3 (steps 7-8).
JACK SKELLINGTON CUPCAKES
I couldn't resist making a Jack Skellington cupcake. He is super easy to make and looks also great on my Nightmare Before Christmas Gingerbread House.
Spoon or pipe white buttercream on a cupcake. Smooth it with a spoon or a spatula (steps 1-2).
Now with black buttercream, either using a tipless piping bag or a piping bag fitted with a round piping tip #3 pipe the mouth, nostrils, eyes and eyebrows (steps 3-8).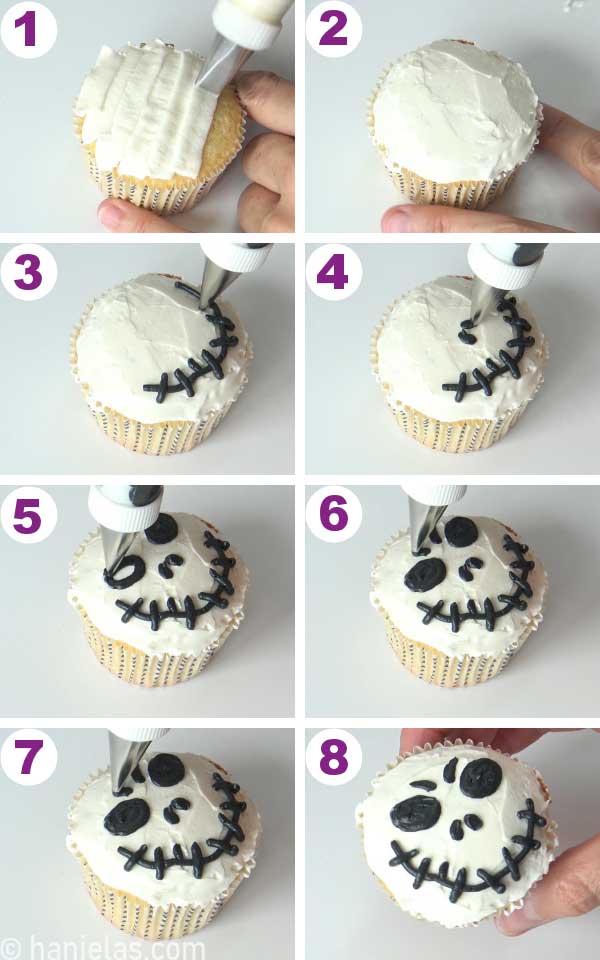 SPIDER WEB CUPCAKES
Spider webs and Halloween go hand in hand. This popular Halloween cupcake design used an easy decorating technique that I often use in cookie decorating, too.
Pipe and smooth purple butterecream onto a cupcake (steps 1-2).
Pipe couple of concentric circles onto the purple buttercream (steps 3-4).
Take a toothpick or a scribe tool and slowly run the tip of the toohtpick thru the buttercream, from the center to the outer cupcake edge (steps 5-7).
And lastly insert a pre-made marshmallow decoration into a cupcake.
FRANKENSTEIN CUPCAKES
I couldn't leave out Frankenstein.
Pipe bright green buttercream onto a cupcake and smooth it out (step 1).
Then pipe a zic zac hairline and fill the top with black buttercream. Dust the hair with black sanding sugar (steps 1-3).
Gently push the sixlets eyeball into the green buttercream (step 4).
Pipe the nose, mouth and a scar (step 5).
To make the bolts I used pretzel sticks. Break 2 small pieces of the pretzel stick and insert them into the cupcake (steps 6-8).
GRAVEYARD CUPCAKES
These graveyard cupcakes are super fun. I used a wafer cookie to make the tombstone and oreo cookies to make the dirt.
Pipe a thick layer of brown buttercream on a cupcake and smooth it out (steps 1-2).
Dip the cupcake into the oreo cookie dirt (step 3).
Cut a shallow cut into the cupcake and insert the wafer tombstone into the cupcake.
Lastly, use a green buttercream and a grass piping tip and pipe the grass around the bottom of the tombstone.
TIP: Insert a toothpick into a wafer cookie to make a sturdier topper.
SCARY EYEBALL CUPCAKES
Scary eyeball cupcakes are also one of the Halloween classics. Remember my Monster Eye Surprise Inside Cake, or my Scary Eyeball Cookies?
Pipe or smooth white buttercream onto a cupcake (steps 1-3).
Then pipe a large green dot of icing in the middle and then pipe a pupil, a small dot of black icing in the middle of green. (step 4-5).
To create the veins you can use red buttercream, or if you have Wilton's Red Sparkle Gel you can use that instead. It's really easy to use, it pipes straight out of the tube (steps 6-8).
HOW FAR IN ADVANCE CAN I DECORATE CUPCAKES?
You can prepare cupcakes up to 2-3 days in advance, store them in the fridge in an airtight container to prevent cupcakes from drying out.
TIP: Brush the tops of cupcakes with simple syrup. This helps to keep them moist.
HOW MUCH BUTTERCREAM DO I NEED TO FROST CUPCAKES?
To frost 24 regular-sized cupcakes with a spoon or spatula you need about 2 to 2 1/2 cups of buttercream. If you are piping swirls onto cupcakes you'll need about 4 cups of buttercream.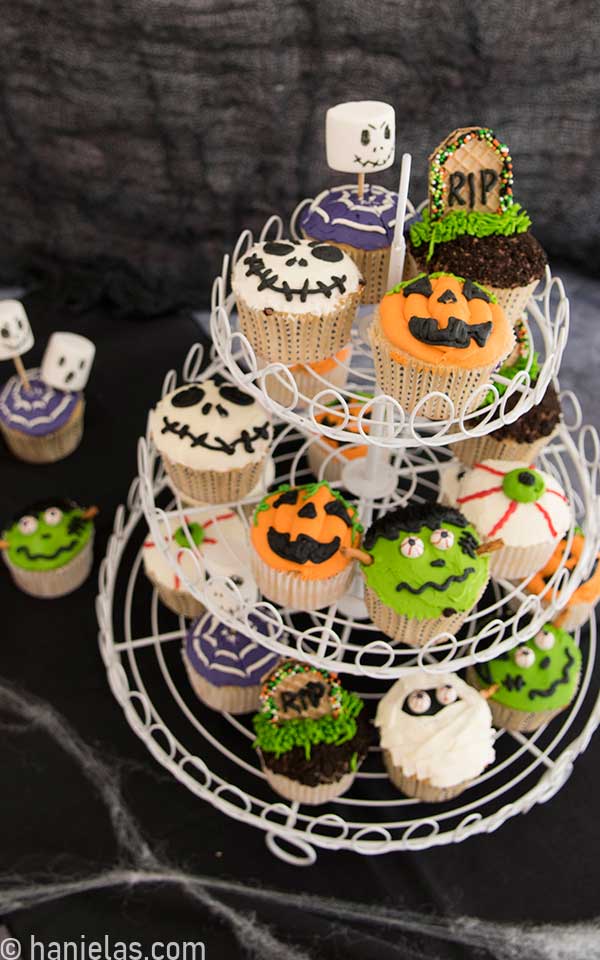 WHAT YOU NEED TO MAKE EASY HALLOWEEN CUPCAKES
RECIPES
Vanilla Cupcakes – use my One Bowl Sponge Cake Recipe -makes 18-22 cupcakes
Chocolate Cupcakes – makes 12 cupcakes
Swiss Buttercream (makes 3-4 cups)
TOOLS
Find all the tools in my Amazon Shop (shop Cupcake Tools, Piping Tips, Food Gels and Edible Markers sections)
Piping Tips: basketweave tip #47 , round tip #3, grass piping tip
Spatula or a Palette Knife
Cupcake Liners
Muffin/Cupcake Baking Pan
Food Gel Colors: orange, regal purple by Americolor, electric green (or use yellow and a touch of leaf green), orange, black
Black and Red Edible Markers
Sixlets Candies
Marshmallows
Flat Cookies like Wafer Cookies
Festive Halloween Sprinkles
Skewers or Toothpicks
This post contains Amazon affiliate links that earn me a small commission, at no cost to you. I only recommend products that I use and love. Learn more about my affiliate policy here.