Giant cupcake silicone mold is no longer hiding in the corner. I had bought this pan few years but never got a change to bake with it. So today my friends we are going to make super yummy Starbucks inspired Pumpkin Spice Pound Cake with Whipped Cream Cheese Frosting.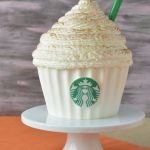 Pumpkin Pound Cake
Ingredients
2

cups

granulated sugar

1/2

cup

brown sugar

3

cups

all purpose flour

3

whole eggs

1

cup

oil

2

tsp

vanilla extract

1

tsp

baking soda

1

tsp

baking powder

1 1/2

tsp

cinnamon

1

tsp

freshly zested nutmeg

1/4

tsp

ginger

1/4

tsp

cloves

1/2

tsp

salt

15

oz

canne pumpkin puree

or use homemade

1 to 2

tbl

espresso powder

instant
Instructions
Preheat oven to 350F.

Prepare baking pans, by spraying them with non stick spray, set aside.

Sift together flour, spices, salt, baking agents,stir in espresso powder

In a large bowl combine granulated sugar and brown sugar.

Beat in eggs, one at a time, beating until pale in color and fluffy. Beat in vanilla

On low, beat in flour alternating with pumpkin puree.

Give the cake batter a last stir with a spatula and divide between the 2 set cupcake pan.

Bake in the preheat oven, at 350F for an hour or so, until toothpick inserted in the center comes out clean.

Make sure to place the baking pan on a flat baking sheet, for easier handling. Silicone molds are flexible and handling them too much can be difficult especially when they are filled with the cake batter. Baking sheet underneath helps with this problem.

Once baked, let them cool on the pan for 30 minutes, then loosen the edges of the mold by gently pulling them apart. Unmold the cakes and let them cool completely.

Follow the instructions in the video on how to trim and fill the cake.
To make the Chocolate Shell you need:
White Chocolate Candy Melts
spatula, spoon to spread the chocolate
Melt the chocolate candy melts, then proceed by coating inside of the mold bottom and the sides. Let it set in the fridge for 15 minutes or so. Then repeat with another layer and chill until firm. Then unmold the chocolate shell from the silicone mold. Nest it in the silicone mold while you fill the cake to prevent outside of the chocolate getting messy from the filling, cake crumbs.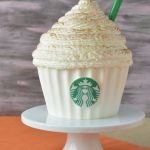 Cake Filling and Toppings
Ingredients
Coffee Sugar Syrup
1

cup

water

1/2

cup

sugar

2

tbl

espresso powder
Whipped Cream Cheese Filling/frosting
1

package

of cream cheese

at room temperature

2

cup

heavy whipping cream

3/4

cup

powdered sugar

1

tsp

vanilla extract
Stabilized Whipped Cream
2

cups

heavy whipping cream

2/3

cup

powdered sugar

2

tsp

gelatin

2

tbl

cold water

1

tsp

vanilla extract.
Instructions
Coffee Sugar Syrup
Boil the sugar and water, until sugar is dissolved, boil for 5 minutes. Remove from the heat, add coffee, stir, let cool.
Whipped Cream Cheese Filling/frosting
Beat cream cheese, gradually add whipping cream, beating well, until stiff peaks are formed, use a wire beater to make this filling. Beat in sugar and vanilla.

Filling can be stored in the fridge for 2-3 days.
Stabilized Whipped Cream
Stir gelatin and cold water, let sit/bloom for 5 minutes. Microwave for 8 seconds until gelatin is completely dissolved and no longer grainy when mixture is rubbed between fingers. Let cool to room temperature.

Beat heavy cream until soft peaks are formed, gradually, beating on high speed, pour in dissolved and cooled gelatin. Then add sugar and a vanilla.

Fill the piping bag with the cream and decorate the cupcake.

Refrigerate.
Recipe Notes
Cake can be made up to 3 days ahead, stored in the refrigerator.
Let it sit at room temperature for 30 minutes before serving. Enjoy.
Decorations Starbucks Logo you need : edible image sheet with the Starbucks logo, fondant, round cutter, small brush Drinking Straw you need  : drinking straw, green fondant, brush and little bit of water, corn suryp Follow video instructions on how to create these decorations.
Tools you need:
Cupcake baking mold
Piping Tip Wilton 8B
Small Spatula
Gelatin
Piping Bags
Here is another fun Starbucks inspired idea : Peppermint Mocha Cakes in Edible Red Cup