Not sure what to do with leftover egg whites? Make Meringue Rose Cookies.
updated post from 2011
MERINGUE ROSE COOKIES
I've made hundreds of meringue cookies and desserts over the years. They require only few ingredients and can be made ahead of time. It doesn't hurt that they are super pretty and delicious.
MERINGUE
In a heat-proof bowl, combine egg whites, sugar, and lemon juice. Another option, in place of lemon juice, is cream of tartar or vinegar.
Place the bowl with egg whites, sugar, and lemon juice over a pot of simmering water. Whisking, heat the mixture. I used a stainless steel bowl, but you can also use a tempered glass bowl
Whisk egg white mixture constantly using a wire whisk until sugar is completely dissolved. It is important that sugar is dissolved. Undissolved sugar crystals can cause sugar beading on the meringues.
Rub the mixture between your fingers. It has to be smooth, if you feel graininess, keep heating the mixture until sugar is dissolved.
Mixture will be white and soapy. This is normal.
Once sugar is fully dissolved return the bowl to your mixer and whip the mixture using a wire attachment. Start at the low speed and then increase speed to medium high. Beat until medium peaks are formed. Then add alcohol or water based flavorings. Don't use oil based flavoring. Beat meringue until it has stiff peaks.
Meringue should be glossy and smooth. Grainy meringue is a result of over beating.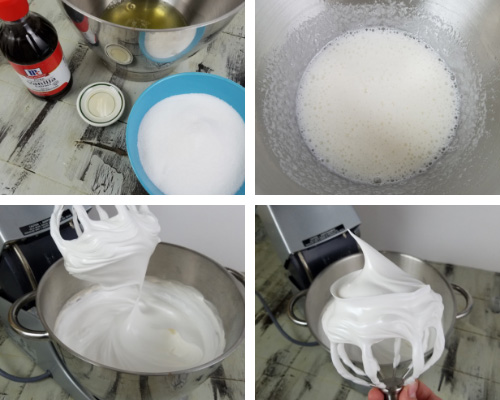 COLOR MERINGUE
To create realistic rose coloring, I decided to use 3 shades of pink.
Divide stiff meringue into bowls and color meringue with pink gel food coloring, ranging from deep pink, medium pink, and pastel pink. Control the color intensity by adding less or more food coloring. Try not to stir meringue, but instead fold gel colors into the meringue.
PIPE AND BAKE MERINGUE ROSE COOKIES
To pipe the roses you need:
Large Petal Tips #125
Flower nail
Parchment squares.
First, fit large piping bags with Petal Tips #125. Fill the piping bags with colored meringue. I used three piping bags and 3 Petal Tips. Be sure to watch the video on how to pipe the meringue roses.
Attach the parchment square to the flower nail. Then start piping a rose with the darkest pink in the center of the flower nail. Make a swirl. Next, use medium pink and pipe three petals around the center rose swirl. Remember, the narrow part of the petal piping tip should be facing up. Then pipe five outer rose petals with the lightest shade of pink meringue.
Place piped roses with the parchment paper attached onto the light-colored baking sheet. Bake at 175F for 3-4 hours. After, turn off the oven and let the cookies cool in the oven. Finally, once the oven cools, remove meringue cookies and store them as soon as you take them out of the oven.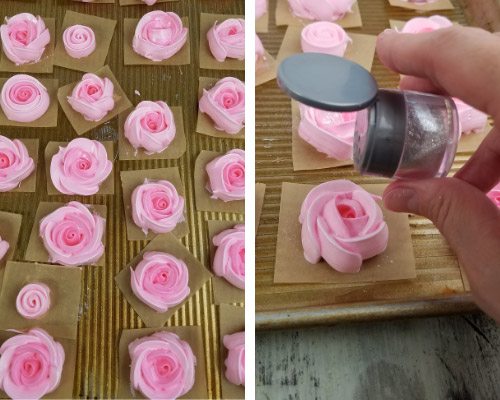 HOW TO STORE MERINGUE COOKIES
Immediately store cookies in an airtight container with either food-grade silica gel or a small bowl of raw white rice. It helps to keep the moisture in check, and cookies stay crisp and don't get soggy.
CAN I FREEZE MERINGUE COOKIES ?
Yes, certainly, you can freeze meringue cookies in a freezer-safe container for up to a month. If freezing, layer meringues between parchment paper sheets. Defrost meringues on the kitchen counter for 3 hours. Don't open the container while defrosting.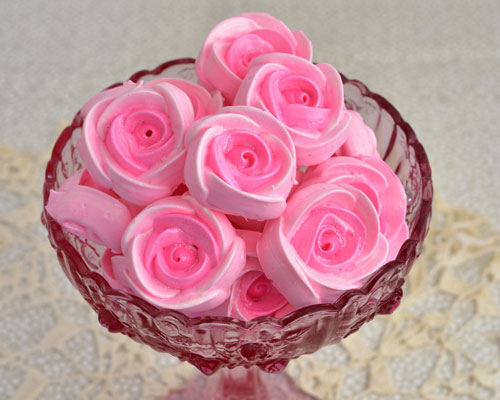 MERINGUE COOKIES TROUBLESHOOTING
Weeping
Causes: overbeating of the meringue or cookies are underbaked.
Remedy: add more sugar or add 1 to 2tbsp corn starch to the meringue at the last stage of the mixing. It stabilizes the meringue.
Cracks
Causes: meringue beaten at very high speed. Or meringue was baked at high temperature.
Remedy: beat meringue at medium – high speed and lower the baking temperature, increase baking time.
Beading
Causes: this can happen when sugar in the meringue is not completely dissolved or meringue was baked at high temperature, or it was baked for too long.
Remedy: Make sure sugar is dissolved completely. Lower the oven temperature.
Chewy Texture
Causes: high baking temperature, underbaked meringues -not baked for long enough.
Remedy: adjust the oven temperature.
Overbrowning
Causes: dark baking sheet, high baking temperature.
Remedy: use light-colored baking sheets, lower the temperature, adjust time.
TO MAKE MERINGUE ROSE COOKIES YOU NEED
This post contains Amazon affiliate links that earn me a small commission, at no cost to you. I only recommend products that I use and love. Learn more about my affiliate policy here.
Meringue Rose Cookies
Make delicate meringue cookies, perfect for tea, garden parties.
Ingredients
6

egg whites

(180grams)

1 1/2

cup

granulated sugar

2

tsp

lemon juice or vinegar

1

tsp

Vanilla Extract
Instructions
Combine egg whites (6 egg whites) sugar (1 1/2 cup) and lemon juice (2tsp) in a heat proof bowl.

Place the bowl over a pot of simmering water. Whisking until all of the sugar is dissolved.

Rub the mixture between your finger to check if the sugar is dissolved.

Secure the bowl into your stand mixer and beat with wire beaters. Start at low speed then gradually increase to medium high.

When medium stiff peaks are formed add Vanilla Extract (1tsp) and continue beating until stiff peaks are formed. When the peak doesn't fall down or bend you are ready to go.

Divide stiff meringue into bowls.

And color with food coloring. I used pink gel food coloring.

Make sure to carefully fold the color into the meringue so it doesn't deflate too much.

You need 3 shades of pink.

Dark Pink – this will be used to pipe the center petal so you don't need a whole lot meringue.

Medium Pink – then with medium pink pipe 3 petals.

Light Pink – pipe 5 outer petals.

Fit 3 piping bags with Piping Tip #125. Fill the bags with different shade of colored pink meringue.
PIPING ROSES
Add little bit of meringue onto the flower nail and then secure parchment square on it.

Pipe with darkest pink first, narrow part of the piping tip facing up. Then use mediums shade of pink and pipe 3 petals around and finish with the lightest pink and pipe 5 petals around.

Clean up the bottom edge with a toothpick and place roses onto a baking sheet.
BAKE
Bake meringue roses at 175F for 3-4 hours, turn off the oven and leave the cookies in the oven till the oven cools.
Notes
STORAGE
Store in an airtight container. To remedy humidity add food grade silica gel packet or white rice into the container.
FREEZING
Freeze up to a month. Let defrost on the counter for several house. Don't open the container during this time.
PIN IT for later
This post was originally published in 2011. For this reason on June 3rd, 2019 I updated this post with new step-by-step photos, written text and a video.