Stuffed Cabbage Casserole
This recipe for layered Stuffed Cabbage Casserole is super easy to make. It's versatile and can be prepared ahead and frozen for later. I usually make loads of it in the summer. Then in the winter, it's the best thing ever to have on a cold day.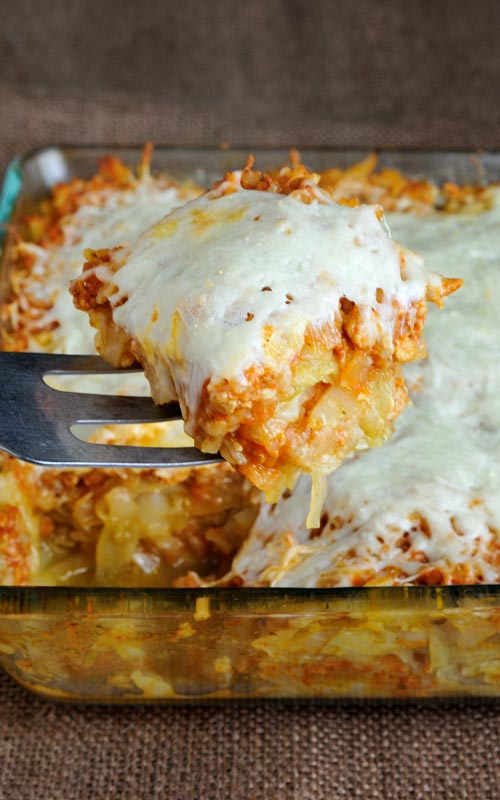 JUMP TO VIDEO| JUMP TO RECIPE | PIN IT for later
STUFFED CABBAGE CASSEROLE
Cabbage rolls are popular in Balkans, parts of Europe, Iran and Northern China. Cabbage Roll / Golabki are also very popular in Polish cuisine. They are made from cooked cabbage leaves wrapped around a filling. Filling is usually made from pork, beef, onions and cooked rice or barley.
Process of traditional cabbage rolls is rather time consuming and so I simplified and used a layering method to make this popular dish.
INGREDIENTS
Spices : salt, pepper, Hungarian paprika, caraway seeds (ground and whole), marjoram or thyme
Cooked Rice, either white or whole grain
Tomato Soup or you favorite Tomato Sauce
Ground Pork
Onion, diced
Garlic, pressed and diced
Green Cabbage, thinly sliced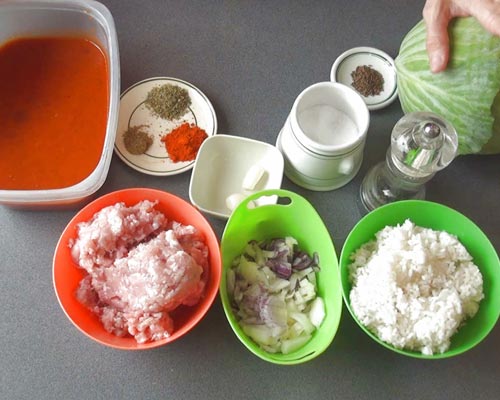 GROUND PORK
In a bowl combine ground pork, salt, pepper, sweet paprika, pressed garlic and ground caraway seeds. Blend meat and spices well.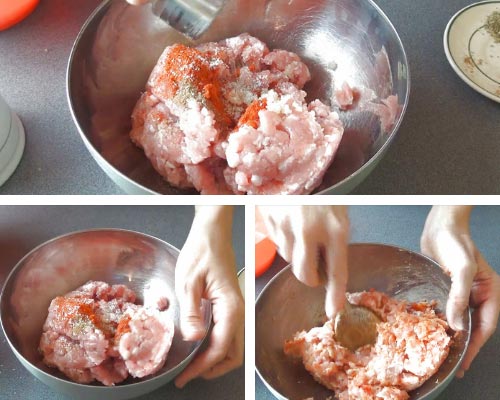 STUFFED CABBAGE FILLING
Heat 1 tablespoon olive oil in a large pot or skillet. Add finely diced onion, and cook till translucent. Next, add in chopped garlic and cook stirring for 30 second up to a minutes.
Then add seasoned ground pork. Cook on high for for 5 minutes stirring well. Next, add tomato sauce or homemade tomato soup. Stir well, bring the mixture to simmer and cook for about 20 – 25 minutes, or until thickened. Taste and season with salt and pepper as needed.
Stir in cooked rice and bring to simmer again. Season with marjoram, remove from the heat and set aside.
CABBAGE
Finely slice fresh green cabbage. Season it with whole caraway seeds, salt and pepper. Heat 1 tsp olive oil, add sliced cabbage, cook on high for 30 second. Add 1/4 cup water and continue cooking until cabbage is about 1/2 way cooked. It will reduce in size. Don't worry it will continue cooking in the oven.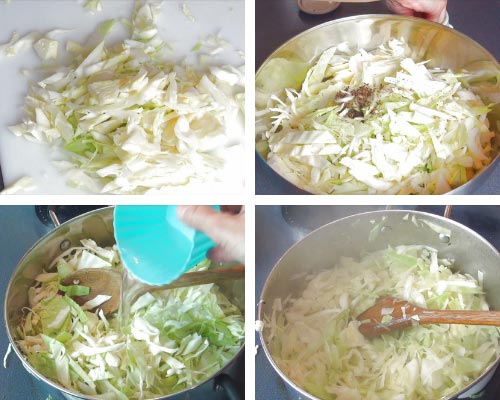 BAKE CASSEROLE DISH
Spray the baking dish with a non stick spray. Layer cabbage layer, meat layer, finishing with meat layer.
Cover top of the dish tightly with a foil and bake in the preheated oven at 350F for 45- 50 minutes.
Take the dish out of the oven, remove the foil and spread shredded mozzarella cheese on the top. Return to the oven and bake till cheese is melted, about 10 minutes. Remove from the oven and let cool for 20-30 minutes. Serve warm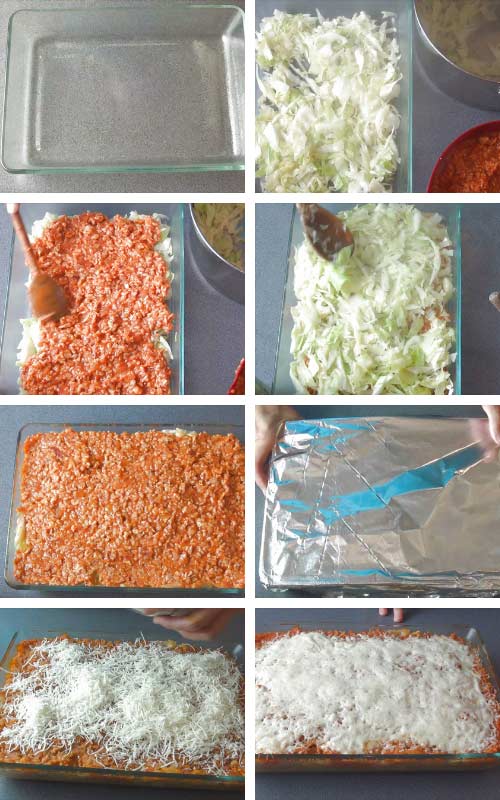 HOW TO FREEZE
You can freeze stuffed cabbage casserole for later. First, let it cool completely. Then cut it up into cubes. Transfer cubes onto a baking sheet/ tray lined with a parchment. Freeze for 2 hours. Then you can wrap frozen cubes into a freezer paper. Freeze them in freezer safe ziploc bag or containers. Wrapped in freezer paper stuffed cabbage casserole lasts for up to 9 months.
TO MAKE STUFFED CABBAGE CASSEROLE YOU NEED
RECIPE
TOOLS
Baking Dish
Vegetable Chopping Knife – my favorite
Garlic Press
Chopping Board
MORE CASSEROLE DISHES :
Stuffed Cabbage Casserole
Easy to make. Freezes well.  This dish can be made ahead, and reheated. I actually find it tasting even better next day.
Keyword:
layered casserole, stuffed cabbage casserole, stuffed cabbage rolls
Ingredients
Meat Filling
1

pound

ground pork

you can also use turkey or beef if you'd like

1

garlic clove

pressed

1 1 /2

tsp

Hungarian paprika

1/2

tsp

caraway seeds

ground

1

tsp

olive oil

1

large onion

finely chopped, using red and yellow together is fine

1

garlic clove

chopped

1/2

tsp

thyme or marjoram

1

quart/liter

good tomato sauce, marinara sauce, combination of small dice tomatoes with sauce is fine too. I've used my homemade tomato soup and it was yummy too.

2

cups

cooked rice

white or brown is fine

1/2

tsp

freshly ground pepper or to taste

salt to taste
Cabbage Filling
1

large fresh head of cabbage or 1 1/2 smaller ones.

1

tsp

olive oil

1/2

tsp

whole caraway seeds

pinch

salt to season
Topping
1

cup

low fat mozzarella cheese

(optional)
Instructions
Meat Filling
In a bowl, season ground pork (1 pound), with pressed garlic (1clove), sweet hungarian paprika ( 1 and 1/2tsp), ground caraway seeds (1/2tsp), salt and pepper (1/2tsp) and to taste, stir until well combined.

In a deep skillet, heat olive oil (1tsp), add chopped onion (1 large onion) and saute until translucent. Add chopped garlic (1 large clove). Cook, stirring constantly for 30 second, up to a minute.

Add seasoned ground pork and cook on high for 5 minutes, stirring frequently. Meat will gradually turn white.

Add tomato sauce (1quart/liter) or homemade tomato soup, or marinara sauce or combination of chopped tomatoes and sauce :-). Season with salt and pepper if needed. Bring mixture to simmer, cook for 20 – 25 minutes until mixture has thicken slightly. Once thickened add cooked rice (2cups), stir well and bring to simmer again. Stir in dry marjoram. Remove from the heat and set aside.
Cabbage Filling
Chop cabbage head thinly, either by hand or using a food processor.

In another pot heat remaining 1tsp olive oil. Add chopped/sliced cabbage, season with salt and whole caraway seeds (1/2tsp). Cook until cabbage is about 1/2 way cooked.
Layer
Spray casserole dish (I used 10×14 inch glass dish) with a nonstick spray.

Layer cabbage and meat filling into the casserole dish. Starting with the cabbage then layer meat filling then cabbage, finishing with meat. Cover dish tightly with an aluminum foil.
Bake
Preheat oven to 350F and bake for 45-50 minutes.

If desired, spread 1cup of cheese on the top, return to the oven and continue baking until cheese is melted and top is golden brown.

Remove from the oven. Let cool for 20-30 minutes. Serve warm.
Recipe Notes
How to Freeze Stuffed Cabbage Casserole Dish?
Let it cool completely. Cut it into large squares. Put the squares on a baking sheet layered with parchment and freeze for 2 hours.  Then take individual frozen cubes and wrap them either individually or as in groups of 4-6. Them place wrapped cubes into freezer safe ziplog bags or containers. Freeze for up to 9 months.
I can't find caraway seeds, can I use something else?
Skip it and if you can't find it. Look in Polish stores, they usually carry caraway seeds ground and whole.
I don't like white rice can I use something else?
You can use barley, brown rice. Or try a mix of couscous, quinoa.
Do you have a recipe for marina sauce?
I use this recipe for Marinara Sauce.
I'd like to make homemade tomato soup, can you share a recipe?
My favorite Homemade Tomato Soup.
PIN IT for later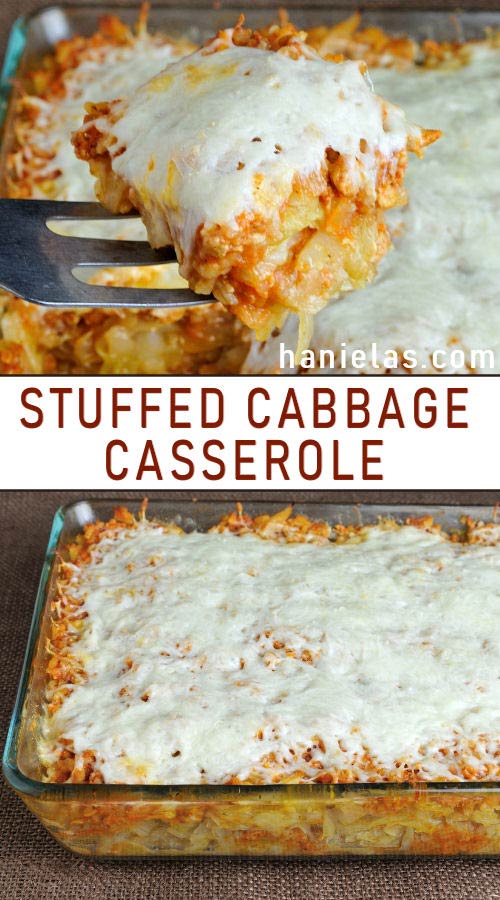 I updated this post from 2012 with step by step photos, written text and a video.
This post contains Amazon affiliate links that earn me a small commission, at no cost to you. I only recommend products that I use and love. Learn more about my affiliate policy here.