Inspired by cartoon donuts I made decorated Donut Pinata Cookies. Iced with royal icing and filled with colorful homemade sprinkles. These fun piñata lollipop cookies are perfect for all the birthday parties.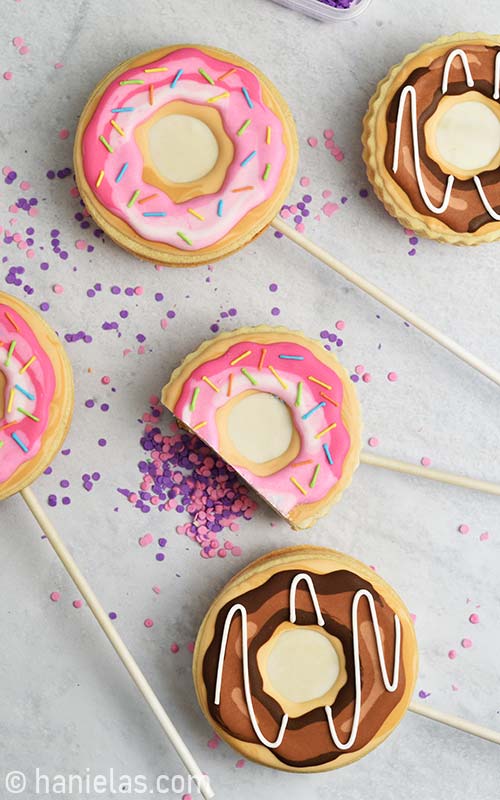 HOW TO MAKE DONUT PINATA LOLLIPOP COOKIES
I baked cookies using my sugar cookie dough recipe but you can use pretty much any roll out cookie recipe you'd like. And to decorate I used royal icing.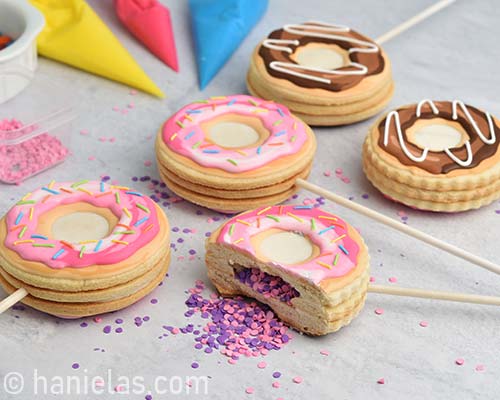 To make pink and chocolate donut shaped pinata cookies I used 2 round cookie cutters to cut out cookies : 3 inch and 1.5 inch. And to make cookies on a stick I used lollipop sticks. If you can't find lollipop sticks you can also try and use thick bamboo sticks instead.
To make a pinata cookie you need 3 cookies. 2 full round cookies and 1 round cookie with a center cut out. And to make a pinata on a stick one of the cookies needs to have lollipop stick.
I tested 2 techniques, both work and you can see them in the picture below. Which one you decide to use it's your choice. I personally like having the lollipop stick in the middle cookie with a center cut out.
Use a middle cookie with a cut out to hold the lollipop stick
Or use one of the whole round cookies to hold the lollipop stick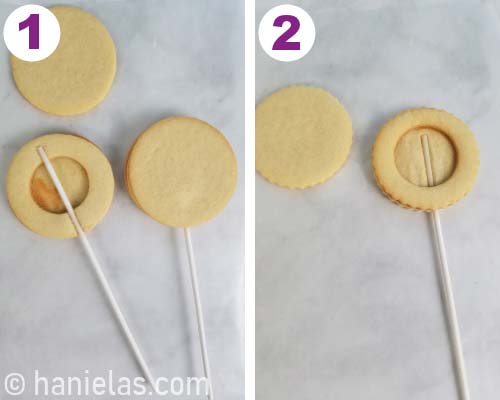 STEP 1 – BAKE PINATA SUGAR COOKIES
Prepare sugar cookie dough and roll it out between 2 sheets of parchment to 1/8 inch thick. Chill the cookie dough for about 20-30 minutes.
Then cut out round cookies with a 3 inch round cutter. Transfer cookies onto a baking sheet lined with a parchment paper. Fill one baking sheet with full rounds. And on the second baking sheet lay the rounds along the longer edges. These cookies will be baked with the lollipop stick and so you need more room on the baking sheet to fit the lollipop sticks.
Now with a smaller round cutter about 1/2 inch cut center of the cookies. Save the scraps and re-roll.
STEP 2 – HOW TO MAKE COOKIES ON AS STICK
Take a a lollipop stick and place in on top of a cookie, across the cookie, in the middle. Gently push the stick into the cookie dough, (step 1-3). Bake cookies at 350F for 8-9 minutes, until golden around the edges. Allow cookies to cool on a baking sheet for 10-15 minutes before removing them and transferring them onto a cooling rack to cool completely.
STEP 3 – DECORATE DONUT COOKIES
Allow all the cookies to cool completely before decorating. While cookies are cooling prepare icing.
To decorate donut pinata cookies I started with applying a thin layer of white icing (15-20 second consistency) in the middle of the full round cookies. Allow icing to dry for 30 minutes.
Remember one pinata cookie consists of 2 full rounds and 1 round with a center cut out, and a lollipop stick if using.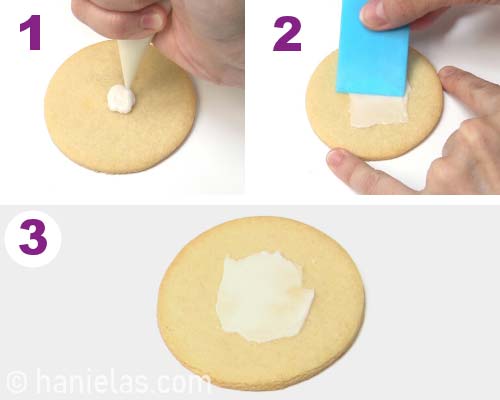 To trace a perfect circle onto a cookie use a small round object. I used a small round cutter, 1 inch in diameter, (step 1-2). Trace the circle onto the dry white icing with a scribe needle tool or and and edible marker. If using a scribe tool gently scratch the surface of the icing, (step 3-4). As I mentioned, you can also use an edible marker, (step 5-6).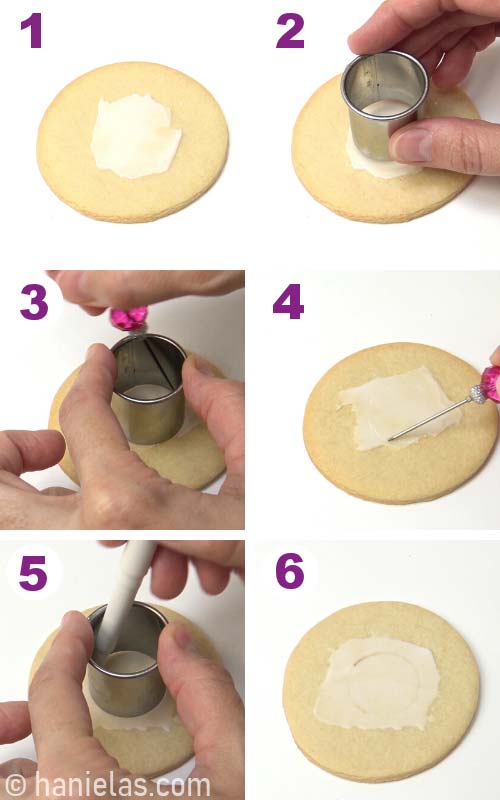 To flood donut cookies I used 2 shades of ivory royal icing (15 second consistency). I used straight from a bottle Ivory Gel Food Coloring to color white royal icing.
First use light ivory icing, pipe the inner circle and then an outer circle. Flood the inside, leaving some sections without icing, (step 1-3). Fill these sections with darker ivory icing, (step 4-5). Immediately take a scribe needle tool and roughly blend 2 colors together, (step 7-8). Allow icing to crust well for couple of hours.
TIP : Learn more about Royal Icing Consistency.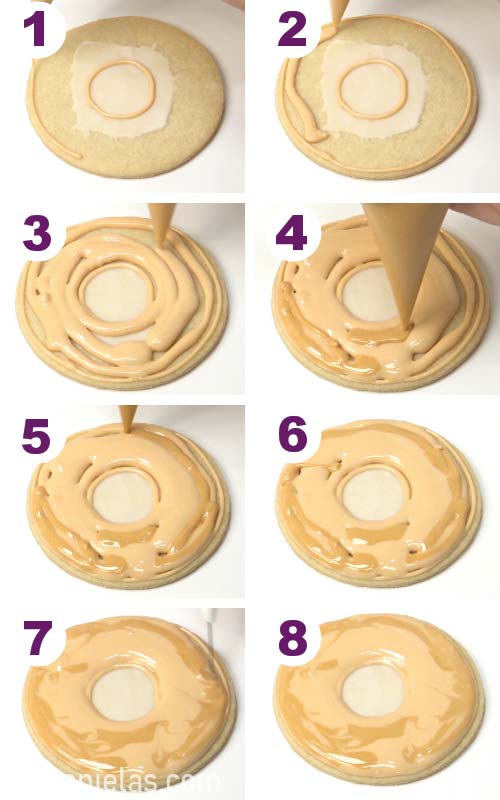 STEP 4 -WET ON WET ROYAL ICING SHADING
Create shading with 4 shades of pink royal icing (15 second consistency) : dark, medium, light, lightest/fairest. (in the picture bellow, medium pink is not shown).
Now it's time to pipe pink glaze. Start outlining with medium pink, pipe a wavy line just around the center ivory edge, (step 1). Then pipe a wavy line around the outer edge. Keeping one half of the line further from the outer edge, (step 2).
Now take dark pink and outline a section at the bottom, overlapping section of medium pink outline that is further from the edge. Flood this section, (step 3-5).
Next, with light pink outline and flood the top and a small section on the bottom just above dark pink section, (step 6-8).
Continue flooding with pink icing. Use a medium pink and flood the remaining section of the glaze area, (step 1-2). Now with the lightest pink pipe a wavy line across the bottom and top light pink sections, (step 3-5). And lastly pipe a medium pink across the bottom dark pink section. Use a needle tool to lightly accentuate the ends of the lines. Allow icing to crust well, 1-3 hours.
To make chocolate glazed donut cookies I used 3 shaded of brown (15 second consistency) : dark, medium, light brown.
First pipe sections with dark brown icing. Then flood with medium brown and lastly add few lines with light brown onto the medium brown. Allow to crust well, 1-3 hours.
STEP 5 – PIPE DETAILS
Now it's time to pipe the sprinkles. Use blue, green, yellow, and orange royal icing (piping consistency).
Lastly, pipe a drizzle over chocolate glazed donut cookie with white icing (piping consistency).
STEP 6 – ASSEMBLE DONUT PINATA COOKIES
To assemble pinata cookie pipe white royal icing on the cookie with a center cut out. Place a decorated donut cookie on the top. Use a shifting motion to glue 2 cookies together, (step 1-2).
Turn the cookie upside down to expose the cavity. Fill it with sprinkles or candies. I used Homemade Confetti Sprinkles, (step 4-5). To seal the cavity pipe icing on the cookies and glue second donut cookie on the top, (step 6-8). You can use 2 of the same donut cookies or use 1 pink and 1 chocolate glazed donut cookie to mix it up.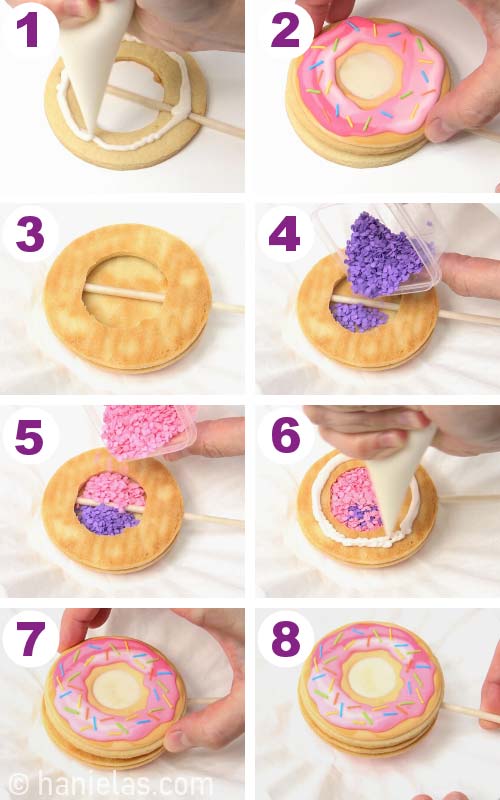 These Pinata Donut Cookies are really fun to make. I can barely stand the cuteness, can you?
TO MAKE DONUT PINATA LOLLIPOP COOKIES YOU NEED
RECIPES
TOOLS
Find all the tools in my Amazon Shop
Round Cookie Cutters (3inch, 1.5 inch – to cut out cookies, 1 inch to trace the outline)
Lollipop Sticks
Tape Sealer and Tape
Piping Bags
Food Gel Colors : Ivory, Brown, Electric Pink, Sky Blue, Lemon Yellow, Orange, Leaf Green (to make bright green I mixed leaf green and a touch of lemon yellow)
MORE FUN COOKIE IDEAS :
This post contains Amazon affiliate links that earn me a small commission, at no cost to you. I only recommend products that I use and love. Learn more about my affiliate policy here.