Treat your mom to a pretty Cherry Blossom Cake on Mother's Day.
Dainty buttercream cherry blossoms look beautiful on cakes. They add a perfect finishing touch to any celebration cake from a birthday cake, Spring or a wedding cake.
And today I'm going to show you how to make a simple Mother's Day Cherry Blossom Cake adorned with pretty pink cherry blossoms.
CHERRY BLOSSOM CAKE FOR MOTHER'S DAY
I used my easy sponge cake recipe to make the cakes. And I baked the cakes in 2 – 6 inch cake pans.
FILL THE CAKE
After cakes cooled I filled them with vanilla Stabilized Whipped Cream. Whipped cream is really simple to make and my mom loves it! And you can color whipped cream, too.
I also used some gelatin to make it a bit more stable. It helps to keep it from getting too soft and from weeping. Alternatively you can also use ready to use Whip It Stabilizer powder.
In the past I have successfully made cakes with stabilized whipped cream up to 2- 3 days ahead. No weeping of any sort.
Be sure to refrigerate cakes decorated and filled with whipped cream.
Naked cakes, with barely ice sides have been around for several years. And I really wanted to try this designs for a while. Already simple cherry blossom cake seemed like a good fit.
Once you are done filling and loosely icing the sides of the cake, cover it and stick into the fridge. It helps to chill the cake for several hours to set stabilized whipped cream.
CHERRY BLOSSOM FLOWERS
To make pretty pink cherry blossom flowers you can us different buttercreams suitable for piping. And even colored stabilized whipped cream can be used to pipe simple flowers.
However I'd recommend either American Buttercream or Swiss Buttercream. Swiss Buttercream is my favorite to use for piping buttercream flowers.
To create variegated buttercream flowers you can either stripe the piping bag directly or use the layering method below instead.
Layering
Layer pink and white buttercream onto a plastic wrap.
Keep in mind we only need little bit of pink buttercream and more white buttercream.
Pink buttercream will come out through the wide part of the piping tip and it will be in the center of the flowers.
Form a pouch.
Piping Tips
Use at least 2 Petal Piping Tip Sizes. Using variety of sizes gives the finished cherry blossom cake design more realistic look.
Fit the piping bag with a coupler.
Thread the end of the buttercream pouch through, trim the end.
Screw on a Petal Piping Tip.
Having the coupler in place allows you to easily replace piping tips as needed.
Pipe the Flowers
We are making 5 petal flowers. Center of which will be light pink.
To make sure the center is pink it is important to turn the piping tip in a way so that pink buttercream in the piping bag is aligned with a wider part of the Petal Piping Tip.
You also need darker pink buttercream to make the flower centers. Fit the piping bag with a Round Piping Tip # 1 or #2.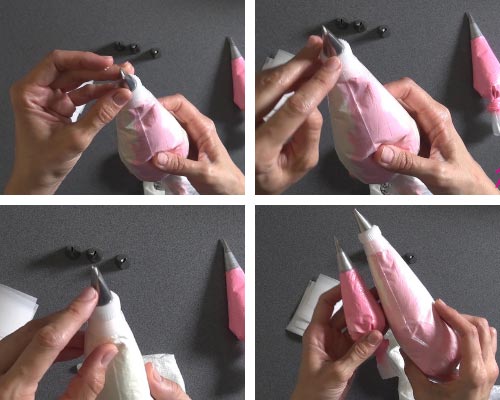 Squeeze the piping bag and watch the buttercream come out. Stop when you see both colors coming out.
Use a flower nail, pipe a little bit of buttercream onto a flower nail. Attach a parchment paper or wax paper squares work, too.
Hold the bag at about 45 degree angle and wide part of the petal tip should be facing the center.
Pipe the petal, moving the piping tip towards the edge of the flower nail. Then moving it inwards into the center, while slowly turning the flower nail. Repeat 5 times.
With a darker pink make pipe the dots in the center of the flower.
Then carefully lift up the parchment square and place the flower onto a tray.
Repeat. Place buttercream flower onto a flat tray.
Freeze flowers for an hour, or till ready use. If making piped flowers ahead of time. Freeze flowers till solid and then store them in an airtight freeze save container, for up to a week.
STENCILING
Color buttercream with a tiny bit of black gel food coloring. When using Swiss Buttercream follow my easy tips on How To Color Swiss Buttercream.
Place stencil on a chilled cake. Spread gray buttercream over the stencil.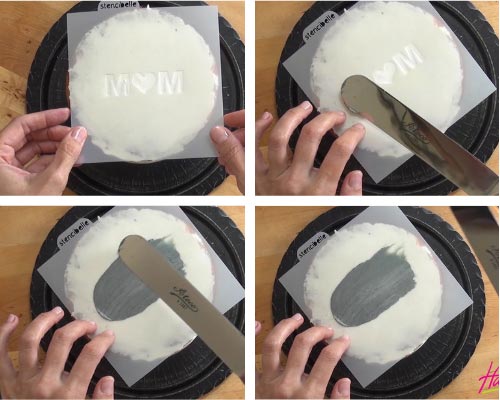 Carefully lift up the stencil. Using a piping bag filled with a gray buttercream and fitted with Piping Tip #2 and #1 pipe the branches.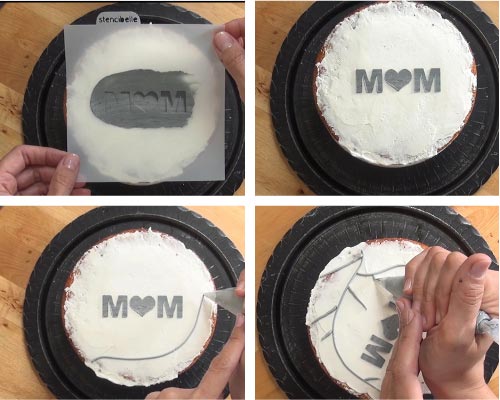 DECORATE CAKE WITH BUTTERCREAM CHERRY BLOSSOM FLOWERS
To finish cherry blossom cake design we need to attach frozen buttercream flowers onto the cake. Carefully remove frozen buttercream cherry blossom flowers from the parchment and attach them onto the cake. Use room temperature buttercream to glue the flowers onto the cake.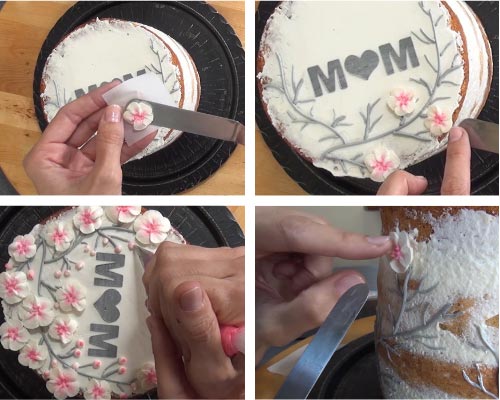 Decorate the sides of the cake, too. I also made several flower buds : pipe a small dot of white buttercream and then use pink buttercream and pipe a dot in the center of the white dot.
Once Cherry Blossom Cake is decorated refrigerate until ready to serve.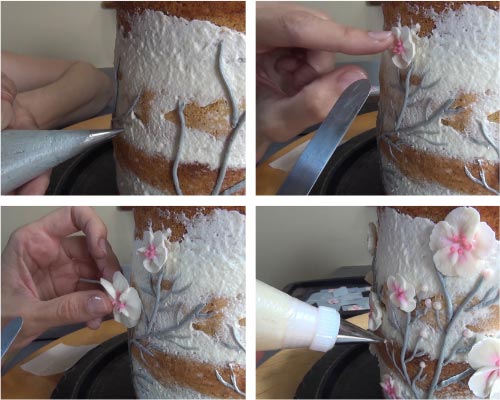 TO MAKE CHERRY BLOSSOM CAKE YOU NEED
RECIPES
Easy Sponge Cake or Velvet Vanilla Pound Cake :bake 2 – 6 inch cakes
Simple Syrup – optional : brush each layer with cooled flavored simple syrup
TOOLS
My Favorite Decorating Tools :here you'll find all the tools listed below or otherwise stated
Piping Bags
Couplers
Piping Tips : Petal Tips #103 #104 #102 Round Tips #2 #1
Spatula : to spread filling and smooth the icing on the sides
Stencil
Flower Nail
Whip It Stabilizer : can used as a quick alternative for gelatin when making Stabilized Whipped Cream
Parchment or Wax paper squares
USEFUL TUTORIALS
MORE CHEERY BLOSSOM INSPIRED TREATS :
PIN IT for later
This post contains affiliate links that earn me a small commission, at no cost to you. I only recommend products that I use and love. Learn more about my affiliate policy here.