Around the world, a simple pink loop is recognized as a symbol of October's Breast Cancer Awareness Month. And, we bakers make Pink Ribbon Cookies to show our support.
updated from 2010
I get emotional talking about cancer. I think everyone does. Maybe you know someone going through treatment, someone who was just diagnosed, or you lost someone to this terrible disease. I lost both of my grandparents and my uncle to cancer.
Last year, I befriended a pregnant woman. Two months before reaching a full term, she was diagnosed with hormonal breast cancer. She delivered her baby two months early so she could start aggressive chemotherapy. She underwent multiple surgeries, radiation and went thru unspoken things only she knows about.
A year later, only a few weeks ago, her beautiful baby girl turned one, and we were there to celebrate. She is doing well. As I watched her dance with her precious baby girl, I was reminded that life is precious. There is no time for nonsense; we must enjoy the moments to the fullest.
So, today I want to dedicate this post to all the brave souls. And also to remind you how important it is to regularly check your breasts and perform breast self-examination, along with regular breast screenings.
HOW TO DECORATE PINK RIBBON COOKIES
PINK RIBBON COOKIE CUTTER
To make ribbon cookies you need a special ribbon cookie cutter. You can find it online and during the month of October, many crafts stores sell it, too.
BAKING TIPS
I wanted my cookies to keep their shape and retain sharp edges. To achieve this, I use my sugar cookie recipe without baking powder to eliminate any spreading during baking.
Butter that is too soft contributes to spreading, use room temperature butter. Wait, how can you tell if butter is at room temperature?
If you continue to have issues with spreading, try substituting granulated sugar for powdered sugar. Cookie dough made with powdered sugar doesn't spread as much.
Ribbon cookies can be tricky to cut out, be sure to cut out shapes from a well-chilled dough. Chilled cookie cut-outs are also easier to transfer onto a baking sheet.
Use a perforated mat for baking cookies; it reduces spreading significantly. Otherwise, use parchment, as usual. I don't like to use silicone mats for baking cut-out cookies as I'm never able to achieve good results without cookies spreading.
ROYAL ICING CONSISTENCIES
To make these cookies I used these colors and royal icing consistencies:
Light Pink – 15-second consistency
Dark Pink – 20 to 25-second consistency
Brown – Piping Consistency
White and Pink – stiff consistency to make cherry blossoms (optional)
DECORATE COOKIES WITH ROYAL ICING
Outline and flood cookies with light pink royal icing of 15-second consistency. Let icing dry (steps 1-6).
In this next step I applied pink luster dust onto dry icing. Luster dust adds nice shimmer and shine to royal icing. You can also lightly airbrush cookies with pearl airbrush food coloring. Or you can skip this step all together.
SIMPLE CHERRY BLOSSOM DESIGN
Pipe branches with piping consistency brown icing (steps 1-5).
Pipe dark pink dots with 20 to 25-second consistency icing, around the branches in the cluster of 3 dots, 2 and 1 to make cherry blossoms (steps 1-5).
ROYAL ICING CHERRY BLOSSOM FLOWERS
In this second design I used piped royal icing cherry blossoms to decorate pink ribbon cookies.
To make cherry blossom flowers I used:
5-petal flower piping template
parchment squares
petal piping tip #101
flower nail
To create 2 toned- flowers I, first make a royal icing punch by layering white and pink icing. Onto a food wrap pipe a line of stiff white icing. On top of the white icing pipe a thin line of pink icing. Twist the pouch and tie one end. Thread it thru a piping bag fitted with a coupler. Gently pull the end of the pouch thru the hole, trim the excess food wrap and attach a petal piping tip #101. Align wide end of petal tip with pink icing.
Hold a piping bag at about 45 degree angle and pipe petals, with a wide end of piping tip facing the middle of the flower nail (steps 1-8).
Pipe center of the flower using 25-second consistency yellow icing (steps 1-2).
Alternatively, pipe pink centers, instead of yellow. Let flowers dry overnight and then remove them from the parchment squares. Learn more about Royal Icing Transfers.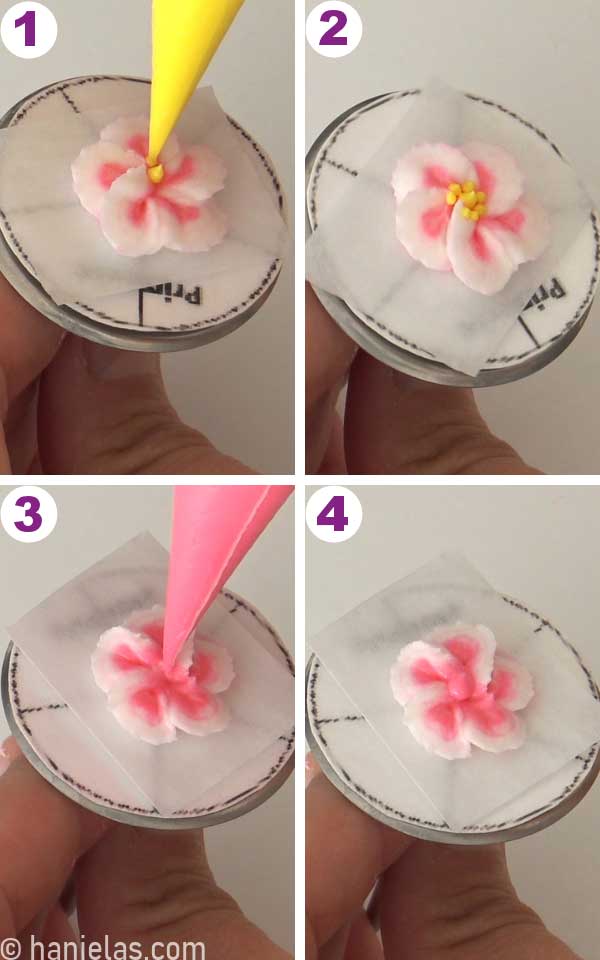 DECORATE WITH PIPED FLOWERS
To decorate cookies with cherry blossom flowers, pipe a small amount of icing on the back, Position flower onto the cookie and gently press down to secure it onto the icing (steps 1-3).
It's easy to add partly opened flowers, pipe 1, 2 or 3 small petals, directly onto the cookie, narrow end of the piping tip should be facing out. Then pipe overlapping petal or petals on top of the first petals.
Flowers appeared a little disconnected from the branches and so in this next step I used piping consistency brown icing to connect flowers with branches. Pipe a teardrop shape, with a wide end at the the flower base. Then use a food only paintbrush to smooth it onto the branch
Pipe additional short branches, use a paintbrush to shape them into a point if needed. And lastly, pipe 3 small dots around small branches with a piping consistency dark pink icing.
TO MAKE PINK RIBBON COOKIES YOU NEED
RECIPES
TOOLS
Find all tools in my Amazon Shop
Ribbon Cookie Cutter
Perforated Mat
Tipless Piping Bags
Coupler, Piping Tip#101 (for cherry blossom flowers)
Flower Nail
Cherry Blossom Template (shop in my template shop)
Parchment Squares
Food Wrap
Gel Food Colors: pink, brown
Pink or Pearl Luster Dust
Paintbrush (food-only): fluffy and detail brush
MORE DELICIOUS PINK RECIPES TO TRY
These are the cherry blossom pink ribbon cookies I made for a local Breast Cancer Bake Sale 2010. Original post was published on October 25th, 2010. On September 5th, 2022, I updated this post with step-by-step pictures and written tutorial, along with a video.