Barbecue Grill Cake [Video]
Today I'm going to show you how to make a Barbecue Grill Cake. It's a great cake to make for some who loves to grill.
This buttercream Barbecue Grill Cake with fondant decorations is a perfect addition to bbq themed birthday parties, Father's Day or any Summer time gathering.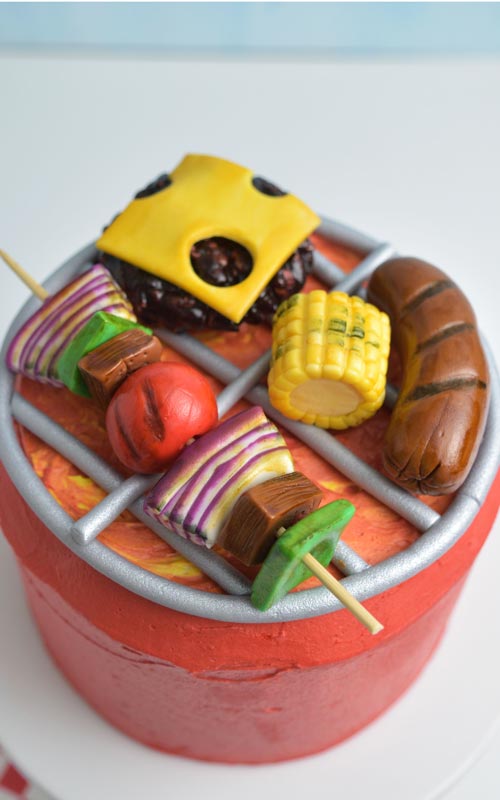 BARBECUE GRILL CAKE
Let's get right to it.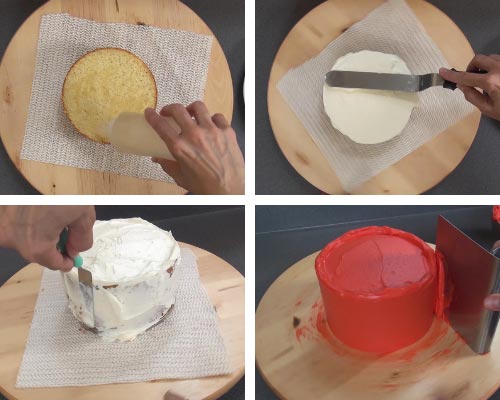 Bake the cakes ( I baked 2 – 6 inch Vanilla Pound Cake) and let them cool. Then trim the top and the bottom of each cake. You should have 2 cake layers. Spread a little bit of Swiss Buttercream onto a cake board. Place bottom cake layer onto a cake board. Squirt Simple Syrup onto each cake layer.
Then spread about 1/2 cup of Swiss Buttercream onto the bottom cake layer. Place second cake layer on the top. Lastly, crumb coat the cake and chill it until firm, for about an hour or little longer is fine, too.
Color Swiss Buttercream with red gel food coloring. If you haven't colored Swiss Buttercream before, be sure to check out my tips on How To Color Swiss Buttercream with gel food colors.
Frost the outside of the cake with red buttercream. Use a bench scrapper to smooth the sides. And a long spatula to smooth the top. Chill the cake until you are ready to decorate.
FIRE BUTTERCREAM TRANSFER
Whenever I can I use templates/stencils to make decorations. Whether it's a cookie or a cake project I'm working on. They are really useful and make the process so much easier.
To make the fire I used red, orange and yellow colored Swiss Buttercream. Place a 5 inch round stencil/template over a piece of wax paper.
Spread red, orange and yellow buttercream over the template. Using a spatula blend the buttercream so it resembles the fire. Spread the buttercream about ¼ inch thick. Carefully hold the bottom wax paper sheet with one hand and lift the stencil.
Place the buttercream fire transfer onto a flat board and refrigerate or freeze until firm.
I used the same technique to make a pretty Burlap Wreath Cake.
GRILL GRATES
QUICK GUMPASTE
To make the grill grates I used a quick gumpaste. Quick gumpaste is basically fondant kneaded with a Tylose Powder. Tylose powder makes fondant dry quicker.
I mainly use easy to make marshmallow fondant for my cake decorating. And to make decorations for the grill cake I first made a Small Batch of Marshmallow Fondant. Then I colored it and kneaded in tylose to make a quick gumpaste.
Quick Gumpaste Recipe : 1/2 cup Marshmallow Fondant + 1 tsp Tylose powder). To make the grill grates I used quick gumpaste.
GRILL GRATES
Trace a 5 inch round on a piece of paper. Draw the grid lines across. Then place a piece of wax paper over the template. Lightly grease the wax paper with Crisco.
Make Gray Quick Gumpaste : color about ¾ of a cup of white fondant with little bit of black gel food coloring and then knead if a tylose powder.
Using a clay extruder and a large hole disk, press a long rope out. Shape the rope onto the lightly greased wax paper, use a template underneath to guide you. Trim the inside sections with a sharp knife.
Use little bit of water or edible glue to make pieces stick together. Transfer Grill Grates onto a flat surface and let dry overnight.
Next day, airbrush it with a silver airbrush food coloring or alternatively spray it with a silver mist spray, or brush on dry silver luster dust.
Let dry for 30 minutes before transferring onto a cake. Use a wide spatula when moving the grill grates.
CORN
Make Yellow and Ivory Quick Gumpaste : Color about 4 tbsp of fondant with ivory and 4 tbsp with yellow gel food coloring. Knead in tylose powder.
CORN CORE
1st I made a core of the corn with Ivory colored gumpaste. Shape it into a log and trim the ends.
CORN SEEDS
To make the corn seeds I used marbled gumpaste – I kneaded ivory and yellow gumpaste for several seconds.
Roll yellow – ivory marbled quick gumpaste into about ¼ inch thick. Layer a food wrap over it and make the grid with a dull knife or a bench scrapper. Care not to cut through the marbled gumpaste.
Cut the grid section to size of the core cylinder. With a food paint brush, brush a little bit of water on the back of the yellow grid. Wrap it around the corn core.
Shape the seeds on the ends with a cookie scraper or a knife. Placing the food wrap on the ends as you shape the seeds. It helps to make rounder edges.
TOMATO AND MEAT
TOMATO
Shape 2 tbsp of red gumpaste into ball. Thread it onto a bamboo skewer. Make dents into the tomatoes. Let dry.
MEAT
Roll out 4 tbsp of brown gumpaste ½ inch thick. Cut it into small irregular rectangular shapes. Create texture using a sharp end of a cookie scrapper, or use a toothpick. And make shallow slits into the sides. Thread them onto the bamboo skewer and let dry.
ONION
Onions are really fun to make.
Color 4 tbsp of fondant with purple gel food coloring, you can also use fuschia and purple. Then knead in tylose to make quick gumpaste.
Roll out 4 tbsp of purple and 4 tbsps of white gumpaste. Layer purple fondant on the white and roll it out to about 1/8 thick. Cut it into strips, glue the strips with water, having purple facing out. Trim the ends and tread them onto bamboo skewer. Let dry.
BBQ KEBABS
PEPPERS
To make green peppers roll out about 3 tbsp of green gumpaste and cut out rectangular shapes. Thread the peppers onto the bamboo stick.
KEBABS
Thread tomatoes, onions, meat and peppers onto the bamboo stick.
Let all the decorations dry for at least 5 hours. Thicker pieces are best to left dry overnight.
BURGER
RICE KRISPIES
I used rice krispies to make the burger. Melt 1 cup mini marshmallows with 1tbl butter in microwave on 50% power. Add 1tbl cocoa powder, brown, and red food coloring, stir well. Stir in 1 1/2 cups rice krispies cereal.
BURGER
Shape the mixture into disks. Use a template for the grill grates for the reference. Make grill dents with a spatula.
CHEESE AND SAUSAGE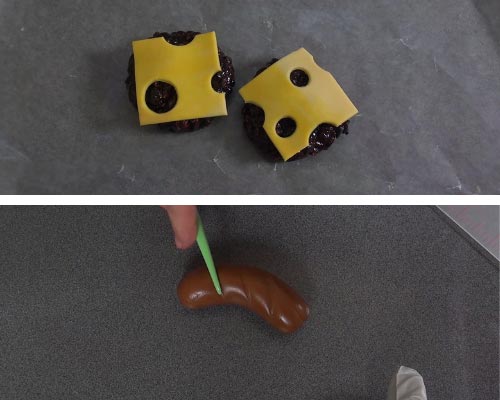 CHEESE
Roll the remaining yellow – ivory marbled gumpaste to about 1/8 thick. Cut out squares and then with a small round cutter, or you can also use a wide part of the piping tip, cut out rounds.
SAUSAGE
Shape brown gumpaste into a sausage. Make the dents and shape the ends (see the video).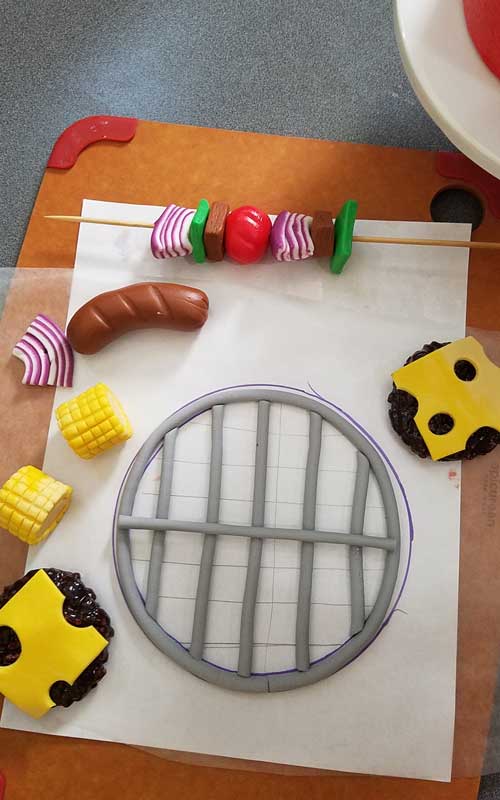 PAINT THE GUMPASTE
MAKE EDIBLE PAINT
Dilute brown and black gel food coloring with a little bit of clear Vodka or Everclear (Grain Alcohol).
Paint the dry gumpaste decorations. Emphasizing on the grill marks. Let dry for 20 – 30 minutes before handling.
BARBECUE GRILL CAKE ASSEMBLY
Peel off the wax paper from the fire buttercream transfer. Spread little bit of buttercream on the top of the cake and carefully position buttercream fire transfer on the top of the cake.
Seal the gap between the cake layer and buttercream transfer with red buttercream. Use a spatula to smooth it out on an angle. Chill the cake for 20 minutes
ARRANGE GRILL GRATES AND FONDANT DECORATIONS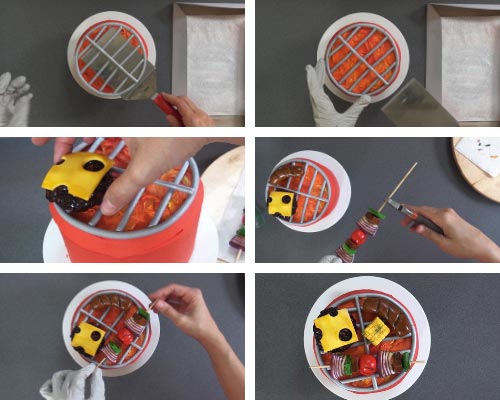 Carefully with a wide spatula place grill grates onto the cake. Arrange burger, corn and kebabs on the grates. If needed trim the bamboo skewer with pliers.
I absolutely love how this Barbecue Grill Cake turned out. I realize it's pretty generic so to make it a little more special you can personalize it.
Include a Happy Birthday, King of the Grill, Happy Father's Day on the side of the cake. Use this simple wax paper transfer method I used in my Willy Wonka Cake.
TO MAKE BARBECUE GRILL CAKE YOU NEED
RECIPES
Cake Recipes : Velvet Vanilla Pound Cake, Simple Sponge Cake, German Chocolate Cake, Brown Sugar Cake
TOOLS
Exacto Knife
Toothpick
Knife
Food Colors : red, orange, yellow, ivory, black, green, brown, purple, fuschia
Spatula
SILVER FINISH ON GRILL GRATES use one of the following :
Silver Luster Dust
MORE SUMMER THEMED DESSERTS :
PIN IT for later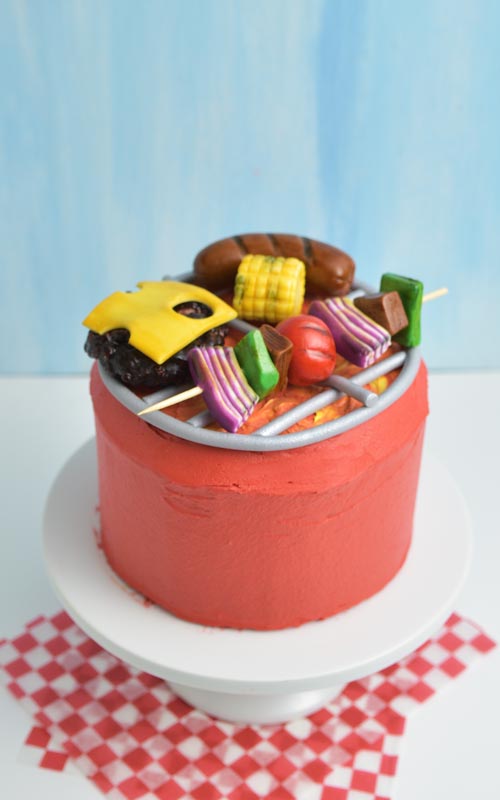 This post contains Amazon affiliate links that earn me a small commission, at no cost to you. I only recommend products that I use and love. Learn more about my affiliate policy here.