Red Currant Meringue Cake
Red Currant Meringue Cake is a refreshing dessert. For this particular recipe I bought frozen currants at a Russian Market. This meringue tart came out just as I've imagined. Juicy and sweet with just enough tartness. And most importantly full of Summer.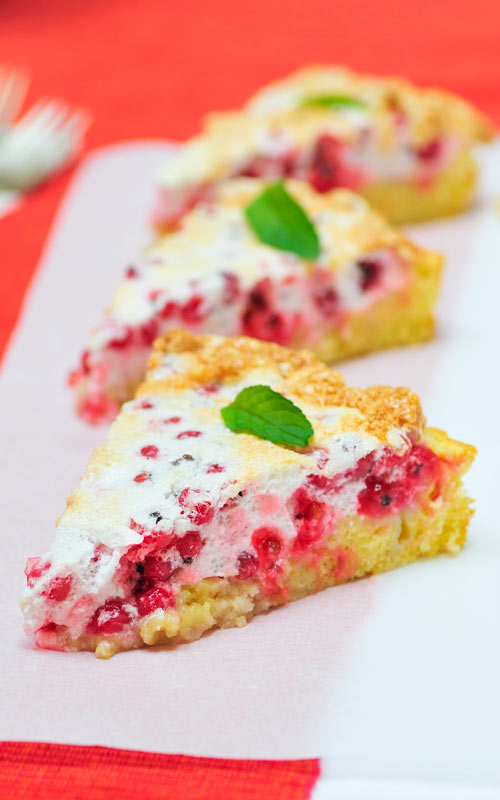 JUMP TO RECIPE | PIN IT for later
RED CURRANT MERINGUE CAKE
INGREDIENTS
Fresh or Frozen Red Currant Berries
Flour
Sugar
Eggs
Milk
Butter
Vanilla Extract
Baking Powder
Salt
Corn Starch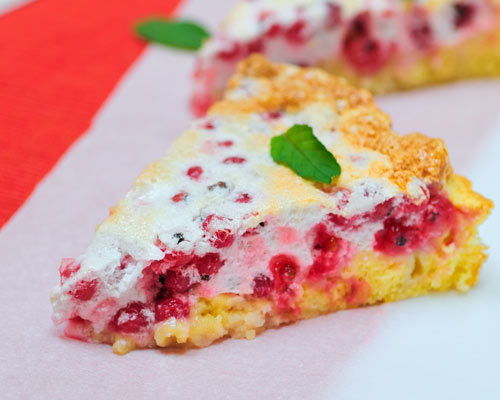 RED CURRANTS
Red Currants have a special place in my heart. They remind me of my grandmother and her long row of currant bushes behind her country house. Leafy, bushy shrubs were planted along the left side of her farm style garden along with delicious yellow apple trees.
When in season bushes were abundantly covered with little red berries. Clusters hanging all over, resembling pretty earrings.
Harvest time came mid to end of July every year. I remember it like it was yesterday. My cousins, my brother and I sitting on small stools by the red currant bushes. Picking the red juicy currant berries. Cluster by cluster, filling the large buckets with delicious fruits.
HOW TO FREEZE RED CURRANT BERRIES
To freeze red currant berries we had to separate berries from the stems. We used a fork and ran it through each cluster. Little red berries came falling down into the bowl. One by one. First we froze them in one layer on a baking sheet. And then they were frozen in freezer bags. Just like blueberries.
Frozen currant berries are great to use in off season. They are packed with refreshing tartness and sweetness. And they definitely taste like summer.
Not only you can eat red tart berries fresh (dusted with powdered sugar), bake with them but you can also make the most delicious Red Currant Jam and Red Currant Syrup.
I love using tart currant jam to sandwich my Linzer Cookies.
MERINGUE CAKE
Here in Pennsylvania I had only seen red currants once, years ago, they were packaged in tiny containers. And priced at sky high $6.
To make my Red Currant Meringue Cake I decided to get frozen red currants instead. I picked up a bag of frozen red currants at a local Russian Store. Or you can also order them online.
You can also use other fruits such as raspberries, blueberries, strawberries or winter favorite cranberries.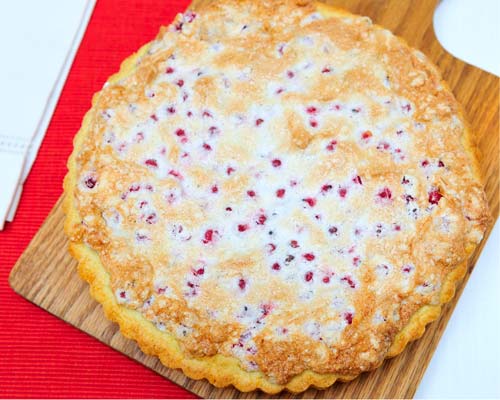 TO MAKE RED CURRANT MERINGUE CAKE YOU NEED
MORE DELICIOUS FRUIT DESSERTS :
Red Currant Meringue Cake
Delicious, refreshing Red Currant Meringue Cake. Can use made with other fruits such as raspberries, blueberries, strawberries and cranberries.
Ingredients
Cake Batter
3

egg yolks

5

tbsp

butter, unsalted at room temperature

3/4

cup

powdered sugar

1

tsp

vanilla

1/2

cup

milk, room temperature

1 3/4

cup

all purpose flour

1

tsp

baking powder

1/8

tsp

salt
Filling /Topping
2 1/2

cup

fresh or frozen red currants

3

tsp

corn starch

1

cup

powdered sugar

3

egg whites

pinch of salt
Instructions
Prepare Cake Pan
Preheat oven to 345 F, butter a 9 inch tart pan with removable bottom, or you can use a square pan as well, use a square 9×9 inch cake pan.
Cake Batter
Whisk together flour (1 cup and 3/4 cup), baking powder (1tsp), salt (1/8tsp) set aside.

With a paddle attachment using a stand mixer or with a hand held mixer using wire beaters cream together butter (5 tbsp) and powdered sugar ( 3/4 cup) about 3 minutes, until creamy and smooth. Add egg yolks (3) and beat until smooth and pale in color. Beat in Vanilla Extract (1tsp).

Alternatively on low speed to butter mixture add milk (1/2 cup) and flour mixture. Stir just until combined.

Spread the batter into the prepared pan.
Red Currant Filling/Topping
Beat 3 egg whites with a pinch of salt until foamy, gradually add 3/4 of the powdered sugar (3/4 cup), and beat until stiff peaks are are formed.

In a medium size bowl whisk together remaining powdered sugar (1/4 cup) and corn starch (3 tsp). Add red currants and toss them with sugar/cornstarch mixture.

Gently fold currant mixture into a stiff meringue.

Evenly spread the filling on top of the cake batter.
Bake
Bake in the preheated oven at 345F for 30-35 minutes, until meringue is golden brown and cake is baked in the middle.

If the cake isn't baked in the center (it is not set, this can happen especially around the center of the pan, center appears to be moving when you move the pan but meringue is golden brown. Cover cake loosely with and aluminum foil to prevent meringue getting too brown and bake for additional 5 minutes

Let the cake cool in the pan for 10 minutes, then carefully remove from the pan

Let cool to room temperature and enjoy
Notes
CAN I USE OTHER FRUITS?
Raspberries, Strawberries, Blueberries and Cranberries works really nicely. Strawberries will have to be cut up to smaller pieces.
PIN IT for later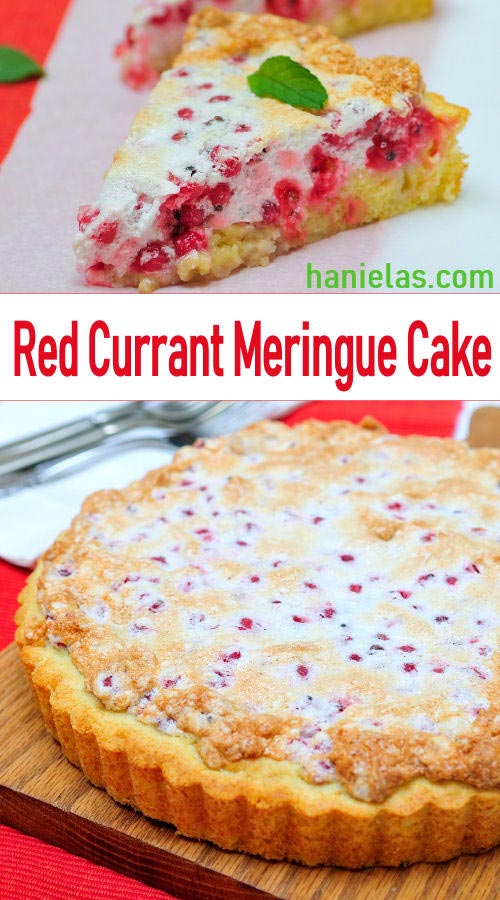 This post containsThis post contains Amazon affiliate links that earn me a small commission, at no cost to you. I only recommend products that I use and love. Learn more about my affiliate policy here.