Raspberry Mousse Tart on its own is a delicious dessert. Take it up a notch and decorate top of the tart with cookies and fresh fruit and make a pretty bohemian Dreamcatcher design.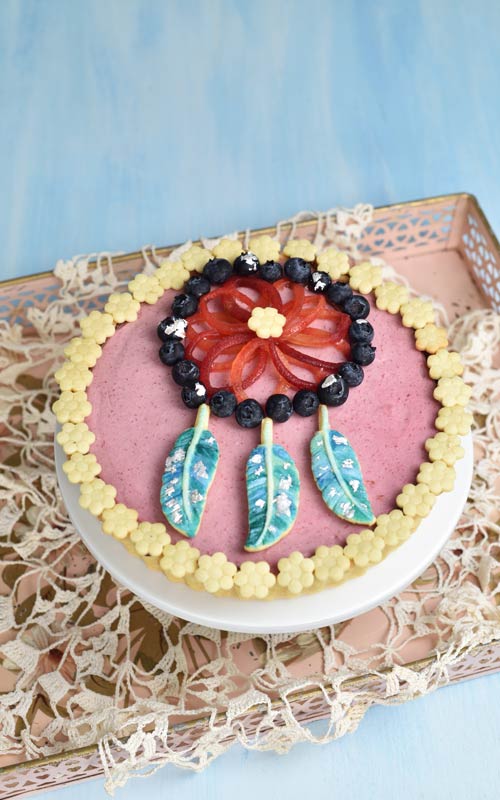 JUMP TO VIDEO|JUMP TO RECIPE | PIN IT
DREAMCATCHER RASPBERRY MOUSSE TART
HOW TO MAKE A TART SHELL
To make the tart shell I used the same recipe I use to make Mini Tart Shells. This recipe is a nut free alternative derived from my Linzer Cookie Recipe. If you'd like to make a walnut, pecan, hazelnut version of the crust refer to this recipe instead.
Roll out chilled and slightly softened dough to about 3/16 to 1/4 inch thick to about 10 inch round in diameter. Shape the dough into the baking pan with a removable bottom.
SHAPE THE DOUGH INTO A TART PAN
You can loosely wrap the rolled out dough onto a rolling pin. Then unroll it carefully over the baking pan. Layering it inside of the pan.
Or you can use a silicone mat or parchment. I prefer the former. Roll the dough onto a silicone mat. Then flip the silicone mat with the rolled out cookie dough onto the pan. And shape it inside of the tart pan.
Run a rolling pin over the top. This cuts the overhanging dough and clean up the edge. Use your fingers to shape/press the dough onto the sides.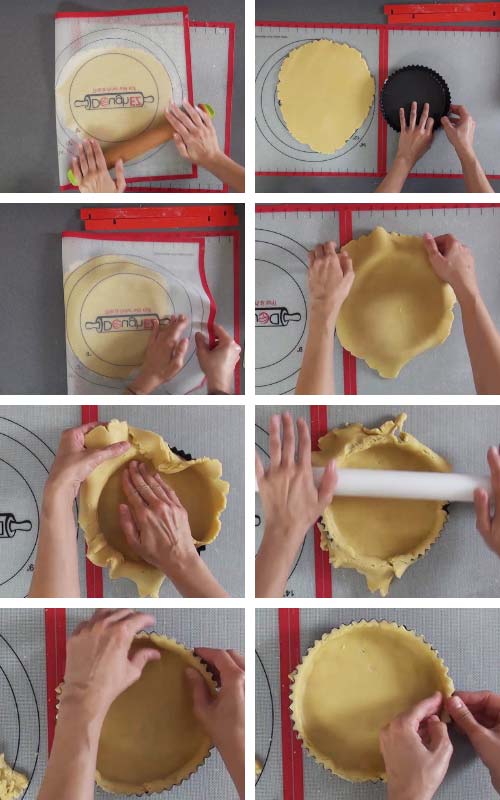 BLIND BAKING A TART CRUST
Blind baking or pre-baking is what we call the process that makes either fully baked or partly baked tart/pie crust.
Fully Blind Baked Tart/Pie Crust – fully baked tart shell or a a pie crust is necessary when the filling is not going to be baked inside of the tart/pie shell.
Partly Blind Baked Tart/Pie Crust – some fillings cook faster than crust, for example quiche filling. Then a partly baked crust is recommended to ensure even cooking of crust and the filling.
Today I'm going to fully blind bake a tart crust.
Prick the bottom of the crust with a fork. Layer a parchment round or a clean dry coffee filter into the pan. Fill the parchment with dry beans or rice all the way to the top. It is important that beans are pressed against the sides and bottom of the pan.
Place a tart pan on a baking sheet. Bake at 350F for 15 minutes. Remove from the oven. Spoon out the beans and remove the parchment round. Return crust to the oven and bake for additional 15 minutes, until center is golden brown. Remove from the oven and let cool completely.
HOW TO PREVENT COOKED TART SHELL FROM GETTING SOGGY?
As tart crust cools in the pan it detracts from the pan. Once cool it should be easy to remove the tart shell from the baking pan.
How to prevent cooked tart shell from getting soggy from a wet filling? Brush the inside with a thin layer of melted chocolate.
Alternatively you can brush the tart shell with an lightly beaten egg white right before the second bake of the shell. Or right after it comes out of the oven, while it's still hot.
Melt dark chocolate and brush a thin layer of melted chocolate on the bottom and sides of the baked tart shell. Let chocolate set.
RASPBERRY MOUSSE FILLING
This delicious raspberry mousse filling is made with heavy cream (whipping cream can be also used), mascarpone cheese and raspberry puree. Flavored with powdered sugar and vanilla extract it's pure heaven. You can easily substitute other summer berries if desired.
Sprinkle granulated gelatin over a cold raspberry puree. How to make raspberry puree? Let it sit for 5 minutes. Microwave mixture on high for 10 seconds. Stir well and then check if all of the gelatin is dissolved. To test if gelatin is dissolved rub the mixture between your fingers. If mixture is smooth gelatin is dissolved. However if you can still feel little grainy particles it is most likely that gelatin is not completely dissolved. Microwave gelatin for 5 more seconds and stir well. Test again. Let mixture cool to room temperature.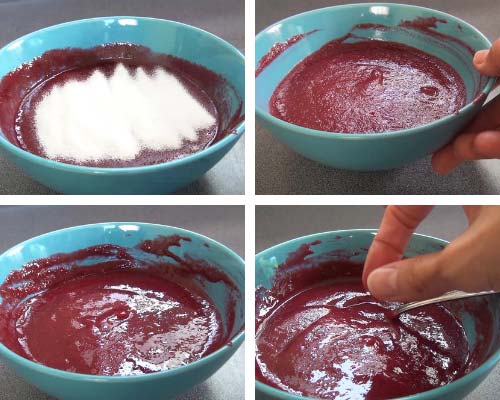 Beat whipping cream until foamy. Gradually beat in powdered sugar. Then beat in mascarpone cheese, vanilla extract. Lastly beat in room temperature raspberry puree with dissolved gelatin.
Pour raspberry mousse into cooled tart shell brushed with chocolate. Smooth the top with a spatula. Let set in the fridge for 4 hours or overnight.
DREAMCATCHER EDIBLE DECORATIONS
Now I'm going to guide you through the process of making cookie and fruit decorations.
COOKIE DECORATIONS
FLOWER COOKIES
From left ever crust dough cut out mini flower cookies. I used a plunge flower cutter. It's easy to use and really effective. Bake cookies at 350F for 7-9 minutes.
If you are short on time you can stop here and use flower cookies to decorate the tart. However if you'd like to make the dreamcatcher, too, keep on reading.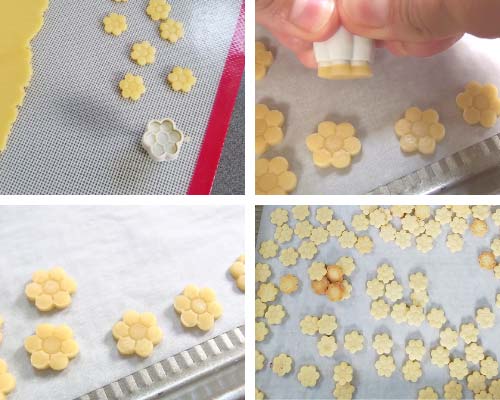 FEATHER COOKIES
I used a silicone mold to make feather cookies. I pressed the mold onto the cookie dough and then cut the feathers out with a pen blade craft knife. Bake cookies at 350F for 7-9 minutes.
You can also push the cookie dough into the mold. Freeze and and unmold cookies from the mold. However I found out that the cookie dough kept breaking at the bottom of the feather when using this technique.
Make an edible paint : in a small dish add few drop of vodka. Then add a drop or two of food coloring. I used royal blue, sky blue and teal gel food coloring. Stir well with a pain brush.
Paint the feathers. Decorate with a silver leaf (optional).
FRUIT DECORATION
To make the dreamcatcher net I used a large plum. Slice the plum and then cut out small petals. Cut out center of the petal. I used small petals to make the net. It reminds of a flower of sort.
To keep petal cut-outs from sliding I decided to use gelatin. In a small dish sprinkle gelatin over a cold water. Let gelatin bloom for 5 minutes. Then microwave on high for 5 seconds, until completely dissolved.
Then dip each petal into the gelatin and layer fruit petals on a piece of parchment. Arrange petals, overlapping each other in a circle. Refrigerate for 30 minutes.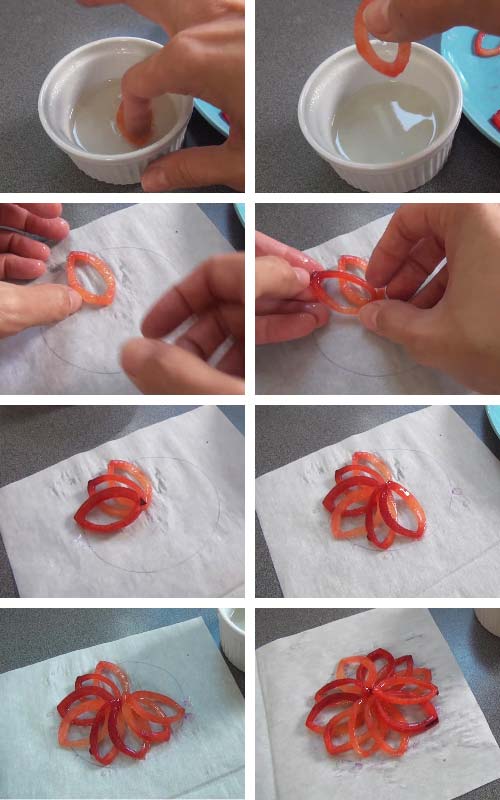 After 30 minutes take the net design and peel the parchment away from the fruit decoration.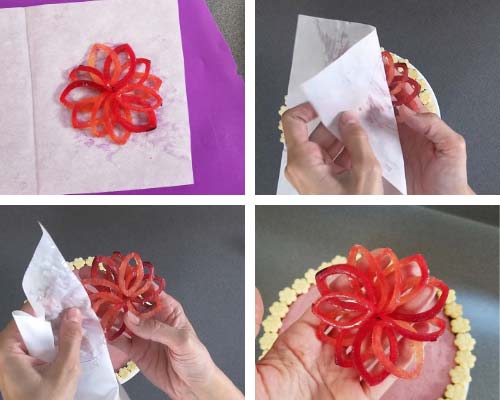 DECORATE RASPBERRY MOUSSE TART
Re-melt leftover chocolate. Spoon melted chocolate into a small sandwich bag/piping bag. Pipe a small amount of chocolate on the back of a flower cookie and glue it on the edge. Repeat until you have a flower border all around.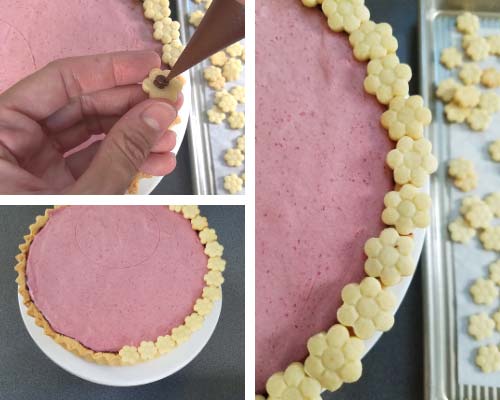 Place fruit net decoration on top of the set mousse filling. Then arrange fresh blueberries around fruit's perimeter. With melted chocolate glue decorated feather cookies just below the blueberry hoop. Chocolate creates a moisture barrier between moist mousse and a crunchy cookie.
I though design was lacking something shiny. I used edible silver leaf to decorate a blueberry hoop.
WILL THIS RECIPE WORK WITH A GRAHAM CRACKER CRUST?
Sure, you can make a graham crust instead of a tart cookie shell.
CAN USE CREAM CHEESE INSTEAD OF MASCARPONE CHEESE?
Definitely, be sure to taste the filling and add more powdered sugar if needed.
CAN I USE OTHER MOUSSE FILLING?
Absolutely. Here are just a few ideas : chocolate raspberry mousse, chocolate peanut butter, cream cheese filling, banana cream cheese marshmallow filling.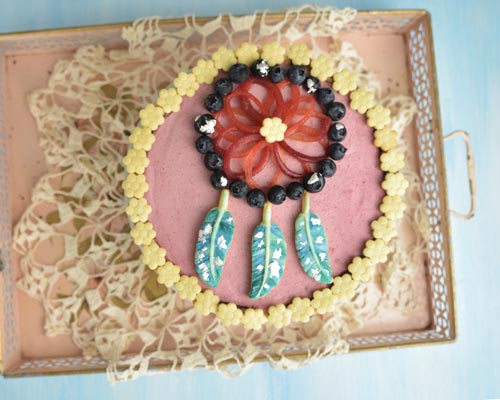 TO MAKE DREAMCATCHER RASPBERRY MOUSSE TART YOU NEED
DELICIOUS BERRY DESSERTS :
Dreamcatcher Raspberry Mousse Tart
Make delicious Raspberry Mousse Tart decorated with edible fruit dream catcher decoration.
Ingredients
Tart Shell
1

mini tart shells cookie dough

(recipe link is in the notes or put Mini Tart Shells into the search box)

1/2

cup

chocolate chips, melted
Raspberry Puree
12

oz

raspberries

1/4

cup

water
Raspberry Mousse
1

cup

heavy cream or whipping cream

1

cup

mascarpone cheese

1

cup

unsweetened raspberry puree, cold

1

cup

powdered sugar

1

tsp

Vanilla Extract

1 1/4

tsp

gelatin
Dreamcatcher Decorations
leftover tart cookies dough – to make small flowers, and cookie feathers

gel food colors

2

large plumps, sliced thinly

1/2

tsp

gelatin

1/4

cup

water

1/2

cup

fresh blueberries

silver leaf – optional
Instructions
Tart Shell
Roll our tart cookie dough into about 2/10 inch thick. Press it into the baking tart pan with a removable bottom. You can either loosely roll the dough around the rolling pin and carefully unroll it into the baking pan, or you can use a silicone mat, rolled out dough usually slightly sticks to it so you can then turn the silicone mat over the baking pan. Then with your fingers or a small measuring cup press the dough into the pan. Run a rolling pin over the top to smooth the top. Reserve remaining dough to make decorations – mini flower and feather cookies.

Transfer tart pan onto a baking sheet. Prick the bottom with a fork. Line a tart with a parchment round. Add baking dry beans/pie beads, bake at 350F for 15 minutes, remove the beans, bake additional 15 minutes, until center is baked through and slightly golden brown. Let tart shell cool in the pan. Then loosen tart shell from the pan.



Melt dark or semisweet chocolate chips. Brush inside of the cooled tart shell with a thin layer of chocolate. Set aside to harden. Reserve remaining chocolate.
Dreamcatcher Decorations
MINI FLOWERS

Cut out mini flower cookies, bake at 350F for 7-9 minutes.

COOKIE FEATHERS

To make feathers I used a silicone mold. Bake at 350F for 7-9 minutes. Let cool. Make edible paint using gel food colors and some alcohol (Vodka) or use water but don't over saturate cookie when painting or cookie will become soggy. Paint cookie feather with an edible paint. Then I used silver leaf to give them a little shimmer. Silver leaf step optional.

FRUIT LACE DECORATION

Slice a large plum into thin slices. Other fruit might work as well. However I've only tried it with a plum. This fruit is somewhat flexible and worked really well.

Using a small cutter as shown in the picture tutorial cut out petal shapes. And then cut out center of the petal shape. If you can't find exact cutters I'm using, get creative use a heart shape, round shape. It's fine it if looks a little different than mine.

Layer cut-out petal shapes to create a lace like pattern. If needed cut out more fruit petal to fill the full circle.

To make sure that the lace pattern doesn't go out of shape I dipped each petal in dissolved gelatin and I layered fruit petals in a round. To prepare gelatin mixture sprinkle gelatin (1/2tsp) over cold water (1/4cup). Let bloom for 5 minutes. Microwave in 5 second increments until dissolved. Dip each fruit petal in dissolved gelatin and layer petals on a piece of parchment, overlaying petals as you keep going in the circle. Chill for 30 minutes. Then carefully peel off parchment and you should have a beautiful fruit lace pattern in your hands.
Raspberry Puree
Use fresh or frozen raspberries with a little bit of water. Cook berries until soft, then
process them in the chopper. Strain through a fine mesh sieve or a press through cheesecloth to remove seeds. Let cool and refrigerate until ready to use.
Raspberry Mousse
Sprinkle gelatin ( 1 and 1/2 tsp) over cold raspberry puree (1cup), let sit for 5 minutes. Then microwave on high for 10 second, stirring well after. Check if gelatin is dissolved by rubbing the mixture between your fingers. If no longer grainy it's dissolved. If you feel grainy texture, then microwave for additional 5 seconds, stir and check if gelatin is completely dissolved. Set aside to cool to room temperature.

Beat chilled heavy cream(1cup) until foamy, gradually add powdered sugar, mascarpone cheese (1cup, usually one standard container), vanilla extract (1tsp) and then beat in room temperature strawberry puree with dissolved gelatin. Pour mixture into a prepared tart pan brushed with chocolate. Refrigerate for 4 hours, or until set
Decorate Tart
Remove tart from the baking pan and place it on serving plate. Melt remaining chocolate, place it in a small ziploc bag. Use chocolate to glue mini flower cookies on the tart shell edge, all around.

Place fruit lace decoration on the tart. Arrange blueberries around to form a loop. Using chocolate glue feathers on the mousse. Technically you don't need chocolate for this step. I used chocolate to create a barrier between a feather cookie and raspberry mousse. This way cookies won't absorb moisture from the mousse too quickly. Decorated tart can be stored in the fridge for up to 3 days.
Notes
CAN I USE GRAHAM CRACKER CRUST INSTEAD?
Sure, you can.
CAN I USE CREAM CHEESE INSTEAD OF MASCARPONE CHEESE?
Definitely, just make sure to taste the filling. And add more powdered sugar if needed.
WHERE IS THE RECIPE FOR THE TART SHELL?
I use this recipe for Mini Tart Shells.
PIN IT for later
This post containsThis post contains Amazon affiliate links that earn me a small commission, at no cost to you. I only recommend products that I use and love. Learn more about my affiliate policy here.