Caramelized Banana Peanut Butter Brioche Sandwich
Hello, how is everyone doing? I hope you are having a great weekend, I'm working this weekend but that won't stop me from having some fun in the kitchen, making another yummy brioche sandwich. Few days ago I made
Raspberry Tiramisu Sandwich
, which exceeded my expectations, being creamy with a sweet and slightly tart raspberry flavor, it was very filling and held the shape perfectly, which would make a perfect fit for mini sandwiches, it could be easily cut into 4 individual mini servings.
Today we'll be making Caramelized Banana Peanut Butter sandwich. Many of the Elvis fans will recognize that with addition of bacon it would make a renowned
Elvis Sandwich
. I didn't think of adding bacon until my neighbor pointed out Elvis Sandwich, maybe next time I'll go an extra mile to include the bacon. I have to say I was impressed how all the flavors worked together. I decided to caramelize banana in Turbinado Sugar and some butter, adding a touch of sweet rum.Heavenly.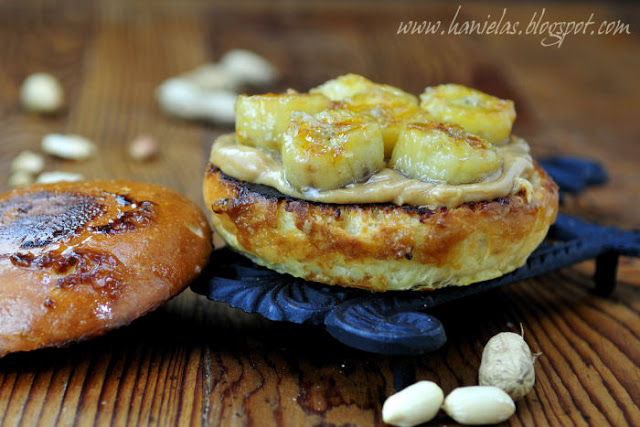 Caramelized Banana Peanut Butter Brioche Sandwich (makes 2 sandwiches, each sandwich can be cut in half and then this recipe makes 4 servings)
2 small banana, cut into 1 inch pieces
1tbl butter
2tsp Sweet Rum(optional)
1/2cup peanut butter
2tsp honey
2tbl cream cheese
In a skillet melt butter add raw sugar and on low heat stir until almost melted, add banana pieces, gently place them on the cut sides and cook for several minutes, increase heat to medium high, stir the bananas with a spatula, making so very gently so they do fall apart. Using either a fork or a long thin thong, flip each banana piece. Add rum,Once done banana pieces should be caramelized and both sides will be golden brown, banana will be very soft. Remove banana from the skillet onto a clean plate
In a small bowl mix together, peanut butter, cream cheese and honey.
Cut the brioche buns into half and toast them into the skillet you used to make the caramelized banana, placing them cut side down into the skillet, cook until golden brown, flip and cook on the other side.
Spread half of the peanut butter spread onto the bottom part of the bun, add caramelized banana and top it with the top part of the bun Enjoy.