Chocolate Vanilla Marshmallow Sandwich Cookies
I need to get a new folder for TO TRY RECIPES, the one I have is full. How is one suppose to find the time to try all of the delicious recipes that are out there? I don't know.
It's been on my list to try recipes ever since she first posted the recipe.I have been so preoccupied with other things I totally forgot about it until few days ago when I realized I missed so many amazing and inspiring blog posts by Georganne from
Lilaloa
.
Chocolate Vanilla Marshmallow Sandwich Cookie
Chocolate Cookie Recipe
I made the dough following the recipe(I omitted shortening all together)…well almost. Nothing major though, all I did was take out 1tbl of cocoa and replaced it with 1tbl of espresso powder. I can't drink coffee so I'm looking for every possible way to include it in the dessert.
This dough was magic, not only it taste yummy, I'm certain of this, I kept visiting my fridge while it was chilling.
It was easy to roll, I rolled it between 2 pieces of parchment paper, no sticking.
Just follow the
recipe
and you'll be fine. I promise and Georganne certainly deserves a big Thank you for sharing it.
I have been experimenting with homemade marshmallows for some time, my latest experiment included not so successful…sweet potato marshmallows and after this no go I needed to restore my confidence and I made the basic vanilla marshmallows. Recipe follows bellow.
How to Put Sandwich Cookie Together
Once you baked your cookies and made marshmallow cut outs you can make sandwich cookies.For this sandwich cookie I used a simple square cutter to make the cookies as well as the marshmallow shapes. I recommend using a metal cutter for cutting out marshmallows, you need a sturdy cutter to cut through.Follow the directions under Marshmallow Recipe Below

Use a tiny bit of melted chocolate to adhere cookies to the marshmallow. You can see this technique done in my post Cherry Blossom Marshmallow Sandwich

Homemade Marshmallow Recipe
1/2 cup powdered sugar
1/4 cup cornstarch
3 1/2 envelopes unflavored gelatin / one envelope is approximately 7grams of gelatin, 2 1/4 tsp to 2 1/2tsp/
1 cup cold water,divided
2 cups granulated sugar
1/2 cup light corn syrup
1/4 tsp salt
2 large egg whites, or reconstituted powdered egg white/meringue powder/ *
1tbl vanilla*
food coloring if desired, I used pink and aqua color to make the trees
Here you can find out more about how to use
gelatin
* one egg white = 2 level tsp of powdered egg white plus 2 Tbl of warm water. I use Wilton's Meringue powder.
* you can flavor your marshmallow using other extracts as well, for the
Marshmallow trees
I used
1 1/2 tsp mint extract
PREPARE THE PAN
Oil the bottom and sides of a 13×9 inch rectangular metal baking pan and line it with parchment paper, bottom and the sides as well. I use Pam spray it works great.I also spray the parchment paper.
GELATIN
In the bowl of a standing electric mixer or in the large bowl sprinkle gelatin over 1/2 cup of cold water and let stand to soften.
SUGAR SYRUP
In a 3-quart heavy saucepan cook granulated sugar, corn syrup, second 1/2 cup of cold water and salt over medium – low heat, stirring with a wooden spoon, until sugar is dissolved. Using a pastry brush brush the sides of the pan with water. Increase the heat to medium and boil the mixture, WITHOUT STIRRING, until a candy or a digital thermometer registers 240F, about 10 minutes. Remove pan from the heat and pour sugar over the gelatin mixture, stirring until gelatin is dissolved.
MIXING SUGAR MIXTURE
With standing or a hand-held electric mixer beat on high speed until white, thick and nearly tripled in volume, about 5-7 minutes.
EGG WHITES
In a separate bowl, beat the egg whites until they just hold stiff peaks. Beat egg whites and vanilla or other extract into sugar mixture until just combined.
COLORING
Once you add egg whites and extracts you can color your marshmallow mixture , use only small drops of coloring, mix well, if desired add more color. You only need a little bit.
Pour mixture into a prepared pan. Using a spatula that you oiled or sprayed with Pam spray smooth the top. Chill until firm, uncovered at least 3 hours, or up to a day.
UNMOLDING
Run a thin knife around the edges of a pan and invert the pan onto a large cutting board lined with parchment paper and sprayed with PAM spray . Loosen marshmallow with your fingers and ease onto cutting board. With a large oiled knife, trim the edges of marshmallow and cut marshmallow into a 1 1/2 inch cubes.Easy tool to use is a pizza cutter, just spray it with some Pam spray or brush with oil, it work very well.
CUTOUT SHAPES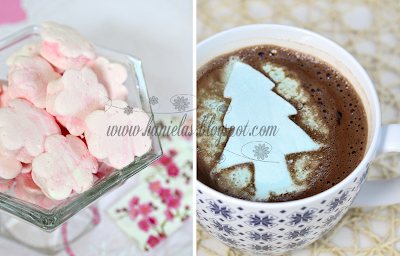 To cut the different shapes out of the marshmallow, I oiled or Pam sprayed the cookie cutter and using a bit of pressure and cutting down motion I cut the desired shapes. I recommend using simple cutters.
COATING WITH POWDERED SUGAR AND CORN STARCH
As soon as you cut each marshmallow place it into a bowl where you mixed 1/2 Powdered sugar and corn starch. Toss around to coat all the sides of the marshmallow.
To get rid of excess powdered sugar and corn starch I used a metal sieve, just place the marshmallows into the sieve and shake it well to get rid of the excess. It worked well.
Store marshmallows in an airtight container for up a to a week