Spiderweb Chocolate Butterflies For Halloween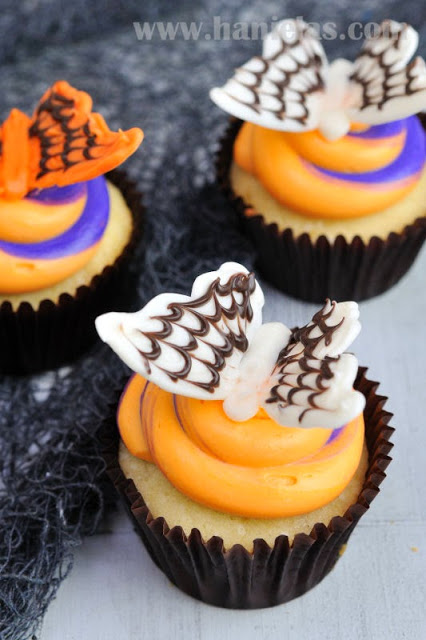 I was doing the dishes when through the kitchen window I spotted couple of big butterflies outside just on the porch. They were moving from one flower to another, collecting nectar. Good thing I have so many flowers out there, they stayed for quite a while. I found myself gazing at them, until suddenly with no warning they just took off.
Butterflies make for such pretty decorations on desserts. They look really complicated to make yet on the contrary they are super easy. Today as part of 7 day long Halloween Video Parade, we (Montreal Confection and Haniela's) are sharing on You Tube, I made Spiderweb Chocolate Butterflies.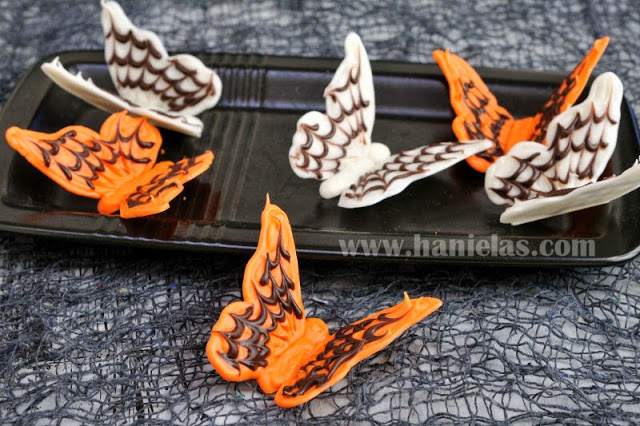 To make Chocolate Butterflies you need
Wax Paper
Template(below)
View the video tutorial and learn how to make Spiderweb Chocolate Butterflies
Melt the chocolate wafers in the microwave at 50% Power Setting, in 15-20 second intervals. Stirring well after each heating.

Once melted, scrape chocolate into a piping bag or sandwich bag. Make a small opening at the end of the bag, cut the end with scissors.

Using a template pipe chocolate wings first. Using contrast color chocolate pipe lines across the wings.

Make the Spiderweb : using a tooth pick or needle tool run through the chocolate outwards, wiping the excess chocolate from the tool frequently.

Let harden.

Pipe the body.

Transfer butterflies into the drying rack. You can also put the drying rack into the fridge to speed up the process.

Once chocolate hardens you can peel off the butterflies and use them as desired.

Store in the airtight container in a cool place until ready to use.

Chocolate will melt if exposed to heat.
Spiderweb Chocolate Butterflies Video Tutorial
You can check more Halloween Tutorials in the Halloween Video Parade Playlist