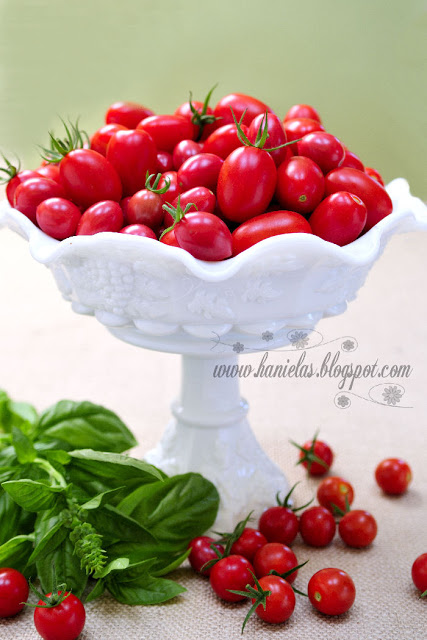 As you all know I'm so behind with posting pictures from our garden, mainly because there is so much to do in there and I just don't have enough time to go through all the pics in time! Today I spent nearly 2 hours weeding, cleaning and preparing the area for a new crop of beans and peas, hopefully we get those in tonight or sometime over the weekend. I had to clean the zucchini/squash area, there were lots dead leaves and I don't like those to be sitting on the ground, it can cause the fungus to develop and that's a whole new set of problems.
Our Gourmet Squash is doing so well, we haven't planned on having triplets but we are now and still growing! I will probably pick some this coming week. Cucumbers are doing fine, with the last week's extreme heat over 100F pickling ones died so we planted new ones. I was able to can about 5 jars prior that.
As for the beautiful tomatoes, those are taking over the garden not only the with their height(oh an one bird got stuck in them..they are so tall!!!)but their pure red color is so vibrant, you can see them from the street, don't let me start on the taste. They are just pure joy to pick and eat.
We picked tons of scallions and let me tell you despite the fact there was sweat dripping from my head and going down my back, my hair got stuck on my forehead, something was crawling on my leg and up my shirt… but the smell of those fresh scallions, oh that smell! It was like a nice breeze in the Summer heat.
Squash/Zucchini July 7th, 2011
Squash/ Zucchini July 7th, 2011
Tomato Tree July 7th, 2011
July 30th, 2011

We have several varieties of tomatoes this year, I love them all but I have a soft spot for "Julienne" they have pinkish color and are super sweet.
Tomatoes, July 30th, 2011
The most producing Squash : Gourmet Squash, July 30th, 2011
Tomatoes, July 7th, 2011
Tomatoes, July 30th, 2011
I think this will be my lunch :
whole grain pasta with fresh scallions, tomatoes and fresh basil sprinkled with freshly grated parmesan cheese.