Princess Carriage Cookies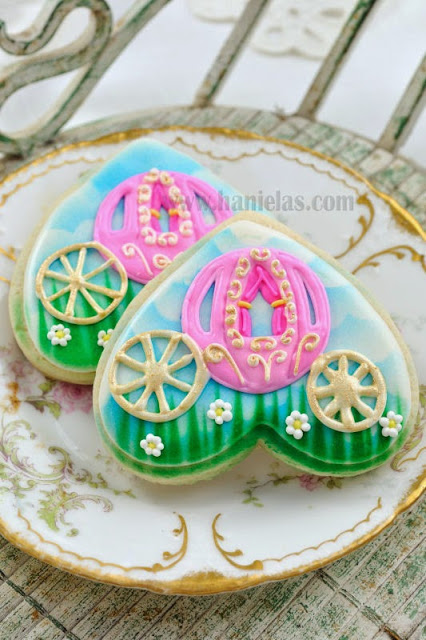 When making these cookies I learned a valuable lesson.
WEAR GLOVES WHEN YOU AIRBRUSH ON COOKIES! I really hope I'm not alone with my hands all colored and greenish, bluish fingernails. If you don't believe me check the video tutorial at the end of this post. Great, I got this out of the way so we talk cookies.
As I mentioned I used an airbrush on these cookies, specifically to create a background with clouds and grass. (More about the airbrush I used can be found here) I fell in love with the airbrushed look on cookies by Marlyn from
Montreal Confection
. As I drew my carriage design I realized something was missing and then it hit me..clouds and grass.
To make these cookies you need
Royal Icing
Cookies
Blue and green airbrush colors
Heart cookie cutter (The Cookie Cutter Company has a great selection to chose from)
Stencils : clouds, grass and carriage, cut out from a piece of paper
Gold Luster Dust (HOW TO USE LUSTER DUST)
Professional Needle Tool


AmeriColor Soft Gel Paste Food Color

MASTER Cake Decorating Airbrush Kit with 12 Food Color Set With Airbrush Depot 1 Year Warranty Tankless Compressor and 6 Foot Air Hose Set

Lemon Extract, or other extract or Everclear alcohol
Small Painter's Brush
Pink and Yellow Food Coloring
Pink Royal Icing : Piping and 15 second consistency
White Icing : Piping consistency and 15 second consistency
Yellow: Piping consistency
Ice cookies with white icing, let dry overnight.

Using cloud and grass stencil airbrush cookies.

Transfer carriage outline onto the cookie using a food edible pen.

Star with pink carriage, outline and flood.

Pipe the wheels, little flowers. Let icing dry and then pipe details on the carriage, add curtain.

Finish with painting white icing with gold luster dust diluted in alcohol.

You can see how I made these in my video tutorial at the end of this post.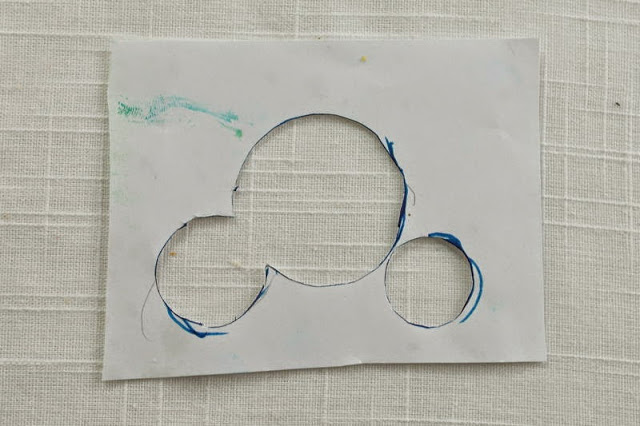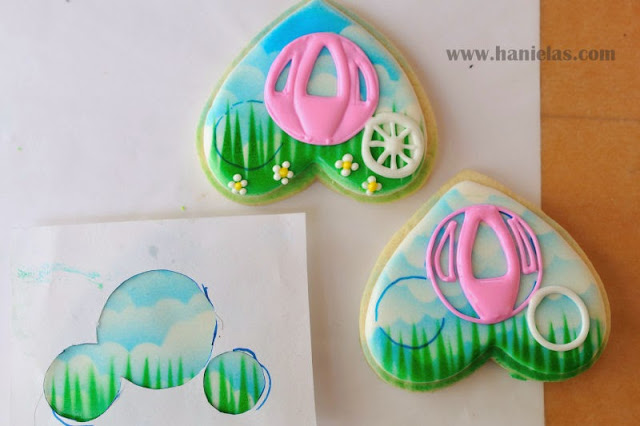 Pretty Princess Carriage Cookies
Princess Carriage Cookies Video Tutorial