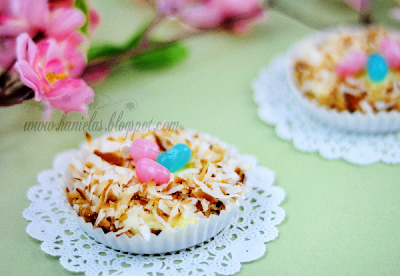 I have a thing for individual desserts,( I'm sure you noticed! ;-))), there is just something about them! I love them all, bite size desserts, cookies, bars. Today I will share a really yummy cookie / tart/ cheesecake recipe with a photo tutorial.
Although these cookies look time consuming, I'd say they take about 10 minutes of your time, not counting baking.
Soft creamy filling is a perfect fit for a crunchy crust.
I could see these topped with fresh fruit, chocolate, even
thick caramel
.
Cookie Crust
(for about 12-14 cookies)

1 cup ground almonds
1cup cheerios cereal ( finally crushed) or 1 cup graham cracker crumbs
4tbl melted butter
1 tbl sugar
Oven at 350F
In a medium size bowl, combine ground almonds, finely crushed cheerios Cereal, sugar, add butter and work the mixture until is moist and stick together when pressed between fingers.
Making Cookie Shapes
Line the baking sheet with parchment paper. Using a round cutter, place 1 packed tbl of the crust mixture into a inner circle of the cutter. Using your hands press down tightly, and also up the sides of the cutter, forming a "tart" like shape. Gently lift the cutter and release the cookie leaving it on the baking sheet, continue with the rest of the crust mixture until you are done.
Bake the crust cookies at 350F for 8 minutes, until edges are lightly brown. Let cool on the baking sheet.
Lower the oven to 325F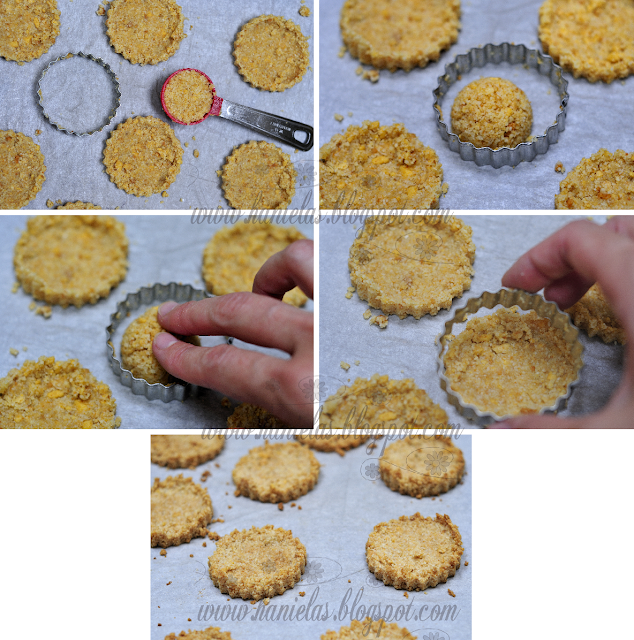 Cream Cheese Filling
1/2 pkg Cream cheese 4oz(1oz =28.3grams) – you can easily substitute for ricotta cheese, farmer's cheese, or combination
1/3cup sugar
1tbl fresh lemon juice
zest of half lemon
1egg
In a medium size bowl, beat cream cheese with a hand mixer, starting on low speed and increasing, add sugar, egg, lemon juice and lemon zest, beat after each addition until smooth.
Fill the Cookies
Gently drop one1tbl of cream cheese filling on each cookie, gently spread the filling, take care not to go over the edges.
Bake at 325F for 15 minutes. Remove from the oven and let cool completely.
Filling on freshly baked cookies will looked puffed, it will flatten as it cools.
Using a small knife or a spatula, carefully remove cookies from the baking sheet, and place them into the round treat cups,
I bought mine at Michael's Craft Store.
Chill and Serve. I wouldn't stack these in any way, they need to be stored in one layer.
Inside of the cookie is soft with a crispy crust.
Decorate with roasted coconut to create a nest like shape, place few candy eggs in the middle
Shave chocolate on the top
Use a pretty meringue rose(
recipe
)
Roasted Coconut
4oz(114grams) sweetened, shredded coconut
Line the baking sheet with parchment paper
Oven at 350F
Spread the coconut in one layer onto the baking sheet.
Bake for 5 minutes, watch very carefully, you will need to stir the coconut, to ensure even toasting.
Edges always brown quicker than middle part so be watchful and don't let it burn. Once your coconut is toasted, lightly brown, golden in color let it cool completely before adding to any recipe.Set aside.