Ginger Chocolate Challah Bread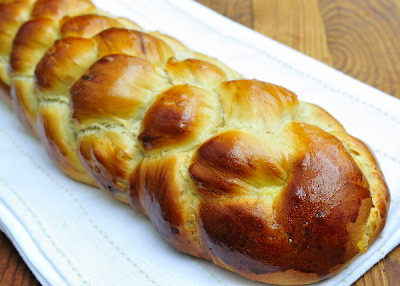 Few days ago our house was filled with unforgettable aroma of freshly baked Challah bread. I've always wanted to try it, but was intimidated by it. No more, no more. It is so easy to make. Utterly delicious and so very beautiful. You gotta love egg wash, generously brushed bread came out of the oven so shiny and happy, actually I stared at it for a little while before I cut into it…
Challah Bread Recipe
yeast mixture :
5 1/4 tsp dry active yeast
1 cup warm water
1tsp honey
2 whole eggs
3egg yolks
1/2 cup honey
1 tsp salt
5 cups all purpose flour
1/2 cup butter at room temperature(1stick)
2 Tbl vegetable oil
1 egg for brushing
For one loaf
1/2 cup dark chocolate chips(optional), or coarsely chopped chocolate
1/4 cup Crystallized Ginger, coarsely chopped (optional)
For one loaf
1/2 cup raisins (optional), if using raisins, plumped in hot water and drained
for extra flavor, soak them in rum.
Prepare the Yeast Mixture
-using your stand mixer bowl dissolve the yeast in the warm water with 1tsp of honey. Water should be warm approximately 90-100F/32-37C/. Hot water will kill the yeast.
Let stand for about 5 minutes, until foamy.
– to your yeast mixture add 1/2 cup of honey, 2 whole eggs, 3 egg yolks, 4 1/2 cups of flour, salt, butter and oil
– place the bowl on the mixer with dough hook attached, knead dough on low speed, working in the remaining 1/2 cup of flour as needed, to keep the dough from being too sticky, this process will take approximately 5-7 minutes. If needed add more flour but make sure you don't add too much flour, dough should be soft and it will be slightly sticky, it will become less sticky with kneading.
-remove dough from the bowl and place on the wood board, knead it a little to form a ball
-transfer the ball of dough into a lightly oiled bowl, cover the bowl with plastic wrap and a kitchen towel, let the dough rise in a warm spot until doubled in volume, approximately 2 hours
-line a baking sheet with parchment paper
– punch down the risen dough, scrape the dough out onto a clean work surface, use a tiny bit of flour if dough becomes too sticky
-I made two braided breads using this recipe, divide dough into 2 equal loafs
-at this point you can knead in your raisins, or chocolate bits and crystallized ginger, if using
-I think the easiest way to understand what do to from this point on is to watch this video
CHALLAH BREAD BRAIDING VIDEOS FROM YOU TUBE
If you are feeling lucky you can also try making a more complicated braided design using 12 strands
Braiding 12 Strand Challah Bread
– A bit more challenging is braiding a 12 strand challah bread, I haven't attempted this ; for the first timer, I had my hands full with 6 strands. Maybe next time I'll give this one a try, it looks like a masterpiece.
-After you braided your loafs , transfer them onto your prepared baking sheet, cover with kitchen towel and let rise for the second time in warm spot, until doubled in volume and spongy to the touch, approximately 60 minutes.
Preheat oven to 350F
– Beat the remaining egg and generously brush both breads with the egg wash, sprinkle with poppy seeds or sesame seeds, if using.
Baking
– I placed a oven safe dish filled with water on the bottom oven rack to produce some steam during baking, also I had the fan on to help circulate the steam. If you don't have a fan, you can still bake it without fan on.
-Bake for 30 – 35 minutes, or until nicely browned and sounds hollow when tapped on the bottom.
-Transfer to a wire rack and let cool completely before slicing.
Tips
What to do with leftover egg whites? Try making these beautiful

Swiss Meringue Ribbon Roses