Decorated French Macaron Cookies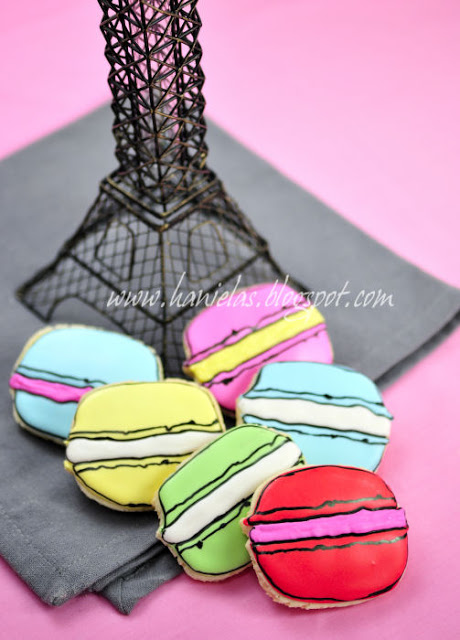 I thought it would be fun to make French Macaron Cookies, the decorated kind.
I hope you can forgive me if I had you fooled by the name French Macaron Cookies and you were expecting the famous kind of French Macarons. Don't worry though I will be making the the famous ones soon, I have egg whites aging right now.
Today though I'll show you a different kind of Macarons.
This whole idea started to simmer when I received French Macaron Soap from Kasey at KcSoapsNmore.
I gave the soap to a friend as a Christmas gift, funny thing she thought it was a cookie and cut it in half because her kids were fighting over it…then realizing it smelled like soap, ending on her bathroom sink.
French Macaron Cookies (the decorated kind)
You need:
Almond flavored Cookies(add almond extract to sugar cookie dough )
Royal icing, flavored raspberry, lemon, mint, lavender, chocolate, cherry…etc, outline and flood consistency
Black Food Coloring Pen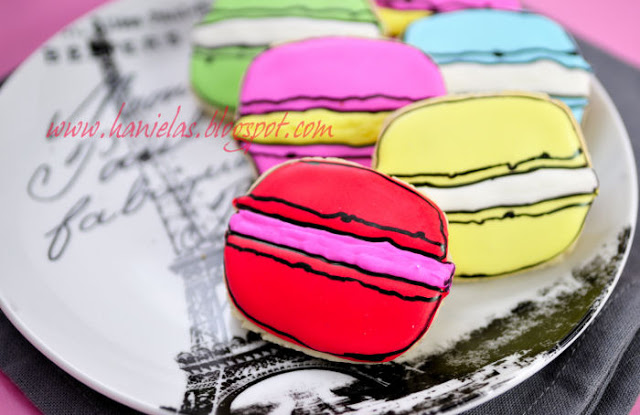 How To:
Make the cookie dough, cut the cookies and bake them, let cool completely, best to let them rest till next day, cookies behave better
Outline and flood top and bottom of the cookies, leaving center line empty
Once flooded areas are dry fill in the center line with a contrasting color icing(for example, if your top and bottom are flooded with chocolate flavored icing, flood the center with raspberry, or if top and bottom are lemon flavored icing, flood the center with chocolate flavored icing..etc. Make them taste yummy
Let the cookies dry completely and then add all the details with an edible food pen
Here there are all sitting pretty by the Eiffel Tower…