Slovak Lokshe (Potato Tortillas)
Slovak Lokshe were a staple in my grandmother's kitchen. Traditionally served with duck fat, these potato tortillas never miss an appearance at folk and Christmas fairs.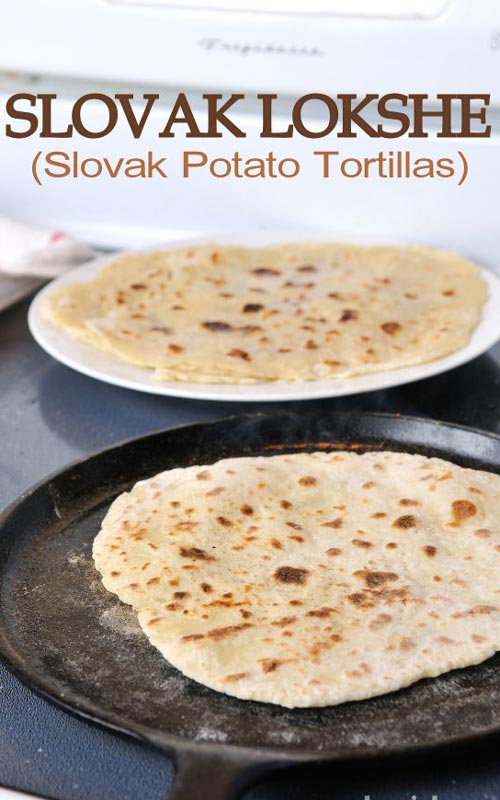 SLOVAK LOKSHE/POTATO TORTILLAS
Growing up, I spent summers at my grandparents' house. My grandmother made everything from scratch (fun fact – she'd never used pasta that came in a box) and my brother, cousins and I we always helped her with preparing meals. And we also assisted with making lokshe.
TO MAKE SLOVAK LOKSHE / POTATO TORTILLAS YOU NEED :
Potatoes (cooked in skins, peeled, finely grated)
Flour
Salt
POTATOES
Potato is a main ingredient in this recipe. I highly recommend using old potatoes when making potato dough for Slovak Lokshe.
New potatoes hold a lot of water which results in a stickier dough. In the efforts of making the potato dough less sticky you'll add way too much flour. Too much flour makes potato tortillas too floury and tough.
Older potatoes contain less water and are more suitable for this recipe. Trust me I've made these dozens of times over the years and old potatoes are gold with these.
Wash potatoes and cook them in a salty water with 1tbsp vinegar. Cook them till fork tender. Drain the liquid and let them cool. Peel the skins and let them rest for 3-4 hours, covered to prevent crusting.
If running short on time let peeled potatoes rest overnight, covered in the fridge. Bring them to room temperature before making the potato dough.
POTATO DOUGH
In a large bowl add flour, whisk in salt and add grated potatoes. 1st stage is a bit messy. If you made homemade Marshmallow Fondant you know what I'm talking about. Grated potatoes will stick to your fingers and you'll need a small dull knife on hand to scrape the dough from your fingers. Continue kneading until dough comes together. Don't over knead. Potato dough is dense and pretty tasty on its own.
Potato dough can not be prepared ahead of time. Shape tortillas as soon as you form the dough.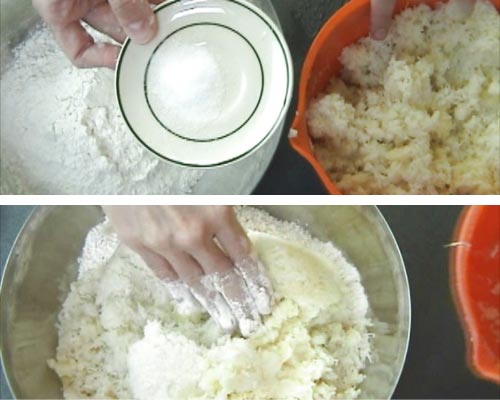 SHAPE LOKSHE
Don't let the dough rest. Resting causing potato dough to become soft and watery.
Divide dough in half. Shape each half into a log. Cut the logs into 1 inch disks. Flour your work surface and roll out disks into thin flat rounds.
Transfer uncooked lokshe onto a tray lined with a flour towel and dusted sparingly with flour.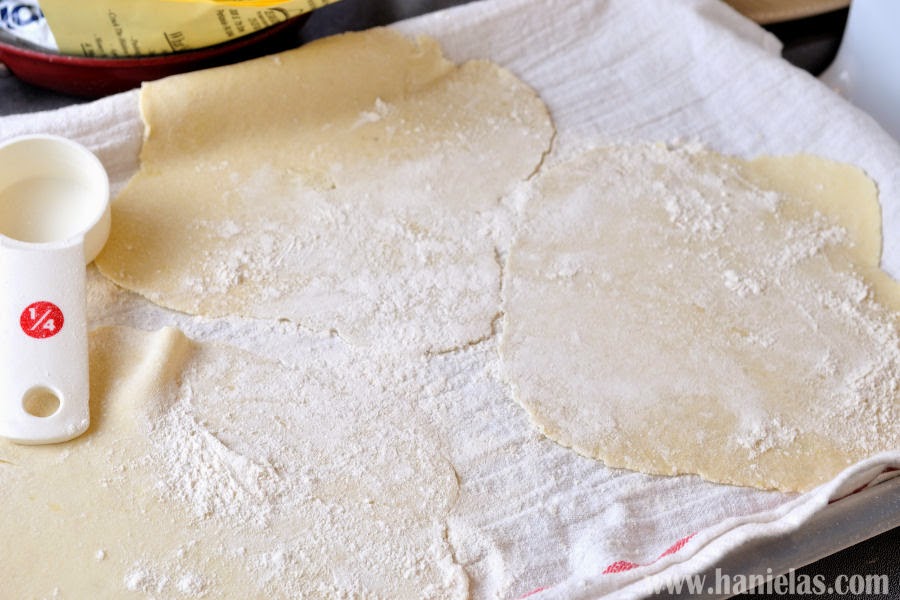 COOKING SLOVAK LOKSHE
CAST IRON PAN
To cook lokshe use an ungreased cast iron skillet or cast iron griddle. I personally prefer using cast iron griddle for this recipe. It's not as heavy as skillet and it's much easier to handle, though you can definitely use both.
If you are new to cast iron pan cooking, make sure to use a well seasoned pan.
Cooking lokshe is really easy. Carefully pick up a flat uncooked tortilla round with your hands. Gently shake off flour excess and place it on a hot pan. Cook about 2- 3 minutes on each side, or until light brown pockets are formed on each side.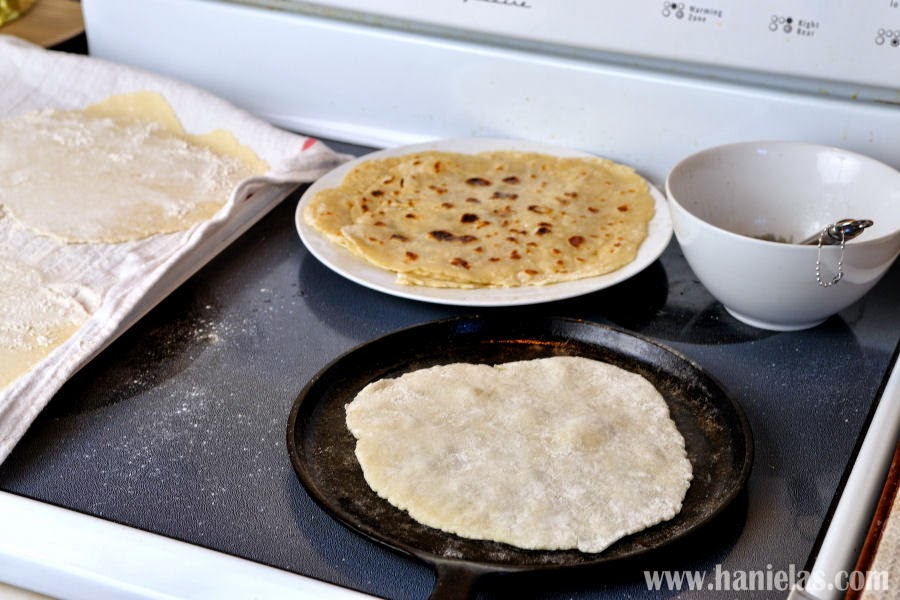 Always use potholders! Cast iron gets hot.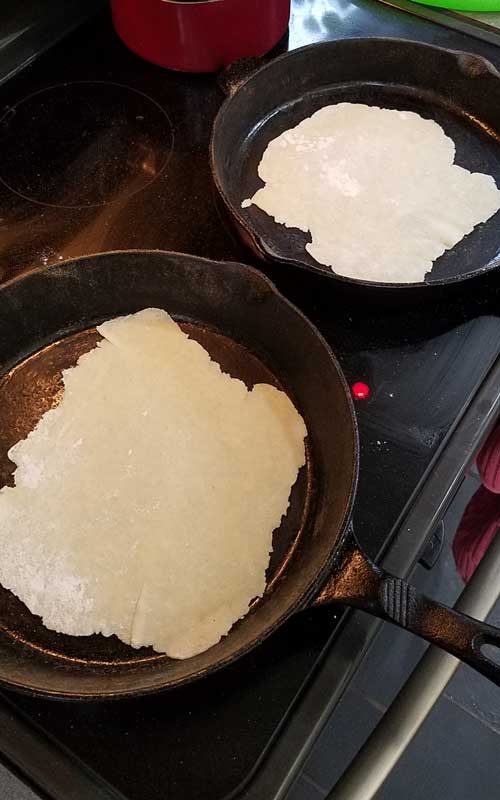 AIR POCKETS
While cooking you may notice hot air pockets forming in the flatbread. . This is normal. Take a fork and prick the air pockets to release the steam.
EXCESS FLOUR IN THE PAN
Excess flour can easily accumulate on the cast iron pan. Make to sure to dust it off with a clean dry kitchen towel over the kitchen sink. Be sure to use pot holders when handling hot cast iron pan.
STORAGE / FREEZING
Store cooked potato tortillas in the fridge for up to 2 weeks or freeze.
Lokshe can be frozen. I freeze them in batches of 10, wrapping them in a freezer safe paper. They can be frozen for up to 12 months. Let defrost in the fridge before using and reheat on the stove or in the microwave.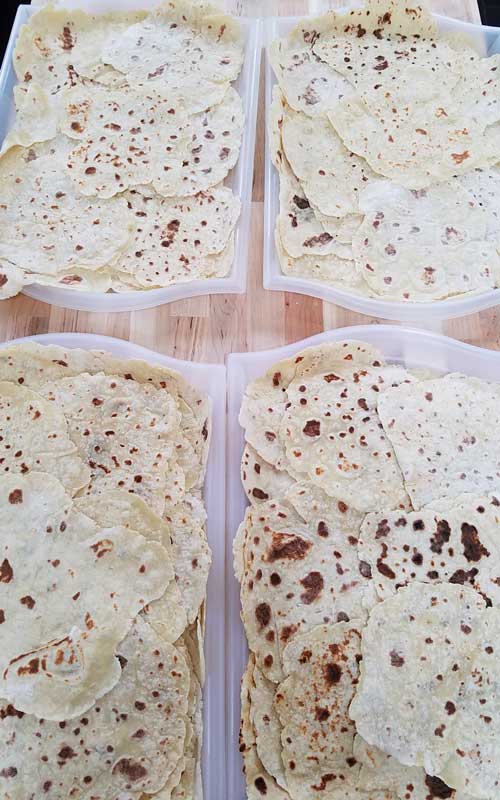 LOKSHE FILLINGS
While you can fill Slovak Lokshe (Potato Tortillas) with pretty much anything there are few traditional fillings.
TRADITIONAL FILLINGS :
Plum or homemade Peach Butter, topped with poppy seed filling.
Garlic filling/spread : in a small pan gently heat 2 tsp oil, add 5 pressed garlic cloves. Stirring constantly cook garlic for about 2 minutes. Then add 3 tbsp water and 1/8 salt. Bring to a quick boil and remove from the heat. Use a brush or a spoon to spread onto the flatbread.
Duck liver and fat.
POPPY SEED FILLING
While my grandmother prepared a potato dough we took turns grinding the poppy seeds for the filling.
To ground poppy seeds you can use a poppy seed grinder or a coffee grinder (coffee grinder results vary, read more in the tools section)
My grandmother had an old cast iron hand crank Poppy Seed grinder. It is a special gadget that crushes tiny poppy seeds into a fine paste. Crushed poppy seeds are then combined with powdered sugar.
I remember vividly how much we disliked using it. It took forever to grind 3 cups of poppy seeds. It was secured onto the wide wooden step leading to the attic, in the main pantry. My cousins, brother and I we all took turns cranking it. When the the hopper was empty it was time to switch.
While waiting a turn we'd look through the pantry. We'd always found few candies and chocolates to munch on while enduring never ending poppy seed grinding. Or we'd go up the stairs into the attic and look for a lost treasure.
TO MAKE SLOVAK LOKSHE / POTATO TORTILLAS YOU NEED
RECIPE
LOKSHE RECIPE ( below)
TOOLS
Fine Grater
Cast Iron Griddle (preferred)
Hand Crank Poppy Seed Grinder – this produces a fine texture and is a preferred method for poppy seed grinding. It can be time consuming (and it counts as upper body workout) but well worth the results.
Coffee Grinder – alternatively you can also use a coffee grinder to grind poppy seeds. Though this method, depending on the grinder may or may not give you 100% results. Make sure to use 1 : 2 ratio (granulated sugar : poppy seed) when using a coffee grinder. Don't over fill the grinder. Process by pulsing and be patient. It takes me up to 2 minutes to grind the poppy seeds this way. I often shake the grinder to make sure the mixture is loose and not sticking to the bottom.
Slovak Lokshe/Potato Tortillas
Makes about 20 -25 tortillas, medium size
Using 2 pans to cook these makes the cooking go a lot faster.
Ingredients
Slovak Lokshe/Potato Tortillas
2

lb

old potatoes

1kg boiled old potatoes, peeled and finely grated

2 1/2

cup

all purpose flour

(400 grams)

1

tsp

salt
Garlic Filling
5

cloves

garlic

large cloves

2

tsp

olive oil, avocado oil, canola oil

1/8

tsp

salt or to taste

3

tbsp

water
Poppy Seed Filling
1/2

cup

poppy seeds

1/2

cup

sugar
Instructions
Wash potatoes (2lb), boil them in in skin in a salted water. Add about 1tbl white vinegar to the water. Boil until fork tender but not overly soft.

Drain the liquid. Let potatoes cool to touch. Peel them. Cover and let cool completely for 4-5 hours. Or cover and let rest overnight in the fridge. Bring to room temperature before grating.

Grate the potatoes on a fine grater. In a large bowl combine all purpose flour (2 1/2cups) and salt (1tsp). Add grated potatoes. Using your hands, knead until dough is formed. At first dough will be sticking to your fingers. This is normal. Take a dull knife and scrape it off your fingers. Knead until dough comes together. It's a dense but soft dough.

 
Shape Lokshe
Cut the potato dough in half. Shape each half into a log. Cut log into disks, about 1 inch thick. Dust the work surface with flour, press the cut sides into the flour to prevent sticking. Using a rolling pin roll it out to the size of your cast iron pan. Tortillas should be thin.

Transfer fresh rolled lokshe onto a tray lined with a flour sack towels. Continue with the remaining dough. If you have someone to assist you, they can cook the lokshe while you are rolling them out.
Cook Lokshe
Cook on medium heat using a ungreased cast iron pan. Don't add any oil. When air pockets form, puncture them with the fork. Cook about 2-3 minutes on each side. Serve as desired.
Storage
Slovak Lokshe can be stored unfilled, covered tightly in the fridge for up to 2 weeks or frozen in a freezer paper for up to a year. Defrost and reheat in the microwave.

Alternatively you can make a roll with 3 tortillas, slice the roll into strips/noodles. Heat some butter or duck/goose fat in the pan, stir in sliced lokshe. Cook on low heat until crispy. Season with salt and pepper and enjoy.
Garlic Filling
Heat oil (2tsp) on low heat, add pressed garlic(5 garlic cloves). Cook for 2 minutes, season with salt, add water (3tbsp) and bring to boil. Remove from the heat.
Poppy Seed Filling
1. Using old fashioned Hand Crank Poppy Seed Grinder – preferred


Grind 1/2 cup poppy seeds. Then combine crushed poppy seeds with powdered sugar. Start with 1/4 cup of sugar, taste and increase to 1/2 cup, or more if desired

2. Using an electric Coffee Grinder 

Use 1:2 ratio, granulated sugar : poppy seeds

I find that depending on the coffee grinder it may or may not completely ground all of the poppy seeds 100%. It is best to work with smaller amounts and use a pulsing option on the grinder. It can take up to 2 minutes of pulsing to achieve desired results. While pulsing I also from time to time shake the grinder to make sure mixture is loose.
Notes
CAN I DOUBLE THIS RECIPE ?
I usually triple the recipe when I make Slovak Lokshe. I freeze them all for later.
When you double or triple the recipe it is important to make the dough gradually. Not all at once. Dough that sits for too long becomes thing and watery. You can prepare all of the potatoes, grade them and have them ready in the bowl, covered, preventing them from drying out. However don't make all the dough at once.
It is best to start with 1kg (2lb) of grated potatoes add the flour and salt, form the dough. Shape the loskshe, cook them on the cast iron pan. Then repeat the process of making of the dough with the remaining grated potatoes.
I make lokshe from 3 to 4 kg of potatoes twice a year.
This post contains Amazon affiliate links that earn me a small commission, at no cost to you. I only recommend products that I use and love. Learn more about my affiliate policy here.