Decorated S'mores Cookies
I cookie-fied a popular campfire treat – S'mores. These decorated S'mores Cookies are so fun to make. Check out my step by step tutorial on how to make them.
HOW TO DECORATE S'MORES COOKIES WITH ROYAL ICING
S'mores are delicious and super easy to make summer treats consisting of graham crackers, marshmallows and chocolate. I often make my own festive s'mores treats – like these Valentine's Day S'mores with homemade graham crackers and fluffy marshmallows. But I haven't made the royal icing decorated version, until now.
S'MORE COOKIE CUTTER
I don't own a s'more cookie cutter and there is a chance you don't either.
Use a similar Shape Cookie Cutter – gift box works great
Paper Template – use a card stock
Homemade Metal Cookie Cutter – re-shape an existing metal cutter using pliers
Store bought cookie cutter – if you can find one
USING A BOX COOKIE CUTTER
If you don't have a s'mores cookie cutter try to look for a cutter with a similar shape. This gift box cutter is a perfect example. Cut out cookies with a gift box cutter, (step 1-2).
Trim the bow part and use the bottom of the cutter to make an indentation in an unbaked cookie, (step 3-6). Bake the cookies as usual, (step 7-8).
MAKE A METAL COOKIE CUTTER
Another option is to make your own cookie cutter from a metal cuter.
I used an old, slightly deformed round cutter and pliers to shape the metal into a s'more like shape. It's not a perfect cutter but it worked really well and I'm definitely going to use this cutter again, (step 1-6). Use this homemade cutter to cut out cookies and make an indentation in an unbaked cookie. (step 7-8).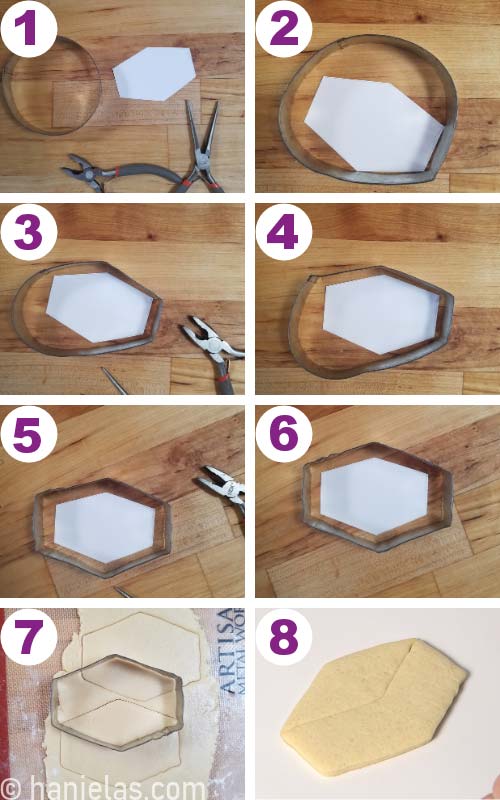 DECORATE S'MORES COOKIES
Now we are ready to decorate s'mores cookies.
Let's start with the graham cracker design. To make a graham cracker colored icing I used warm brown gel color and added a touch of orange to it. And I also used 2 shades of this color to make the graham cracker design. To make the icing lighter shade all you need to do is add an extra white icing to little bit of dark icing.
Use light brown icing with a tough of orange to outline and flood small narrow strips (20 second consistency). Allow to crust, (step 1-6).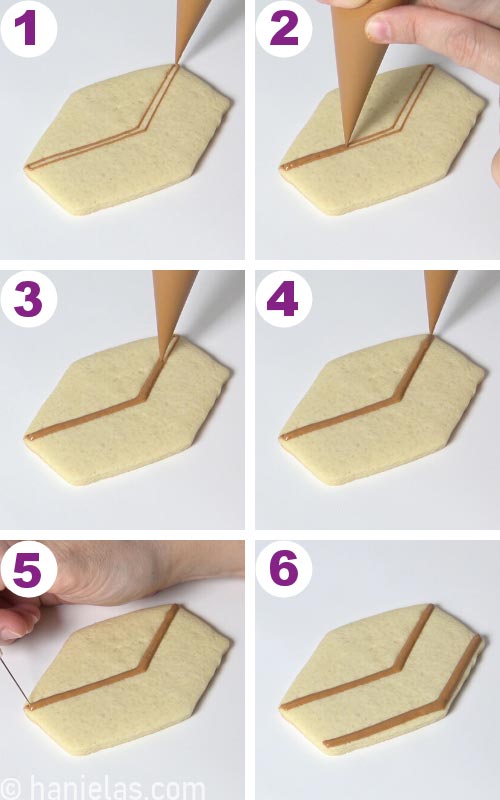 Now in this next step I used a lighter shade of brown with a touch or orange. Outline and flood the top, (15 second consistency). Be sure to use a scribe needle tool to accentuate the corners, (step 1-6).
Now use wet on wet technique to pipe a design on the graham cracker section. I used a dark brown royal icing (20second) to pipe lines and dots onto the wet icing, (step 1-6).
TIP : Normally I'd suggest to use 15 second dark brown to create a wet on wet design on a graham cracker. But in this case it's okay to use 20 second icing – you'll use this consistency to make chocolate layers. No need to thin it down and use another piping bag.
USE CINNAMON SUGAR
To make graham cracker designs more realistic I employed a simple ingredient. Cinnamon Sugar. To make cinnamon sugar I used granulated sugar and a little bit of cinnamon. Stir till well combined.
Dust freshly iced section with cinnamon sugar.
CHOCOLATE AND MARSHMALLOW LAYER
Before you pipe a chocolate layer be sure that bottom graham cracker is well crusted. To make a chocolate layer I used 2 shades of brown icing. I used lighter shade brown to create highlights in the dark brown icing.
Pipe chocolate layer using dark brown icing (20 second consistency). Then pipe curved lines into the dark brown while it's wet. Then blend the light brown into dark brown to create highlights. Allow icing to crust before piping the marshmallow layer, (step 1-8).
HOW TO MAKE CHOCOLATE FLAVORED ROYAL ICING?
Use alcohol or water based chocolate flavorings
Or use sifted cocoa powder, use 1 cup royal icing : 1 tablespoon cocoa powder ratio. Try not to use more cocoa powder as it can affect how icing dries.
With white icing (20 second consistency) pipe the marshmallow layer. Let it crust.
Finish s'mores cookies with another piped chocolate layer. Use a scribe needle tool to move icing around to distribute it evenly.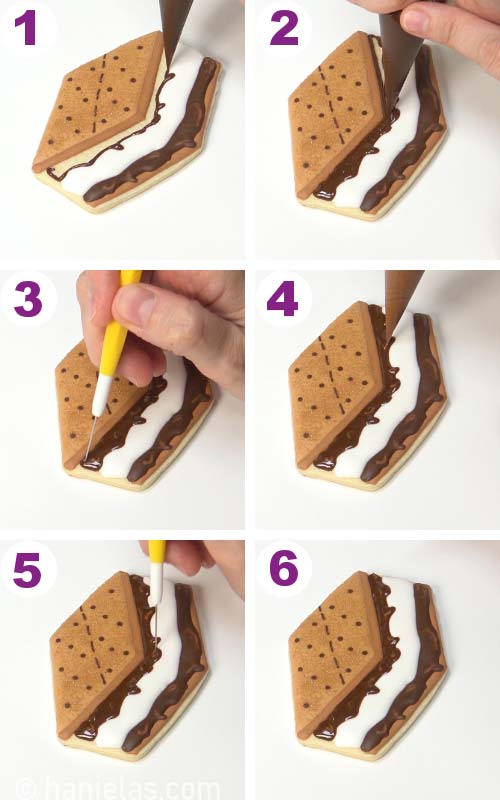 TO MAKE DECORATED S'MORES COOKIES YOU NEED
RECIPES
TOOLS
Get all the tool in my Amazon Shop
Popular Cookie Decorating Tools
Food Gel Colors : warm brown, orange, chocolate brown
Scribe Needle Tool
Cinnamon Sugar ( granulated sugar with little bit of cinnamon)
MORE FUN COOKIE DECORATING IDEAS :
This post contains Amazon affiliate links that earn me a small commission, at no cost to you. I only recommend products that I use and love. Learn more about my affiliate policy here.